In the wake of the post-World War II baby boom, kiddie parks were springing up across the country in the 1950s. In 1956, Lagoon introduced an area of the park just for kids called Mother Gooseland. This was the first time Lagoon had such a large variety of attractions available for younger riders.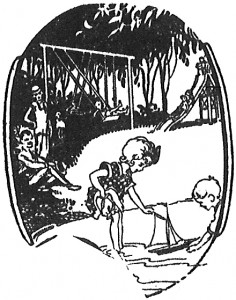 Before that time, Lagoon offered a free playground complete with swings, teeter-totters, slides and even a small wading pool. I have yet to discover how long this playground existed or where in the park it was located. Eventually small rides were set up near the Carousel such as the Baby Boats and Kiddie Planes.
Mother Gooseland was built at a cost of $150,000 in an area between the Midway and the Swimming Pool and consisted of some previously existing rides, several new rides and themed attractions resembling familiar nursery rhymes. The Mother Goose displays were accompanied by a small sign with the first line of the nursery rhyme it was based on.
Practically everything was especially created for children from the rides to the food. An article in the trade publication, The Billboard, related how manager Robert Freed found a way to cater to smaller patrons in Mother Gooseland.
"…when it was decided to build the children's section of the park for this season, he began looking around for appropriate sized refreshments for toddlers. He had noted that often parents had to split portions with the youngsters or give them 'man-sized' amounts that over-filled the kiddies.

His search was rewarded.

Drinks…were a simple problem. Bob purchases six-ounce cups and fills them from regular bulk dispensers. Price: 6 cents.

The No. 40-size cone, with a small dipper, provides midget-sized ice cream cones that allows each toddler to have his own, but not too much. Price: 6 cents.

The hot dogs were the main problem. He talked to his regular meat distributor and found that they could – for large enough orders – adjust the hot-dog-making machine to turn out dogs about the size of sausages. They come about 14 'dogs' to the pound.

Only one problem remained. Small dog on large bun was no solution, so Bob contacted the baker that sells him regular size buns. The baker said he could provide special buns to fit the dogs, and Bob was in business.

Hot dogs sell in Mother Gooseland for 14 cents, allowing a youngster to have a dog and a drink, or a dog and cone for a total of 20 cents.

Bob said, 'Percentage-wise, we are as well off as on the big stuff after figuring our costs. The kids are happy, the parents are even happier.' "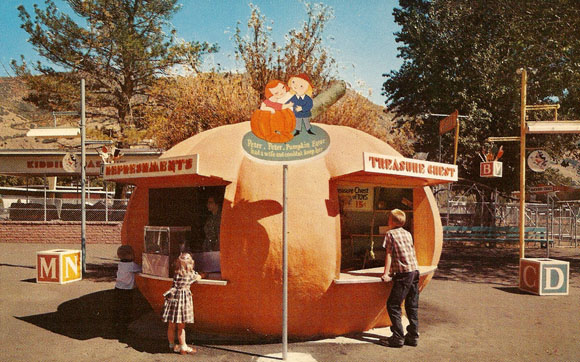 Creative Playthings, a toy company which had entered into the playground industry not long before, was reportedly involved in the layout of Mother Gooseland. Messmore & Damon, a company specializing in stage and film props, store displays and dark ride features, was also in the business of making "kiddieland figures". They provided many of the original props found in Lagoon's dark rides. I haven't found any definite proof yet, but it's possible they built elements used in Mother Gooseland such as Peter's Pumpkin Shell, the Old Woman's Shoe or Humpty Dumpty's Wall.
ORIGINAL MOTHER GOOSELAND ATTRACTIONS
AUTOS
Located near the Carousel, this was a small, simple ride with cars sitting on a spinning wheel. This was much like the European Carousel that was later added to Mother Gooseland in the '60s.
BOATS
The Allan Herschell P.T. Boats were in the park at least as far back as the late '40s or early '50s and have since been renamed Baby Boats.
BULGY THE WHALE
A classic Eyerly Aircraft ride still operating today, north of Jumping Dragon.
CAROUSEL
This classic ride was built in 1893 and installed at Lagoon in 1906.
HAND CARS
Kids would sit on the flat cars and pedal them by hand to move along one of two side-by-side tracks.
KIDDIE COASTER
The coaster was an Allan Herschell Little Dipper which operated in the same location as Puff The Little Fire Dragon does now. Later on, a playground was placed inside the track and kids would enter through a giant Hi-Land milk carton under the lift hill.
KIDDIE PLANES
This ride was basically a small version of the popular Rockets ride. Small suspended planes swung outward while spinning around a tower. It was one of many new rides added in 1954 after a fire the previous November.
LAGOON SPEEDWAY
Later known as Speedway, Jr. (to distinguish between it and the adult-sized Speedway, Sr. added in 1960), the Speedway had a different track layout and different cars than it has today. Kids would pass displays such as the Hickory-Dickory Clock and Mary Mary Quite Contrary's Garden. The miniature gas station remained in place until just recently.
LAKESHORE EXPRESS
The Lakeshore Express miniature train debuted in 1951, traveling around Lagoon Lake much like the current Wild Kingdom Train. It's unknown whether or not this was a ride solely for kids, but it was listed as a Mother Gooseland attraction in 1956.
SKY FIGHTER
Yet another Allan Herschell ride. Sky Fighter was made using surplus belly tanks from World War II. It operated next to Bulgy The Whale until both rides were relocated in 2006 when Ladybug Bop and Dinosaur Drop were installed in their place.
JACK & JILL'S HILL
A small hill with a water well on top. It had two slides accessed by two sets of stairs. This used to be found near the women's restroom.
OLD WOMAN WHO LIVED IN A SHOE
Originally a ticket booth, many people remember being able to climb inside this shoe as a kid. Today, it's the only remaining Mother Gooseland display.
PETER'S PUMPKIN SHELL
One side sold food and the other side was a little shop/prize claim center. The early Mother Gooseland included a sandbox with hidden treasures that could be redeemed here for prizes. It was later home to the I.Q. Zoo.

VARIOUS MOTHER GOOSE DISPLAYS
There were supposedly 15 Mother Goose displays introduced in 1956. Other displays which I need more information about include a Ding Dong Well (if it was different than the one on top of Jack & Jill's Hill), Humpty Dumpty's Wall, Little Boy Blue's Haystack and a large mushroom similar to the new one added at the entrance of Ladybug Bop in 2006.
TRANSITION TO KIDDIE LAND
Over the years, rides were relocated, removed or replaced. Attractions that were added after 1956 include:
1961 I.Q. Zoo (inside Peter's Pumpkin Shell)
1963 Helicopters
1964 Hi-Land Playland (built in the center of the Kiddie Coaster)
1964 European Carousel
1977 Scamper Bumper Cars (replaced the Auto Skooter)
1982 Flying Elephants
1983 Moonraker
1984 Red Baron (replaced European Carousel)
Carousel Plaza, added in 1981, had a Mother Goose mural on the back wall which faced the kids' area. But by the end of a renovation in 1985, most of the Mother Goose references had disappeared. The area became known simply as Kiddie Land and Puff The Little Fire Dragon helped introduce a new era for later generations.

View the Mother Gooseland Gallery

LINKS

SOURCES
The New Opportunity?. The Billboard, 19 Feb 1955.
Novel Features Make Standout Of Freed's Salt Lake Kiddieland. The Billboard, 26 May 1956.
Pint-Sized Portions For Pint-Sized Patrons. The Billboard, 7 Jul 1956.
Malecs Add to Park As City Limits Near. The Billboard, 17 Mar 1958.
Park Adds Features Every Year. Deseret News, 26 May 1965.
Griffin, Al. Step Right Up, Folks!, Regnery, Chicago. 1974.
Ogata, Amy F. Creative Playthings: Educational Toys and Postwar American Culture, Winterthur Portfolio, Vol. 39, No. 2/3. The University Of Chicago Press, Chicago, 2004.
Great Moments. NAPHA.org, accessed 27 Aug 2012.
RE: LHP Contact: Rides at Lagoon. Email from Alan C. to author, 8 Feb 2011.