Opened: 1956
Closed: Pre-1983
Number Of Trains: 1
Ride Capacity: 12 (3 cars of 4)
Manufactured By: Allan Herschell Company – North Tonawanda, New York
Ride Model: Little Dipper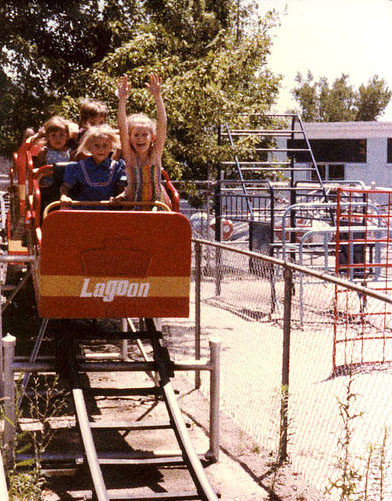 The first Little Dipper coaster was designed by David Bradley in 1946. Two years later he sold the rights to Allan Herschell Company which manufactured a wide variety of kiddie rides. (Three Allan Herschell kiddie rides still operate at Lagoon – Baby Boats, Sky Fighter and the Helicopters).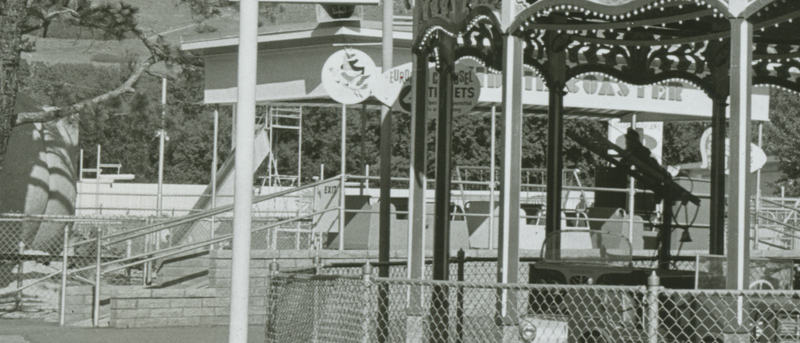 Lagoon's Kiddie Coaster opened around 1956 along with the rest of Mother Goose Land. Within the coaster's oval track was a Little Boy Blue display. This was changed out sometime before 1964 when the Hi-Land Playland was installed there.
The train was originally painted red, but some time around the mid-1970s, a yellow stripe was added around each car with the Lagoon logo painted on the front car under the Alan Herschell grill emblem. Kiddie Coaster was eventually replaced by Puff The Little Fire Dragon in 1985.

Illustration from 1964 Lagoon ad.
HI-LAND PLAYLAND
Opened: April 1964
Closed: Pre-1985
Many coasters like this one have been in use across the country, but Lagoon's was probably one of the few, if not the only one to have a small playground in the center of the coaster. Hi-Land Playland was sponsored by Hi-Land Dairy which often had promotions linked with Lagoon. It's possible that the name and sponsorship changed over the years, but that has yet to be confirmed. The entrance was a large Hi-Land milk carton under the coaster's lift hill. One fan of the Kiddie Coaster (seen with her hands up on the photo above) remembered one particular attribute of the Playland:
"The coaster surrounded a metal play area that was scorching hot all the time. Even the sand was hot!"
Another visitor shared this description of the Kiddie Coaster and Playland:
"You went up the hill slowly like a regular roller coaster and then there were several hills around the track. You got to go around twice."

"There were swings, teeter-totters and other toys inside. I also remember a large pumpkin. It was the size of a small building. They sold snacks from inside it."
The pumpkin was originally out in front of the Kiddie Coaster. I don't know how long it was there or if the playground closed at the same time or before Kiddie Coaster.

See more photos in the Kiddie Coaster Gallery!

LINKS
Puff The Little Fire Dragon (coming soon)
Photo of Hi-Land Dairy building in Murray which has since been demolished.

SOURCES
Novel Features Make Standout Of Freed's Salt Lake Kiddieland. The Billboard, 26 May 1956.
Lagoon ready for 90th season. Deseret News, 12 Apr 1985.
Kiddie Coasters. Roller Coaster and Amusement Ride Home Page, accessed 9 Mar 2011.
Whirlwind Update and More. Email messages to author, 20 & 21 Oct 2005.
Memories of Lagoon. Document sent to author from Alan C., 7 Feb 2011.
Re: Lagoon Photo. Message to author from Rachelle, 9 Mar 2011.