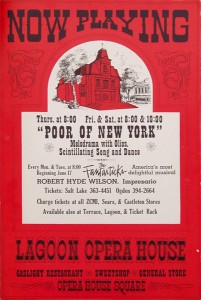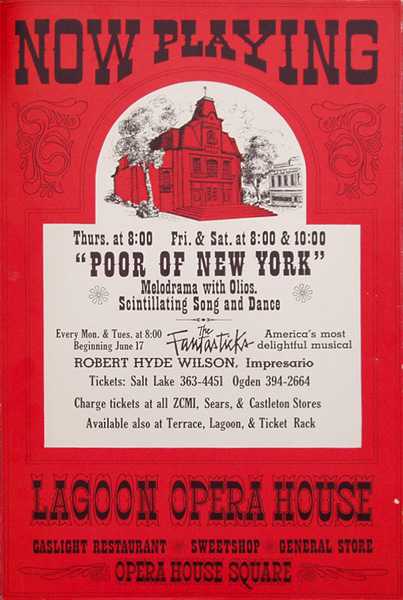 Lagoon's 300-seat Opera House opened in 1968 as part of the turn-of-the-century era Opera House Square. Robert Hyde Wilson, a director and playwright who was teaching at the University Of Utah, was impresario of the Lagoon Opera House and helped found it with Robert & Peter Freed. This was not, however, the first collaboration between Robert Wilson and Robert Freed. In December 1938, Wilson and Freed opened The Playbox, a small theater at 610 East South Temple in Salt Lake City. Peter Freed once told the Deseret News, "Our mother goes back to the old Salt Lake Theatre days. My brother had this idea for the Opera House, and he turned the whole thing over to me. It was one of the most fun things I've ever done in my life. It was also Robert's idea to get Wilson involved as director." Wilson directed 32 plays at the Opera House over a period of 13 years, most of which (if not all) showcased University Of Utah students.
The Opera House opened on 30 May 1968 with a 19th century melodrama entitled Poor Of New York. The small venue became a popular place for theater on the Wasatch Front and generally featured three different productions for about a month at a time each season.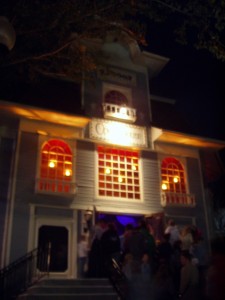 At some time after Wilson retired in the early '80s, Lagoon began leasing out the Opera House to outside production companies. In 1989, it was leased to JPB International Events for a toned-down version of Little Shop Of Horrors. It was directed by Salt Lake Acting Company founder Ed Gryska and the show's producer, Jeffry Belnap, also produced shows for Disney theme parks, Knott's Berry Farm and others¹. Despite pleased audiences, good reviews and the work of Belnap himself talking to crowds around the park and offering discounted tickets, the show closed two weeks early. As Belnap discussed the problem with Deseret News theater writer, Ivan M. Lincoln, he suggested that Lagoon might look into using the Opera House for the kind of musical revues that were popular in the Lagoon Music Theater. He later explained that groups like Bountiful Community Theater and the Hale Family "had moved into the city, so Lagoon was not the focus that it had been during the Wilson era". In a recent email, Jeffry Belnap recalled, "It was very satisfying to hear from one of the Freed brothers say this show – Little Shop – was on par with the best ever produced there."
The Opera House never reopened, even though the possibility of using it again has been mentioned from time to time². It has remained in use for things like auditions and employee orientations, but now it's mostly utilized for rehearsing and some storage. In 2005, the lobby was used for the Madame Nitrous fortune teller attraction during Frightmares. Other than that, it has been closed to park guests since 1989. Beginning in Fall 2016, the exterior was repainted and the wooden shingles on the roof were pressure washed and re-stained, but the old Opera House sign on the front was removed.
Years after it closed, former Lagoon general manager J. Clark Robinson said, "While the Opera House never paid for itself in ticket sales, it and the whole square gave Lagoon an image that is still worthwhile."
Today, the building invokes curiosity for those who never watched a show inside while reminding thousands of others of the good times had within.

Opera House Square Gallery

LINKS
List of shows at the Opera House with cast lists and photos.
More about Opera House Square.

NOTES
1. Prior to producing Little Shop Of Horrors at Lagoon in 1989, Jeffry Belnap had experience producing events for Disney theme parks, Knott's Berry Farm, the Louisiana World Exposition, and "for Bob Jani – the great producer and first VP of Entertainment at Disneyland (including Hollywood Bowl and an '84 Olympics USA team fundraiser)". He also produced the 1988 Opera House show, Whoopee, and served as musical director for both the '88 and '89 shows. He also "brought Mark Huffman in to musically stage Little Shop and he would become the Entertainment Director for Lagoon a few years later for an 8 year run. Mark now directs entertainment for Walt Disney World."  After producing the Opera House's last show, Belnap went on to produce events for Walt Disney World and conventions and is now a technology consultant.
2. Some brief mentions of a possible reopening of the Opera House from the Deseret News:
"Reopening of the Lagoon Opera House is also being considered this summer, but so far these plans are still just in the talking stages." (17 Apr 1992)
"There had been talk of Salt Lake Acting Company possibly mounting a second summer show in the currently dark Opera House at Lagoon, (a 'Forever Plaid'-style musical revue called 'The Cardigans' was being mentioned). However, funding fell through so this isn't even on the back burner." (31 May 1992)
"[Mark] Huffman has instituted a five-year plan for Lagoon's entertainment division, including the possibility of the park's famous Opera House being reopened and a new, indoor theater for its Music USA revues." (16 Aug 1996)
"[Peter] Freed said he always takes his out-of-town guests into the old – and long vacant – Opera House… 'They just love it. It only seats 300, but we could have a really delightful show in there,' he said. But reopening the Opera House is still down the road a bit. It's a budget thing, Freed said." (16 Apr 1999)

SOURCES
New Style Theater Will Open In S. L. Deseret News, 2 Dec 1938.
Lagoon Opens Opera House. Deseret News, 29 May 1968.
Old Fashioned Opera House Bows in as New Attraction. The Milwaukee Journal, 16 Jul 1968.
Lagoon and Pioneer Village are opening for the season. Deseret News, 26 May 1989.
Best 'ride' at Lagoon: 'Little Shop'. Deseret News, 30 Jun 1989.
A Producer's-Eye View Of Showbiz. Deseret News, 6 Aug 1989.
Accessible Fun: Subtle Changes At Lagoon Open Up Park To Disabled. Deseret News, 17 Apr 1992.
Utahn played a starring role in S.L. Valley theater. Deseret News, 24 Oct 1999.
Freed Chavre, Jo Ann. The Bob Book: A Collective Memory of Robert E. Freed. Salt Lake City, Utah, 1999.
U. theater icon Robert Wilson dies. Deseret News, 7 Jan 2001.
RE: Lagoon History comment. Emails from Jeffry Belnap to author, Feb 2011.
Theatre History. HistoricElitchTheatre.org, accessed 10 Apr 2018.