Information on shows at the Lagoon Opera House from 1979 to 1989.
NOTE: This page is under construction and information is incomplete. Please contact me if you have any contributions.

1979
Tickets: $4
A CONNECTICUT YANKEE (Jun 7 – Jun 30)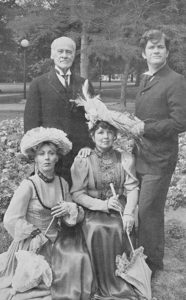 GEORGE M (Jul 5 – Jul 28)
Musical Director: Paul Banham
Choreographer: Barbara Wingate
Stage Manager: Jaye Beetem
Costumer: Kay Schumacher
House Manager: Sharyllyn Shaw
Technical Director: Dave Deike
Technical Assistant: Tom Pavich
Painting: R. Mark Read
Piano: Paul Banham
Woodwinds: Richard Babcock
Follow Spot: Greg Horrell
Program & Publicity: DiAnne Campbell
Lighting: Renee Richmann
GIGI (Aug 2 – Aug 25)
Guest Director: Gary Bird
CAST
Karen B. Alston
Christian Andersen
Teri Campbell
Ralph S. Cannon
Ramona D'Agostino
Pete Drubay
Laurence Finnegan
Lori Gordon
Donny Heath
Nanette Horman
Winkie T. Horman
Paul Kimmel
N. Lynn Mazer
Myra Robbins
Holly Smith
Jonathan Stowers
1980
Tickets: $4 – included park admission ($10 Season Tickets)
CALL ME MADAM
Director: Dennis Ferrin
THE UNSINKABLE MOLLY BROWN (Jul 7 – Aug 2)
Director: William S. Barber (1980 Robert E. Freed Award Winner)
Set Designer: William S. Barber
SIDE BY SIDE BY SONDHEIM
Director: Robert Hyde Wilson
CAST
Christian Anderson
Robert Baker
Kent D. Burrell
Russ Cuff
Anne Cullimore Decker
Jaren Harbrecht
Catherine Holbrook
Ryan Johnson
Joseph S. Kollar
Tony Larimer
Jennifer Blomfield McLaughlin
Derek Merrill
Amy Marie Rose
Anne Rowe
Georgia Sorenson
Eric Underwood
Ron Van Woerden
1981
CALAMITY JANE
1982
DAMES AT SEA (Jun 4 – Jun 26)
Director: David Dean
HIGH BUTTON SHOES
GREASE (Aug 6 – Aug 28)
1983
JOSEPH AND THE AMAZING TECHNICOLOR DREAMCOAT ( – Aug 27)
Director: David Dean
1984
ONCE UPON A MATTRESS
1985
1986
1987
1988
GREATER TUNA
WHOOPEE
Producer: Jeffry Belnap
Musical Director: Jeffry Belnap
1989
LITTLE SHOP OF HORRORS (Jun 23 – Aug 26)
Tickets: $8 General Admission ($6.50 Pre-Sale)
Producer: Jeffry Belnap
Director: Edward J. Gryska
Musical Director: Jeffry Belnap
Set Designer: Ladd Lambert
CAST
Edward D. Britt
J. Alan Brodine
Rebekah Folsom
Frank Gerrish
Kitchell Jones
Troy Lunt
Karen Nielson
Trevor H. Olsen
Kori Ramsey
ORCHESTRA
John Clark
Gerrit Gregor
Jeffrey Gutke
Michael Johnson
Randy Kempton

LINKS
History of the Lagoon Opera House and Opera House Square

SOURCES
Lagoon and Pioneer Village are opening for the season. Deseret News, 26 May 1989.
Best 'ride' at Lagoon: 'Little Shop'. Deseret News, 30 Jun 1989.