Opened: 1976
Closed: 2009
Location: Pioneer Village
Although horse-drawn carriage rides were available at the original Pioneer Village in Salt Lake City, the authentic Stagecoach appears to have been an added attraction for Lagoon. Passengers could ride either inside or on benches on top of the coach for a scenic trip through the village and other areas exclusive to the ride.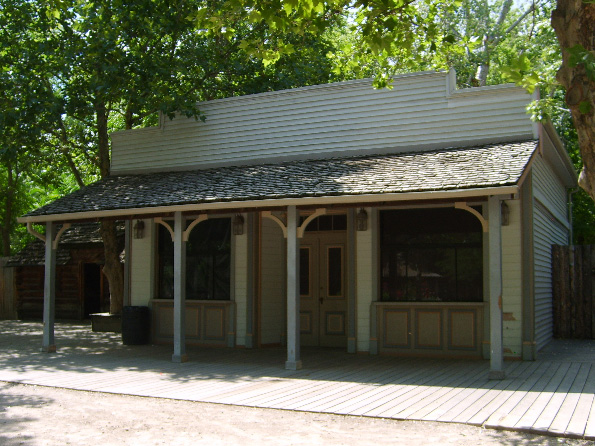 From the boarding area in front of the Pony Express Museum (which now houses a Swig franchise just south of the restrooms) it traveled behind Governor Dern's barn, crossed Farmington Creek and passed through a wooded area, passing deer and buffalo. When it reached the Pioneer Pavilion it crossed the creek again and made its way down Main Street as it returned to the Pony Express Museum.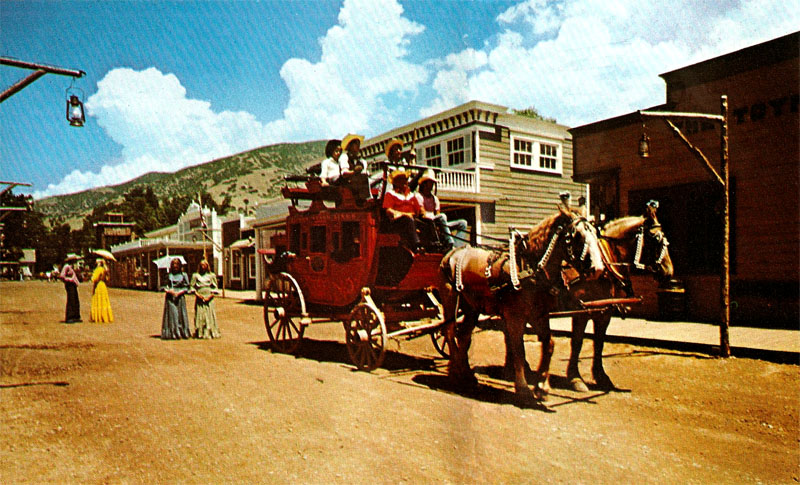 At some point during the first year or two, the stagecoach itself was replaced by a new carriage that was more like a surrey, but retained the Stagecoach name. In the '90s, the loading area was in front of the cabin next to the Pony Express Museum and was later relocated to a small stable west of the Dern barn. When plans were being considered for expanding Pioneer Village in the '90s, different plans show only small alterations to the original stagecoach road. However, when Rattlesnake Rapids was built the ride was significantly shorter. The new path went past the animal pens and around to the east side of Rattlesnake Rapids where the horses turned around, then returned down the same path without ever crossing any pedestrian walkways.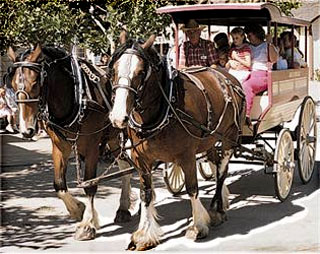 This attraction was unique as it was operated by a family, the Thurstons, who owned the clydesdale horses. Glen and his son Dale drove the horses and were assisted by their wives. Both were members of the Clydesdale Breeders Of The U.S.A. for which Dale served on the board of trustees and was inducted into the association's Heritage Hall Of Fame. For a while, Anheuser-Busch purchased clydesdales from the Thurstons for their famous Budweiser clydesdale team.
The ride was usually only open on the park's busier days. It seems the ride was closed for a season around the time Dale retired in 2007, but returned again (apparently run by his children) until its final season in 2009.
The carriage has been used more recently as a prop in the straw maze in Pioneer Village during Frightmares. During the rest of the season it can be seen behind the Train Museum.


LINKS
1976 Pioneer Village map showing a rough representation of the Stagecoach's route.
Rattlesnake Rapids (in progress)

SOURCES
Pioneer Village dedicated. Deseret News, 31 May 1976.
Glen Thurston. Deseret News, 20 Jan 1996.
1966 Pioneer Village brochure.
1976 Lagoon brochures.
Dale H. Thurston. Walker Mortuary, accessed 10 Jun 2013.