f.k.a. Lagoon Dipper, Silver Coaster, Giant Roller Coaster
Opened: 28 May 1921
Location: Central Midway
Designed By: John A. Miller & Harry C. Baker
Built By: Colorado Construction Co.
Cost: $75,000
Lift Type: Chain Lift
Max Speed: 45 mph
Max Height: 62 ft
Max Drop: 57 ft
Track Length: 2,590 ft
Number Of Trains: 2
Cars Per Train: 4
Ride Capacity: 24 (3 rows of 2 per car)
Hourly Capacity: 1,920

Lagoon's Roller Coaster is the second oldest ride still operating at the park and is on the National Register of Historic Places. It has also been recognized by the American Coaster Enthusiasts as a Roller Coaster Landmark. It's one of only seven John A. Miller designed coasters still operating in the world.
The classic wooden coaster opened in 1921, replacing the park's first roller coaster, called the Scenic Railway. When a fire spread through the park on the night of 14 November 1953, the station and front portion of the ride was burned. The damaged section and a new station was built in time for opening day in 1954.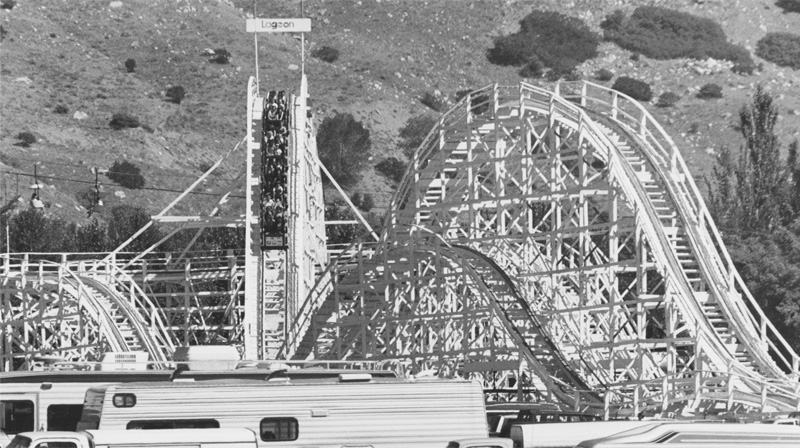 In the early 1990s, a new entrance ramp was built in front to accommodate accessibility requirements. In 2018, the station was was partially rebuilt and new trains were added. It was also at this time that the entrance became the exit and a new queue was built where the exit used to be.

A more thorough history of the Roller Coaster is currently in progress…

SOURCES
Farmington Fractions. Davis County Clipper, 27 May 1921.
National Register of Historic Places, Lagoon Roller Coaster, Farmington, Davis County, Utah, National Register #12000885. National Park Service, 24 Oct 2012.
Roller Coaster Landmark Awards. ACEonline.org, accessed 14 Sep 2019.