Opened: 1965
Closed: 1971
Manufactured By: Mack Rides – Waldkirch, Germany
Ride Model: Wilde Maus
Location: North Midway
The first of Lagoon's three wild mice had wood supports painted white with cars that seated two riders each, tandem style. It was about half the height of the current steel Wild Mouse at the park.
AT THE WORLD'S FAIR
T
he ride's history goes back to 1962 at the World's Fair in Seattle. German designer, Franz Mack had introduced the ride just a few years earlier in 1957. (It was at the fair when Ted Hopkins, manager of Australia's Luna Park, saw the Wild Mouse in operation and bought a license to build his own version in Australia. His version is still running today and has a lot of similarities to the Mack design). This was also the Wild Mouse which Microsoft founder and Seattle native, Bill Gates, once named – along with the monorail – as his favorite memories of the fair. When the 1962 World's Fair closed, the amusement park remained open. The Wild Mouse continued operating there until Lagoon bought it in 1964 and it was replaced with another Wild Mouse.
AT LAGOON
The Wild Mouse opened at Lagoon in 1965 as part of a major expansion on the north end of the Midway. As seen in the photo below, it was just north of the Bamberger Fountain between the Ferris Wheel and Space Scrambler. In 1971, the ride had mechanical problems and was dismantled "to make room for a new ride".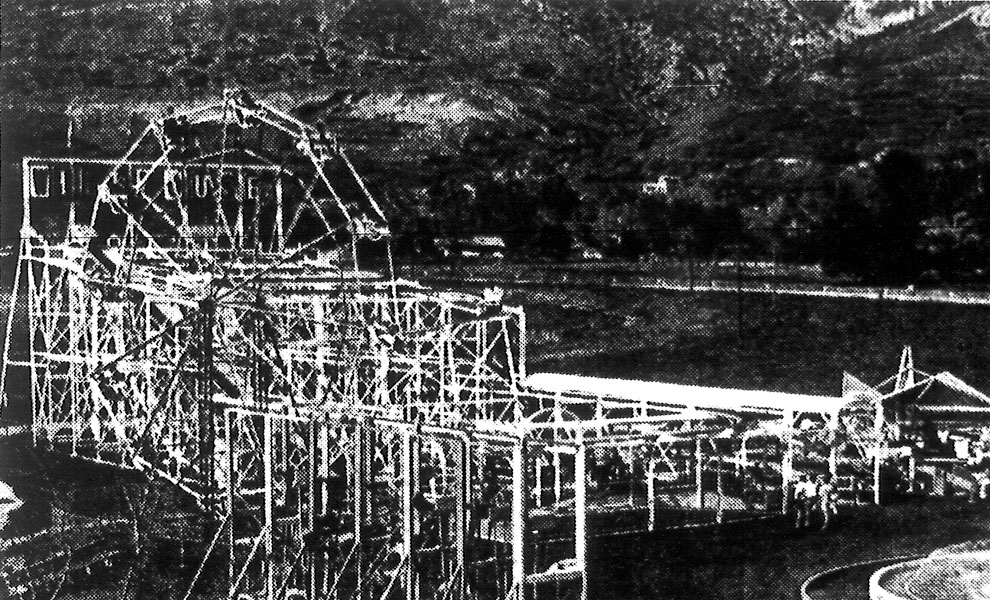 The Wild Mouse at Australia's Luna Park was modeled after Mack's Wild Mouse.

See more pictures in the Wild Mouse Gallery.

LINKS

SOURCES
Cotter, Bill. Seattle's 1962 World's Fair, Arcadia Publishing, Charleston, South Carolina, 2010.
Lagoon '65. Deseret News, 26 May 1965.
Soon…Lagoon can turn a frown upside down. Deseret News, 5 Apr 1975.
Arave, Lynn. Take a wild ride at Lagoon on new Wild Mouse in '98. Deseret News, 5 Dec 1997.
Wild Mouse. Roller Coasters of the Pacific Northwest, accessed 13 Jan 2011.
Mad Mouse. Amusement Ride Extravaganza, accessed 13 Jan 2011.
North American Wild Mouse. Roller Coaster and Amusement Ride Home Page, accessed 13 Jan 2011.
Top 10 Bill Gates anecdotes from his early days. Instant Seattle, accessed 13 Jan 2011.