An old iron cannon used to start off Lagoon's summer firework displays now rests in front of the Farmington City Historical Museum. The plaque beneath it states it was also used "in the Morrisite Battle at Uintah at the mouth of Weber Canyon in 1862." Included below are some accounts from two long-time Farmington residents.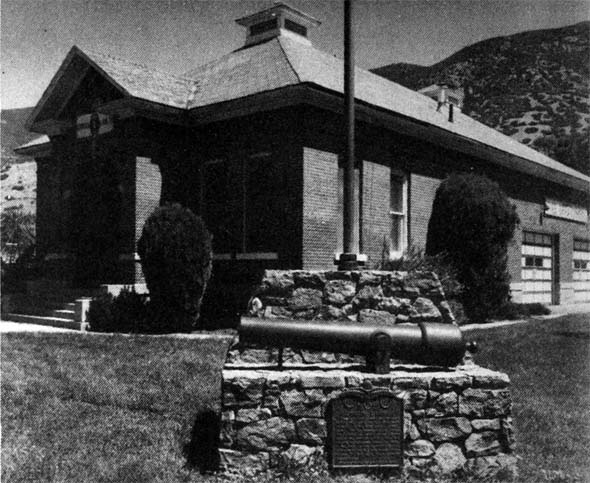 Milton Hess built many of Lagoon's original buildings including the original Fun House and Shoot-The-Chutes ride. After leaving for other work, he was asked by Julian Bamberger to return and move his family to a house next to the park which had been relocated from Lake Park. His wife, Margaret Steed Hess, wrote a history of Farmington in which she shared her memory of the cannon, nick-named the "Old Sow".
"On the 4th and 24th of July my husband (Milton) would stuff the 'Old Sow' cannon with rags and powder, over on the south side of the east pond, and when it got dark enough he would touch a match to the cannon and 'Boom-boom' the noisy thing would nearly blast off your head if you were too close to it. Then all the fireworks would be set off."
Another history of Farmington by well-known educator, George Q. Knowlton, included these stories about the cannon.
"The old cannon that the pioneers brought across the plains used to be at the Lagoon, and was fired on big holidays. One day some boys loaded it with rocks and blew the top off the skating rink."

". . . for a long time it disappeared. Finally Dr. R.C. Robinson found it buried in the south bank of the Lagoon Pond. He dug it out, cleaned it up, and with the aid of Horace Van Fleet brought it up into town, and had it mounted on wheels."
The east pond mentioned in Margaret Hess' account is basically the portion of Lagoon Lake that remains today. Originally, another pond connected to it on the west side where the South Midway is now. The plaque on the memorial was placed in 1947 so it might be that the cannon was forgotten while Lagoon closed during World War II, if not earlier. As George Knowlton says, it was found in the same south bank of the pond. It probably sunk into the soft ground because of its weight. The cannon was mounted by David Lund at what was then the City Hall (now a museum).
The cannon that sits there now is actually a replica. The original was moved to the Rocky Mountain Museum of Military History in Missoula, Montana.

LINKS
Old Sow Photos on Flickr.

SOURCES
Hess, Margaret Steed. My Farmington: 1847-1976. Daughters Of Utah Pioneers, Helen Mar Miller Camp, Farmington, Utah. 1976.
Knowlton, George Quincy. A Brief History Of Farmington Utah. Inland Printing, Kaysville, Utah. 1965.
Markers and Monuments Database – Pioneer Cannon. Utah History Resource Center, accessed 3 Jul 2011.