With a history going back over a hundred years, Lagoon has had plenty of attractions that have come and gone as well as a considerable amount of attractions that, for some reason or another, have never made it past the planning stages.  This is one in a series of posts about attractions that were officially announced, but never became a reality.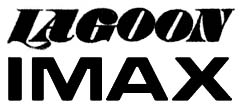 In the mid-1980s, Lagoon seemed to have very definite plans to open Utah's first IMAX theater¹. The following excerpt is from a May 1984 Deseret News article which was probably one of the first reports to the public on what sounded like a sure thing.
Ground is expected to be broken later this month for a $2 million dollar project which will be Lagoon's major new attraction for the 1985 season – Utah's only IMAX theater, featuring a unique 70mm projection system which has a screen nearly seven stories high and more than 90 feet wide, coupled with a six-channel sound system for remarkable realism. Designed by a Canadian firm, the IMAX system has been utilized primarily at world's fairs and similar expositions and at several amusement parks and museums.
The groundbreaking obviously never occurred and by about the same time a year later, here's what the Deseret News was reporting:
Another major project which had been planned for this season, but which is now tentatively scheduled for construction later this fall for the 1986 season, is the construction of a big IMAX movie theater.
Nothing was ever mentioned about where the theater would have been located, but there must have been a spot set aside if construction was planned to begin so soon.
My guess is that it would have been somewhere near the stadium (where Top Eliminator and Double Thunder Raceway are today) based on the following factors.
The maintenance buildings and warehouses were completed near that area in 1985 to eliminate the need for several smaller spaces scattered around the property.
In 1986, the Midway was expanded on the north side into the area that had been reserved for rodeos, demolition derbies and the Davis County Fair². The fair's agreement with Lagoon ended around that time and the concrete grandstand was being used less and less. In this location, the IMAX theater could have been used year-round due to its proximity to the parking lot.
The Sun 'N' Fun Theater was built in this area in 1988, possibly because plans for the IMAX theater had been scrapped. The area would have been a perfect entry way from the park.
There could have been many reasons the theater was never built. One reason may have been that people generally don't go to amusement parks to see movies. And only within the last ten years have first-run, feature-length movies been available in the giant format on a regular basis (like there are now at places like the Jordan Commons). I have to wonder what kind of films Lagoon would show. A popular trend in IMAX theaters in the '80s was to feature specialized films about nearby tourist attractions. For example, the same newspaper articles quoted above speculated that a new Grand Canyon feature by Kieth Merrill (a native of Farmington, Utah) would have played there, but it was originally intended for a new theater built at the Grand Canyon. An IMAX theater built in West Yellowstone, Montana in the '90s showed a special film about Yellowstone. Could it have been that Lagoon would have been involved in bringing about or at least showcasing some kind of movie about some local landmark? Or could it have had to do with the level of involvement between two different companies?

NOTES
1. There was a growing emphasis on entertainment at Lagoon during the late '80s and early '90s. The slogan "A World of Entertainment" was used in advertising in 1985. In the '90s, "The Entertainment Experience" was a slogan commonly used on souvenirs and publicity materials.
An IMAX screen about the same size Lagoon's would have been was built in Spokane, Washington for Expo '74, the same expo where Lagoon's Jet Star 2 first opened. Watch the film that was shown and you may see why this would have made people sick after watching it on a 65-foot high screen.
2. Read more about the Davis County Fair at Lagoon.

SOURCES
Lagoon now open on weekends. Deseret News, 10 May 1984.
Lagoon ready for 90th season. Deseret News, 12 Apr 1985.
Kieth Merrill. Wikipedia, accessed 27 Sep 2010.