At the beginning of the 21st century, it wasn't easy for someone to find historical information about Lagoon or even basic facts about the rides. Like many people, I was curious about how the park came together and how old some of the rides and buildings really were.
There were a couple of websites at the time. Addicted2Lagoon.com had a timeline of events from Lagoon's press kit, a park map and occasional updates about new rides. The Jet Star 2 Archive had a decent amount of stuff about old rides as well as a message board.
Lagoon's official website at the time was essentially an online version of their brochure, so there wasn't much to be found there. There were broader websites like RollerCoaster.com that had a few stats about Lagoon's coasters, but other than that, learning about Lagoon's history meant scouring old books or newspapers on microfilm at the library.
As I began collecting bits of info, I played around with making my own Lagoon website on a very basic, free website-building service. But design options were almost non-existent and if you wanted images you had to choose from one of a few random pieces of clip art from their gallery.

Then I found MSN Groups. It had a message board feature and I could upload my own photos! So on 11 July 2001, I started a page called the Farmington Star. The name was based on the idea that, out of all of the many resorts that operated around the Great Salt Lake in the late 1800s, it was the one in Farmington that survived.
As people began finding the Farmington Star, I started to get more and more messages with helpful info, memories and photos. I continued digging through whatever physical media I could find as well. Sometimes I'd find a book that only had a sentence or two about Lagoon. Other times I'd be lucky enough to find a couple of paragraphs of new information. But it all helped piece together the puzzle.
I was always playing with the design of the website too. I remember spending way too much time creating pixel art of each Lagoon ride and other graphics in Microsoft Paint.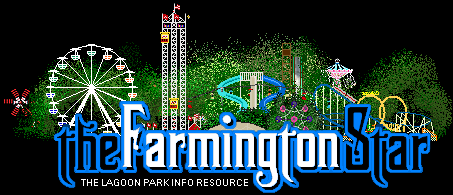 I began branching out from MSN Groups when I created the FS Forums around 2005. In 2007, I finally created a stand-alone website for The Farmington Star and closed the forum. I was using CityMax at the time, but later began using Adobe DreamWeaver to design the website.

Lagoon Today! started as a side blog in 2007 – partly because everybody was using Blogger/Blogspot and I wanted to try it out – but also because it gave me a way to keep track of Lagoon's History as it was happening. I wrote a few articles for it and then just began using WordPress which easily integrated articles along with webpages.
Instead of copying the information from before, I took the time to completely revise each page while adding new content and better images. I also began citing my sources to help solidify what I was putting out there and making it as accurate as possible.
I've received a lot of interesting emails and comments over the years. Most messages I get seem to be about Pioneer Village artifacts or concerts at Lagoon or The Terrace. I've even heard from a couple of people that performed at the Patio Gardens.
About ten years ago, I was contacted by a publisher wanting me to put together a history book about Lagoon. But Lagoon was already working on their own book at the time. I was able to help with the book and it was great to finally see a whole book all about Lagoon when it was published in 2015.
Still, a book has never felt like the right format for this topic. There's just way too much out there about Lagoon and its 135-year history for a single book to contain. I'm constantly finding more pieces of history or more reliable resources.
With this website, I've been able to add and update information as it comes and make it widely available. That accessibility helps more people to remember different details that can be added to the website.
It will probably always be an ongoing project and there's still a lot I have waiting to be added – especially concerning the park's first few decades. Some of the pages and articles that will be coming soon cover topics like the 1953 fire, another live concert recording from the Patio Gardens and the Fun House.
I just keep trying to make a website like I'd want to use myself. Lots of information without a lot of pop-up ads and banners, etc. That has meant that I don't make any profit off of the site. All of the donations I receive go towards hosting fees and keeping this resource available.
The website has grown to what it is today thanks in large part to people who contribute in different ways. Add your memories to the comments section on each page, submit your photos or make a donation to ensure the Lagoon History Project keeps going! (If you donate $5 or more, I'll send you a free Lagoon History Project sticker or pin).
Thanks to all who have contributed so far. Everyone's messages, photos, etc. have been appreciated and countless people have benefited by those who are willing to share.


MORE FROM LHP