Hard to believe, but it has already been a month since Lagoon opened for 2016. No new rides this season (Cannibal is still less than a year old), but plenty of improvements have been made around the park with more on the way.
Cannibal was tweaked a bit over the off-season and offers a much smoother ride, even in the back row. Riders now exit through the gift shop in what used to be Pit Row. But you might say it still is Pit Row if on the south side of the building. The sign was moved to that end and the doors that were there have been replaced by a ticket window for Double Thunder and other X-Venture Zone attractions.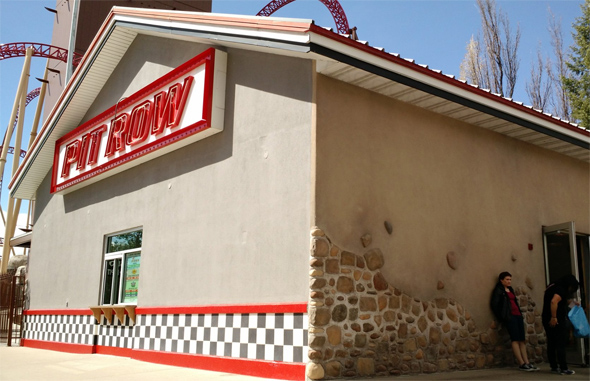 Opening weekend was also Easter Weekend and the successful Easter Egg Hunt tradition continued with a visit from the Easter Bunny. On April 17th, Coca-Cola returned with free samples of their products and music by DJ Jarvicious to promote their new "Share A Coke And A Song" campaign.
Some rides have yet to open for the year including Air Race, Catapult and Moonraker while Samurai finally opened towards the end of April with all-new restraints. The Spider has been repainted with red track and dark grey supports. Turn Of The Century has a new queue and as of April 30th, concrete has been poured for the new terrace to replace the old Log Flume & Creekside Terraces next to the Old Mill. The Rising Waters game near Rattlesnake Rapids has been removed, but a new Hi-Striker with sound a scrolling marquee has been installed in the same location as the old one near Scrambler which was inoperable last year. Lots of smaller updates and improvements have also been made around the park.
Lagoon's 2016 commercial was released on April 23rd. It's made to resemble a trailer for a fictional movie "in the style of Wes Anderson" featuring a young explorer and thrill-seeker named Harold.
As expected in early spring, the weather has been inconsistent with heavy rain on April 23rd that kept most people away, but wasn't bad enough to close the park early. April ended with a powerful wind storm that blew through Davis and Weber counties. Farmington and Lagoon got the worst of it with 91 mph wind gusts reported at the junction of Park Lane and US Highway 89. The amount of damage at the park is unknown at this time, but the park was closed all day on May 1st. Employees began the cleanup right away.
There's a lot more coming up in May. The park will stay open until 10pm on Saturdays starting May 7th. The annual America On Stage national dance competitions will return for the first three weekends of May and heavy crowds are expected. USU Physics Day will be held on Friday May 13th with School Days beginning the same day. Memorial Day Weekend brings the beginning of a new show at Carousel Theater and the opening of Lagoon-A-Beach.
Stay tuned!

Lagoon Today! is a sister site to the Lagoon History Project and originally began as a blog about a decade ago. It was discontinued after a couple of years, but has returned in 2016 on Instagram, Facebook and Twitter as a means of providing news, current events, park updates and weather at Lagoon as it happens. It also serves as a way to record the history of the park in more detail for future reference because history is being made every day.
The content is slightly different on each media channel. Follow Lagoon Today on Instagram for photo updates live from the park. Twitter features more brief information about crowds, weather and events while Facebook includes videos, photos, links to news articles, etc. At the beginning of each month, there will be a recap like this one along with a look at what's planned for the month ahead.