a.k.a. Dr. Dunford's Dental Office
Opened: 1976
Location: Main Street, Pioneer Village
This dentist's office houses a display of "most of the equipment utilized by the average dentist of the [19th century]" including an operating chair and a drill powered by a foot pump.
Whether or not the building itself is original or if it was built by Pioneer Village has yet to be confirmed, but the collection of dental equipment inside is all original and belonged to Dr. Ernest Evans who started up his dental practice in 1905.
It was donated to Pioneer Village in Salt Lake City in 1954 by Dr. Evans' daughter and son-in-law. At that location, the Dentist could be found between the Kimberley Jail Cells and Cobbler Shop. After moving to Lagoon, it was placed between the Post Office & Barber Shop.
A new sign added to the building around the early 2000s says "Dr. Dunford's Dental Office", but there's no further information in or around the building that explains who Dr. Dunford was. The most likely namesake appears to be Alma Bailey Dunford.
Alma Dunford was born in Trowbridge, England in 1850 and arrived in America with his family at the age of three. The family lived in St. Louis before relocating to Utah when Alma was fourteen. After a short time in Salt Lake City, his family went to help settle the Bear Lake Valley. Before turning sixteen years old, Alma moved to Salt Lake City, where an older brother lived, to find work and purchase flour to send back home to his family.
He began working for a dentist by the name of W. H. H. Sharp. After learning the dental trade, he would spend most of his time traveling to isolated communities throughout Utah. Alma usually stayed in a town as long as there was work to do and then moved on to the next town. One of his frequent stops was St. George where he met his wife, Susan Young (a daughter of Brigham and Lucy Bigelow Young).
He continued his traveling dentistry until establishing an office in Salt Lake City in 1879. A history of his life states, "Alma practiced dentistry until his retirement in 1917. For many years, he had his offices at the corner of Main and 2nd Streets. Many of Utah's finest young dentists learned their professions under Dr. Dunford's hand."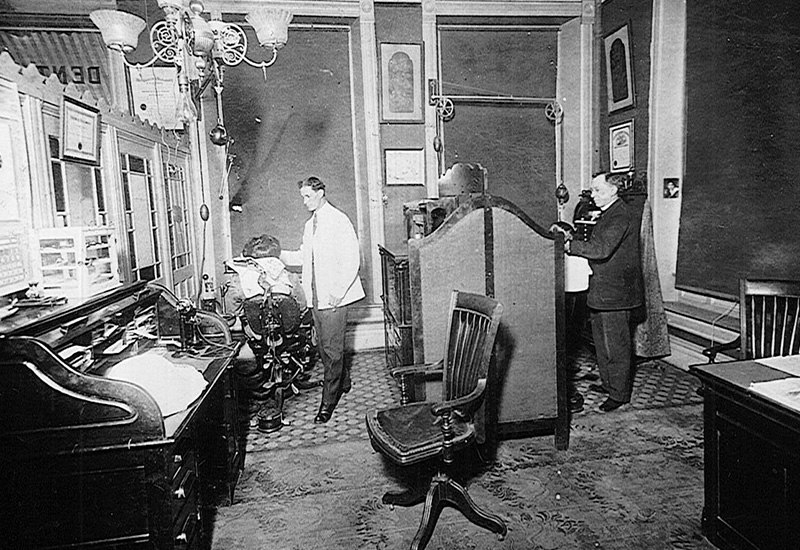 Little information is available, but the photo above shows both Dr. Evans and Dr. Dunford working at the office on Main Street and Second South in Salt Lake City, suggesting that Dr. Dunford may have trained Dr. Evans.

GALLERY

MORE FROM LHP

SOURCES
Meeting house, 90, restored for S.U.P. museum. Sugar House Bulletin, 28 Jan 1955.
Pioneer Village guidebook, 1988.
Dunford, Jill W. Alma Bailey Dunford (1850-1919). The Story of the Ancestors and Descendants of Isaac and Leah Bailey Dunford. The Isaac and Leah Bailey Dunford Family Association. Bountiful, Utah, 1996.