Original Location: near Montrose, Colorado
Original Owner: Denver & Rio Grande Western Railroad
In 1953, the Denver & Rio Grande Western Railroad donated three narrow-gauge cars to the original Pioneer Village in Salt Lake City. There was a boxcar (№ 3576), a gondola (№ 1051) and a caboose (№ 0573). They had previously been in use on a freight line near Montrose, Colorado.
"Narrow gauge" refers to a railroad with a narrower path and cars that would allow it to reach towns in harder-to-reach areas, and was usually less expensive to build.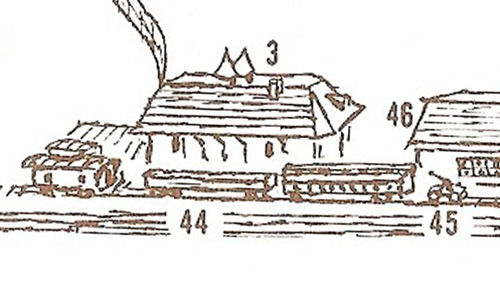 The cars were put on display behind the old Kaysville Union Pacific station. When everything was moved to Lagoon in 1975, there was talk about adding the D&RGW locomotive № 223 from Liberty Park to Lagoon as well, but it never came to be.¹
At Lagoon, the cars were placed on a short stretch of track, behind the Kaysville station once again. But here the station was put into use again as the station for the Pioneer Village Railroad. Some remember the caboose being open for guests to go inside and look around.
In the 1990s, the cars were moved to Ogden's Union Station. They were stored south of Union Station until 2006 when a fire spread from a nearby building and burned the cars. The remaining metal parts were sent off to the Colorado Railroad Museum in Golden, Colorado, Roaring Camp & Big Trees Narrow Gauge Railroad in Felton, California and the Cumbres & Toltec Scenic Railroad in Chama, New Mexico.²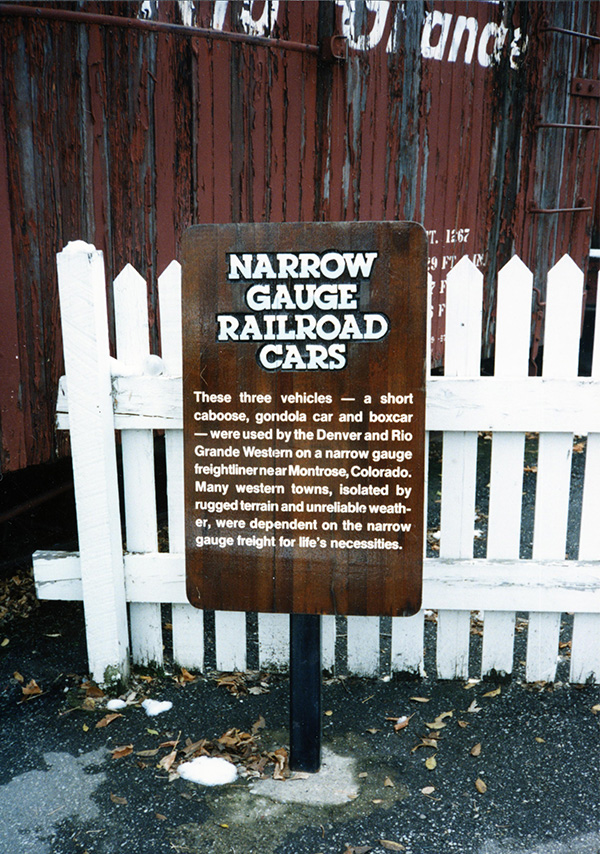 Coincidentally, Denver & Rio Grande Western was the railroad company that built Lagoon's predecessor, Lake Park, on the shore of the Great Salt Lake.

NOTES
1. Locomotive № 223 ended up at Ogden's Union Station. It's currently undergoing restoration and donations for the project are being accepted by the Golden Spike Chapter of the Railway & Locomotive Historical Society.
2. You can find more details about the cars and just about anything related to railroads in Utah at the incredibly informative UtahRails.net. Photos of similar narrow-gauge equipment (like the boxcar and caboose) along with other information about the Denver & Rio Grande Western can be found at DRGW.net.

MORE FROM LHP

SOURCES
Strack, Don. Sons of Utah Pioneers' Pioneer Village. UtahRails.net, accessed 29 May 2013.
Strack, Don. Utah State Railroad Museum at Ogden Union Station. UtahRails.net, accessed 29 May 2013.