Opened: 29 Mar 1975
Location: Pioneer Village
Manufactured By: Arrow Development, Co., Inc. – Mountain View, California
Ride Model: Compact Log Flume
Max Height: 30 ft
Ride Duration: 1 min, 58 sec
Channel Length: 607 ft
Footprint: 100 x 300 ft
Number of Logs: 8
Ride Capacity: 5 per log
Before Lagoon's Log Flume started soaking guests in Pioneer Village, it had a previous life near Oregon's coastline. Pixieland¹ was a small amusement park which opened near the town of Otis in 1969. The park included an opera house, arcade, shops and two rides – a log flume and a miniature train. The park proved unsuccessful and closed after just a few years.
In 1974, Pixieland's owner sold the train and log flume ride to Lagoon for $100,000 in order to get out of debt (the log flume alone had originally cost $200,000). Lagoon opened the Log Flume the following spring in a new area of the park planned to become a re-creation of a typical pioneer town of the Old West. As the newly transplanted ride eased into weekend operation in its new home, a deal to acquire a large collection of pioneer buildings and artifacts from the Sons of Utah Pioneers was still being finalized. When an agreement was reached, the laborious process of relocating Pioneer Village from Salt Lake City to Farmington was soon underway. By 1976, the Log Flume was accompanied by authentic 19th century buildings and a miniature locomotive.
Changes to the ride's surroundings have somewhat altered the experience from the more isolated atmosphere it once had. Originally, most of the ride traveled through a completely wooded area which was fairly quiet with the exception of the steam locomotive of the Pioneer Village Railroad occasionally chugging by² and other riders coasting down the 30-foot drop ahead. The addition of Rattlesnake Rapids in 1997 and nearby picnic areas in 2000 opened up the area around the ride considerably. The Rattlesnake Rapids Railroad locomotive on display between the eastern curve and Rattlesnake Rapids Plaza marks a portion of the old Pioneer Village Railroad. In 2001, the Log Flume received a new log post entrance gate and sign. A new queue and covered loading platform were built in 2002.
Wood siding with a sign was added to the south side of the lift hill in 2017. For Frightmares that year, the old watchtower from the Zombie Lockdown walk-through was placed over part of the ride with decorations added. When the season ended and the decorations were taken down, the watchtower remained in 2018. The logs were also painted in 2018 with some of the logs getting a strange, light brown color.
During the 1990s, park maps inexplicably showed the Log Flume on a large hill. Whether this was simply an erroneous assumption by the map's creator or evidence of an intended upgrade that never materialized is uncertain. It went uncorrected until 1999. Rumors had been circulating about a planned expansion or replacement of the Log Flume. Unlike some rumors the amusement industry, this was based on actual ideas that were once given serious consideration.
On numerous occasions from the late 1980s into the early '90s, Lagoon approached the Farmington City Council to obtain approval of different uses for recently acquired land east of the park. News reports of the council meetings often mentioned the park's master plan consisting of "a log flume, river rapids and mine train." The obvious reason for an upgrade was that the current ride was "too small and crowded."
Plans for an updated Log Flume might have been on the drawing board as early as 1989, but the first specific reference I've found was in January 1991. At least one version of the plan appears to have been an expansion of the existing Log Flume with a river rapids ride to the north. A representation of the plan, redrawn from a map provided by Destination Development, Inc.³, can be seen below. The proposed ride paths for the Log Flume and the ride that evolved into Rattlesnake Rapids are shown in blue along with the current ride paths, in purple.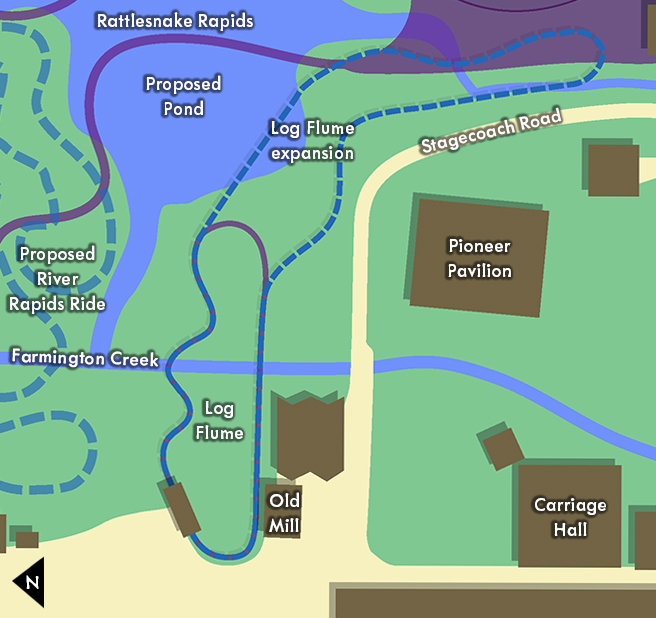 The expanded flume appears to be about twice as long, so it's possible that one or two drops may have been added to the ride. Even though these plans were presented to the city council when asking for the necessary zone changes, there was no intention of installing the rides right away. The addition to Pioneer Village underwent many modifications until Rattlesnake Rapids was the only ride that survived. Still, the Log Flume continues to be a popular attraction despite the fact that wetter, more thrilling rides have since been brought to Lagoon.

NOTES
1. Pixie Kitchen was a popular roadside restaurant in Lincoln City, Oregon. In the mid-'60s, owner Jerry Parks decided to build Pixieland just a short drive north of Pixie Kitchen. It opened in 1969 with a handful attractions. The park never made a profit. After selling rides to Lagoon in 1974 to get out of debt, they added a few new rides, but still ended up closing shortly after. The accompanying RV park lasted a little longer, but the land was sold to the U.S. Forest Service in 1981. During a massive reclamation project, all traces of the park were removed, including the concrete supports for the Log Flume. The site has now been restored as part of the Salmon River estuary.
2. The Pioneer Village Railroad was in operation from 1976-1988.
3. Destination Development, Inc. in Olympia, Washington claims to have had a part in Lagoon's master plan. No specific dates or details were included with the map.

MORE FROM LHP

SOURCES
Lagoon to open; new rides planned. Deseret News, 26 Mar 1975.
Irvine, Arnold. Soon…Lagoon can turn a frown upside down. Deseret News, 5 Apr 1975.
Spend your 13th with DesNews. Deseret News, 11 Jun 1975.
Arrow Development catalog, 1977.
Rosebrock, Don. Lagoon seeks to use street in Farmington for expansion. Deseret News, 22 Jan 1991.
Rosebrock, Don. Proposal to shut Lagoon Lane tabled. Deseret News, 8 Feb 1991.
Arave, Lynn. Farmington approves partial road closure to let Lagoon expand. Deseret News, 25 Oct 1991.
Stone, Mike. Pixies in the Valley: Oregon's Pixie Kitchen & Pixieland. Infinity Publishing, West Conshohocken, PA. 2010.
Pixieland. PdxHistory.com, accessed 9 Feb 2013.
Resource Management: Salmon River Estuary – Pixieland & Fraser Creek. Siuslaw National Forest, accessed 28 Feb 2013.
WKT Locomotive Merriweather. LagoonIsFun.com, accessed 13 Mar 2013.
Messages to author from Sid V. via LagoonIsFun.com, 21-22 Mar 2013.
La Follette, Cameron. Pixieland. OregonEncylopedia.org, 12 May 2022.