Opened: Apr 1977
Closed: Aug or Sep 2021
Location: Kiddieland
Manufactured By: Gebrüder Ihle – Bruchsal, Germany
Ride Duration: 1 min, 30 sec
Number Of Cars: 20
Ride Capacity: 20 (1 per car)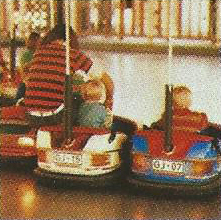 Scamper was a bumper car ride made especially for small children. Upon opening, it was the first new ride added to Mother Gooseland in thirteen years. The cars were manufactured by the same company as those used for Boomerang. But unlike the cars at Boomerang, Scamper cars didn't have pedals; the speed and direction was all controlled with the steering wheel. Both Scamper and Boomerang opened in 1977 to replace the previous Auto Skooter ride which was in the building taken over by Scamper. Before the Auto Skooter, the building was home to the Dodgem Hall.
Scamper was within an area near the front entrance that opened about fifteen minutes before the rest of the park. Because of its location, Scamper regularly opened early, giving kids something to do while waiting for the other areas of the park to open.
For many years, Scamper closed early each season to accommodate the Spook-A-Boo Walk-Thru during Frightmares where kids could go trick or treating in rooms with different themes like a pirate's treasure room or a '50s diner.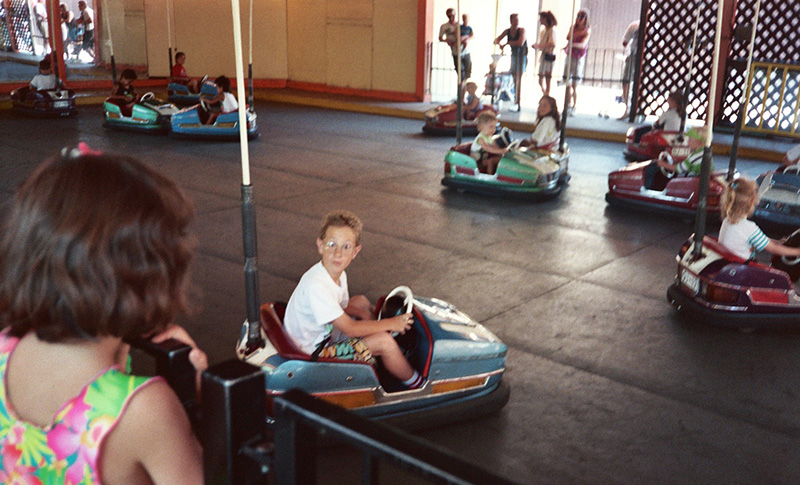 On the morning of 18 December 2021, an employee saw smoke at the Carousel Candy shop and called 911. Fire crews responded quickly and were able to stop the fire from spreading. The cause was speculated to be from electrical components and an investigation was planned to begin the following day. The building was thoroughly checked and placed on fire watch in case something flared up in an unreachable portion of the building, which is often the case with older buildings that have been remodeled. The building had bowstring trusses as well, which have proven to be dangerous for firefighters.
The fire flared up again that night and the same fire crews returned to stop it once again, but this time it was spreading faster and was harder to control. The fire was eventually put out, but only after Carousel Candy and the adjoining bumper cars were destroyed.
Following the blaze, the remains were completely removed and plans were underway for its replacement. When the park reopened in March 2022, a construction wall was placed around the former building's footprint with signs announcing a new Scamper bumper car ride and Carousel Candy shop for 2023. However, the sign was gone by the end of the 2022 season and there's been no public update on a new Scamper as of June 2023.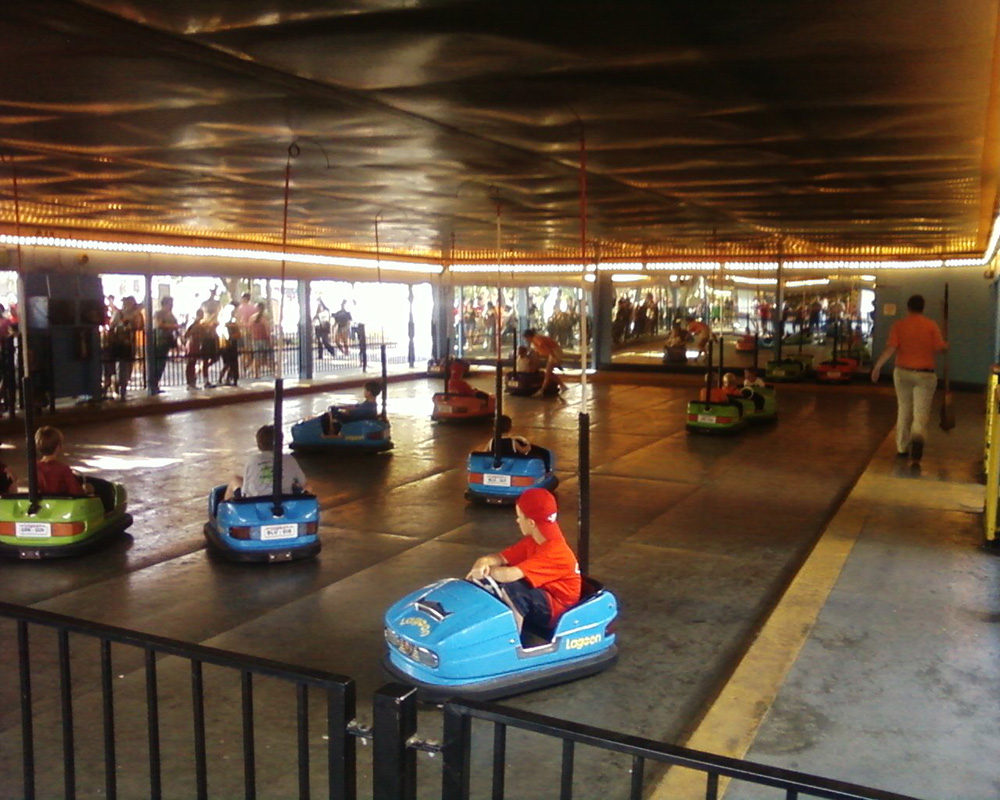 MORE FROM LHP

SOURCES
Lagoon newspaper ads. Deseret News, Apr 1977.
Chronological Order Of Attractions At Lagoon. Lagoon Press Kit, 2011.
Bowstring Truss Roof Construction Hazards. FireFighterNation.com, 10 Jan 2013.
Swenson, Madison. Crews quickly contain fire at Lagoon candy shop. KSL, 18 Dec 2021.
Steinbrecher, Lauren. Two popular Lagoon attractions a total loss after crews battle pair of blazes. KSL, 19 Dec 2021.
Steinbrecher, Lauren. Lagoon works to rebuild days after fire destroys popular attractions. KSL, 21 Dec 2021.