Opened: 1971
Closed: 1978
Location: North Midway
Manufactured By: Aero-Mar Plastics – Miami, Florida?
Ride Model: Astroglide?
Number Of Lanes: 6?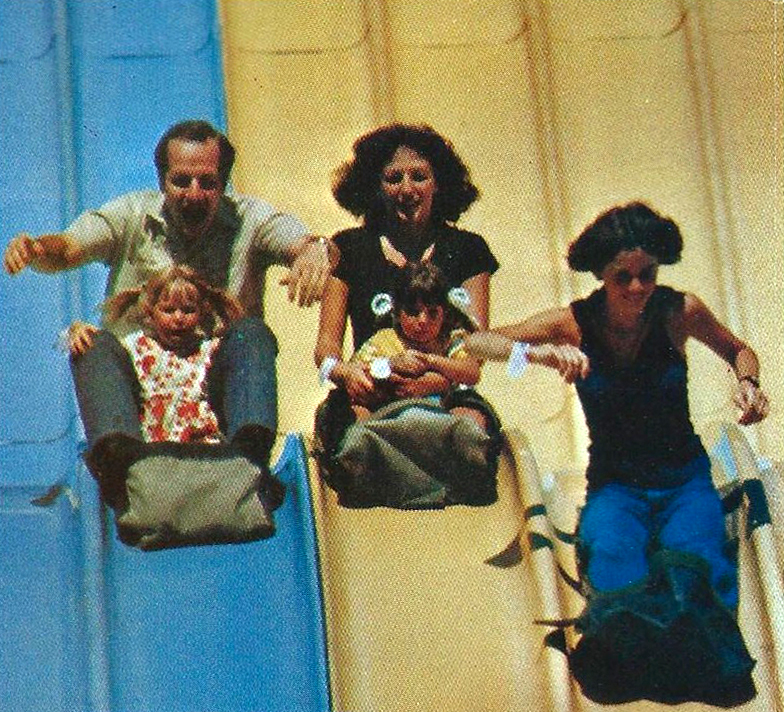 The Sky Slide, like many of the rides Lagoon added in the early 1970s, was a short-lived attraction that's hard to find solid information about.
What is known, thanks to old photographs, is that it was located west of the Davis Pavilion, around the spot where Jet Star 2 and Air Race are today. It had at least six lanes with a staircase on one side leading to the top where a canopy covered the starting point. Lagoon's Sky Slide had fewer, but much larger bumps instead of several small bumps compared to most modern-day versions.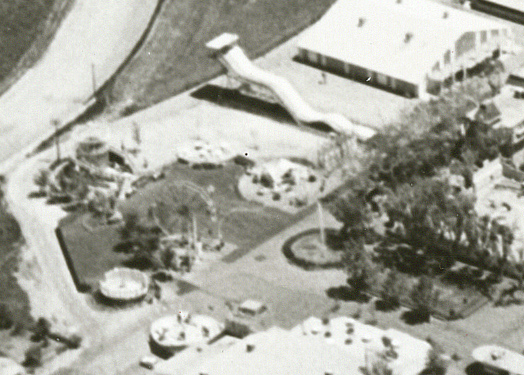 What has yet to be confirmed are things like who made Sky Slide and what happened to it after it left the park.
One likely manufacturer is Aero-Mar Plastics of Florida who made many similar slides in the late '60s and early '70s. They went out of business in 1972, a year after Lagoon's Sky Slide opened.
The Sky Slide was probably removed from the park before Tri-Star opened in its place in 1979. Sources suggest it was used at the Utah State Fair after that. A former manager at Lagoon said it was sold to the fair while a newspaper article claimed the slide at the fair was leased from the Utah Amusement Corporation. That company was originally formed in 1946 to operate Lagoon under a lease. It wouldn't be too unusual for the slide at the fair to be leased from Lagoon since they used to have arrangements involving rides at other locations, such as Lorin Farr Park in Ogden.
The strange thing is that Utah Amusement Corporation changed its name to Lagoon Corporation by the time the article was written in 1983. Perhaps Utah Amusement continued to exist in a different form under new management at that point. The same article states the slide was at the fair since 1971 – the same year the Sky Slide opened at Lagoon. Could it have been moved from Lagoon to the fairgrounds every September? Or have the facts just been mixed up somewhere along the line? Still, just this little piece of information is more than what's usually available about former Lagoon rides from this era.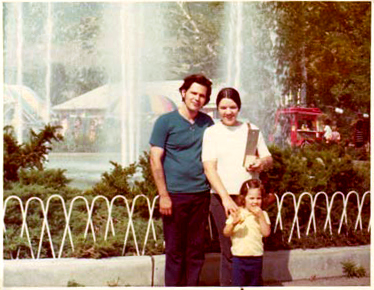 MORE FROM LHP

SOURCES
3 are still recovering from Friday slide rides. Deseret News, 14 Sep 1983.
Michelson, Harry. Magic Carpet Giant Slide. AmusementParkives.com, 4 Aug 2016.
Aero-Mar Plastics Inc. InterCreditReport.com, accessed 28 Jul 2020.
Whirlwind update and more. Email to the author, 20 Oct 2005.
Comments on Facebook post, 17 Oct 2021.