Opened: Apr 1979
Closed: 1990
Location: North Midway
Manufactured By: Huss Maschinenfabrik – Bremen, Germany
Ride Model: Tri-Star
Footprint: 69 x 69 ft
Max Height: 56 ft
Number Of Gondolas: 21
Ride Capacity: 42 (2 per gondola)
Hourly Capacity: 840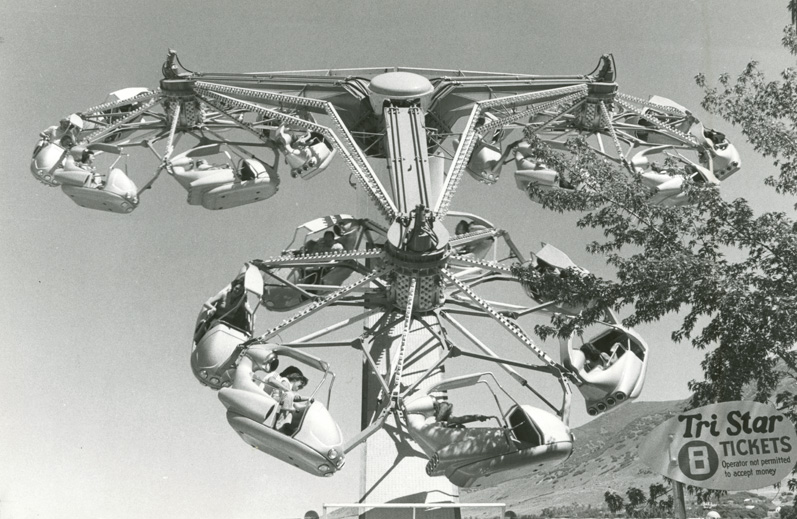 Tri-Star was the first of six Lagoon rides from German ride manufacturer Huss Maschinenfabrik¹. The ride was very similar to Lagoon's Centennial Screamer, but instead of one large wheel, there were three smaller wheels. It opened in late April 1979 directly east of Jet Star 2, a spot which was previously home to the Sky Slide not long before and where Air Race resides today.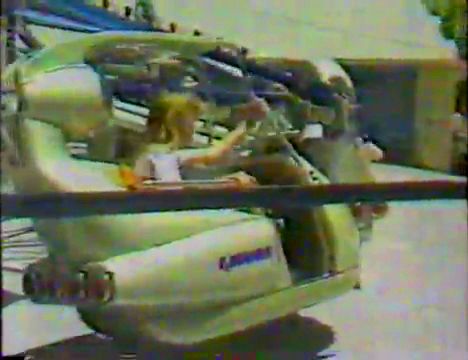 Beginning in 1982, a few different Huss rides would take turns operating for one season each in the same location. Meanwhile, Tri-Star was moved to another spot on the North Midway. Some remember it about where Space Scrambler is now. However, a 1983 aerial photograph shows it between Boomerang and Sky Ride (shown below). UFO was brought in for the 1982 season and was followed by Whirlwind in '84 and Cyclone in '85. In 1986, Tri-Star returned to its original spot until it was removed in 1990.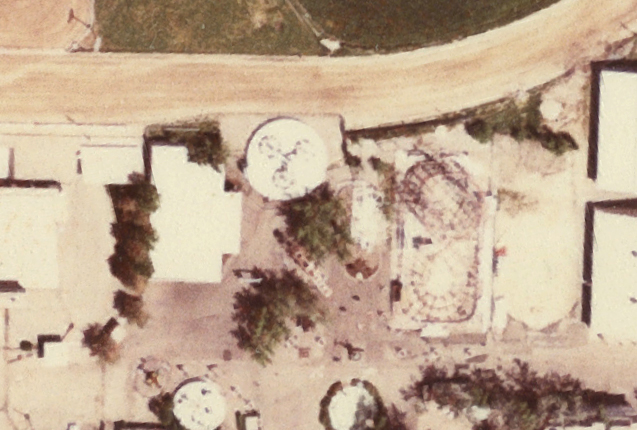 Afterwards, the space was known as the Jet Star Terrace. Unlike other picnic terraces in the park, no permanent shelter was ever built, but was instead occupied by picnic tables and large removable canopies. It was no longer used as a picnic terrace after 2002. The area remained empty except during Frightmares when it was the home of the Psycho Dave's Junkyard walk-through beginning in 2005. Evidence of the old queue was still visible during that time. Air Race opened there in April 2012, more than two decades after Tri-Star closed.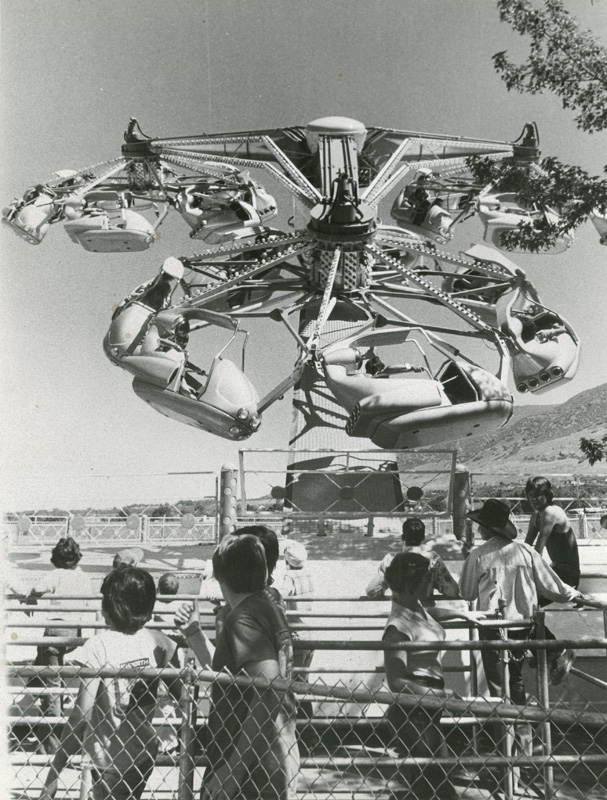 An interesting trend once pointed out in the forum at LagoonIsFun.com suggests that Tri-Star may have had a second life at Kennywood in Pennsylvania. In more than one instance, the same Huss rides operated for a single season each at Kennywood and then at Lagoon the following year. Similarly, the year after Tri-Star closed at Lagoon, a Tri-Star opened for one season in Kennywood.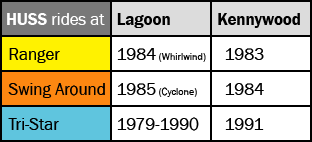 The chart above shows when these rides operated at Lagoon and Kennywood. The Tri-Star which operated at Kennywood in 1991 was later moved to another Pennsylvania park, Idlewild, where it operated from 1998 to 2006 under the name Trinado. It was then transported to Costa Rica where it ran from 2008 to 2013 as the Cuidad Transformer. If it's the same one, it would be the longest life any Lagoon ride has had after leaving the park.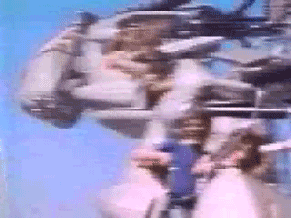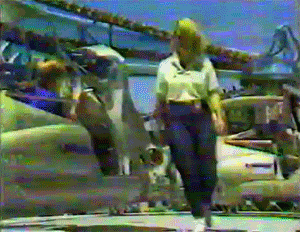 NOTES
1. The other Huss rides that have been at Lagoon are Tidal Wave (1980-present), UFO (1982), Whirlwind (1984), Cyclone (1985) and Centennial Screamer (1987-present).

MORE FROM LHP
OTHER LAGOON RIDES FROM HUSS
Tidal Wave, 1980-present
UFO, 1982-1982
Whirlwind, 1984-1984
Cyclone, 1985-1985
Centennial Screamer, 1987-present

SOURCES
Classic Rides: Tristar. HussRides.com, accessed via Internet Wayback Machine 30 Jul 2012.
RE: Cyclone at Lagoon. Email message to author from Stephenie G., 7 Apr 2004.
RE: KSL prime time access at Lagoon. LagoonIsFun.com Forum, posted 12 Dec 2009.
Trip Report: Kennywood. Dave Althoff, Jr., accessed 30 Jul 2012.
Huss Tristar? [archive]. ThrillNetwork.com Community Center, accessed 30 Jul 2012.
Huss TriStar. ThrillNetwork.com, accessed 30 Jul 2012.