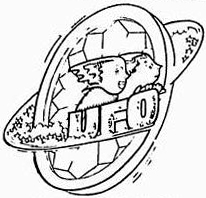 Opened: 17 Apr 1982
Closed: 1982
Location: North Midway
Manufactured By: Huss Maschinenfabrik – Bremen, Germany
Footprint: 69 x 74 ft
Wheel Diameter: 56 ft
Max Height: 65 ft
Number Of Cabins: 12
Ride Capacity: 48 (4 per cabin)
Hourly Capacity: 1,200
The Huss UFO was like a cross between the Centennial Screamer (a Huss Enterprise) and the Satellite (a Hrubetz Roundup). Like the Satellite, riders stood with little restraint around the wheel facing towards the center. Similar to the Screamer, the wheel started flat and was raised by a hydraulic arm until it was almost vertical. Riders entered the gondola on the side. The outward forces of the spinning ride kept riders against the back of the gondola so no restraints were needed, except bars on the front of the gondola.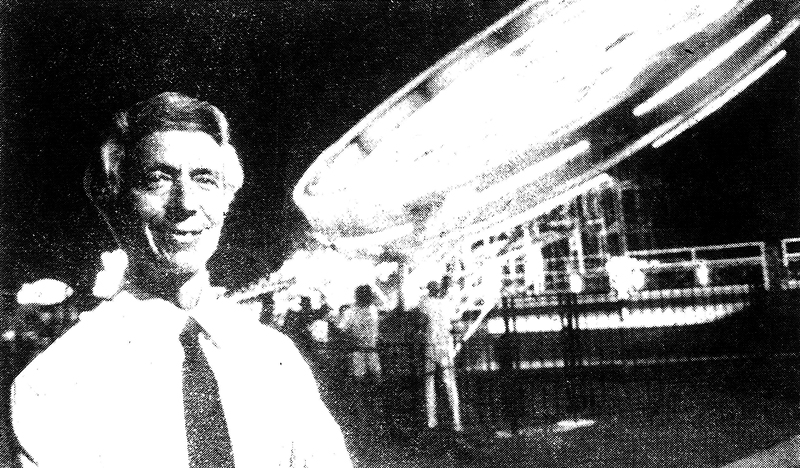 UFO was the first of three Huss rides to spend a single season at Lagoon. It was installed next to Jet Star 2 where Air Race now operates. Tri-Star was placed there in 1979 and was moved across the Midway near Game Time before UFO was there.
After UFO's single season at Lagoon, the space was later home to the Whirlwind in 1984, followed by Cyclone in 1985. Tri-Star then returned to the location until 1990.
The video above shows UFO and Jet Star 2 in action (starting around the 0:51 mark).

MORE FROM LHP
OTHER LINKS
1981 Arrow Huss ride catalog with photos of UFO and much more.
OTHER LAGOON RIDES FROM HUSS
Tri-Star, 1979-1990
Tidal Wave, 1980-present
Whirlwind, 1984-1984
Cyclone, 1985-1985
Centennial Screamer, 1987-present

SOURCES
Lagoon a busy place even when closed. Deseret News, 10 Mar 1982.
UFO. HussRides.com, accessed 25 Oct 2012 using the Internet Archive Wayback Machine.
Whirlwind Update and More. Email message to author, 20 Oct 2005.