Opened: 7 Apr 2012
Location: North Midway
Manufactured By: Zamperla – Altavilla Vicentina, Italy
Ride Model: Air Race 6.4 (park model)
Cost: $2,500,000
Structural Height: 42 ft
Footprint: 87 x 87 ft
Number Of Planes: 6
Ride Capacity: 24 (4 per plane)
Hourly Capacity: 480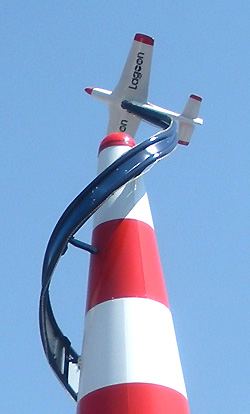 Air Race is located between Jet Star 2 and the Davis Pavilion which has also been home to many other different rides since the Midway expanded north in 1965. Here's a chronology of known attractions that used to be there:
1979-1981 – Tri-Star
1982-1982 – UFO
1984-1984 – The Whirlwind
1985-1985 – Cyclone
1986-1990 – Tri-Star
1990s – Jet Star Terrace
2005-2011 – Psycho Dave's Junkyard
2012-Present – Air Race
The Jet Star Terrace wasn't a permanent building like other terraces and pavilions in the park. It was just a space where picnic tables and canopies were located. After 2000 or so the space was left empty. There used to be annual car shows that used the space on Labor Day weekends. During Frightmares, the Psycho Dave's Junkyard walk-through was there until Air Race was built. Pyscho Dave's became the Pioneer Village Scare Zone in 2014 using some of the same props and adding much more.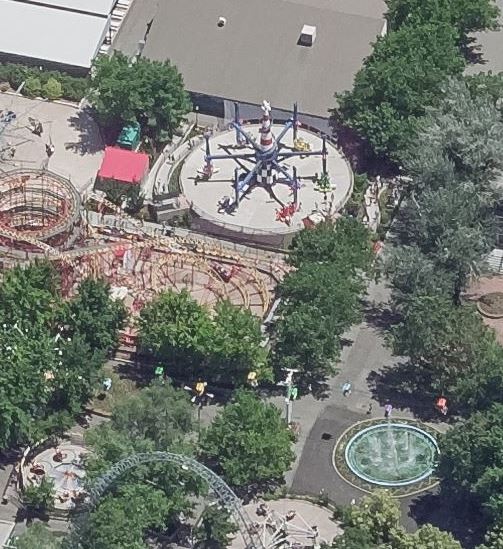 more from lhp

SOURCES
Air Race 6.4. Zamperla.com, accessed 12 Jan 2017.