Opened: 6 April 2013
Location: Kiddieland
Manufactured By: Zamperla – Altavilla Vicentina, Italy
Ride Model: Speedway
Footprint: 39 x 20
Number Of Cars: 8
Ride Capacity: 16 (2 per car)
Hourly Capacity: 400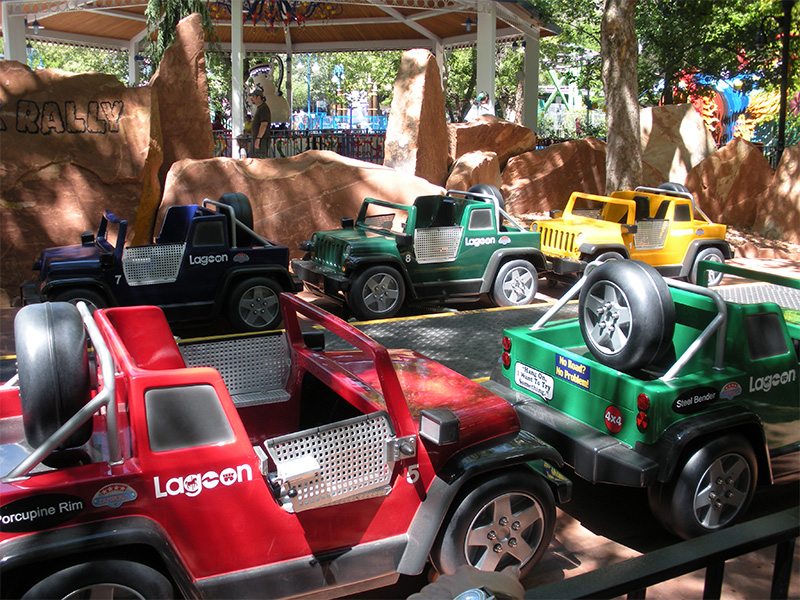 Since the closure of the Putter Around The Park miniature golf course in 2008, several kiddie rides have opened in its place. The first was Jumping Dragon in 2009, followed by two small rides in 2013 – Tipsey Tea Cups and Red Rock Rally. Combined, the rides cost $1.2 million.
Red Rock Rally is simply a Zamperla Speedway ride which offers a similar experience to the old Whip that was at Lagoon for decades. Zamperla makes different styles of this ride (generally stock cars are used), but Lagoon's was custom-made to feature Jeep Wrangler-style vehicles. Instead of the ordinary painted backdrop, Lagoon surrounded the ride with real boulders to help simulate the experience of driving through the red rocks of southern Utah. They also added custom-made bumper stickers to each Jeep and named them after popular trails around Moab.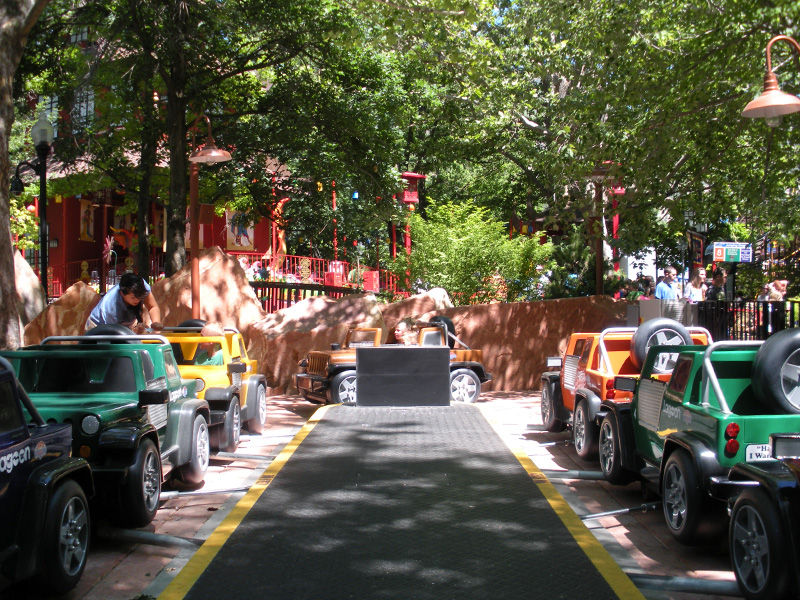 After the end of the 2021 season, the Jeeps were removed, like every year, and stored in the Scamper bumper cars building for the winter. But in December a fire destroyed the building along with the bumper cars and the Jeeps from Red Rock Rally. New Jeeps were ordered and installed around July 2022.

MORE FROM LHP
OTHER LAGOON RIDES FROM ZAMPERLA
Moonraker, 1983
Scaliwags, 1986
Air Race, 2012
Tipsey Tea Cups, 2013
Flying Tigers, 2017
Ruka Safari, 2017
Engine 86, 2020

SOURCES
Saxton, Bryon. Lagoon's new rides send families whippin' and spinnin'. Standard-Examiner, 26 Apr 2013.
Speedway. Zamperla.com, accessed 5 Apr 2021.