Opened: 1986
Location: Kiddieland
Manufactured By: Zamperla – Altavilla Vicentina, Italy¹
Ride Model: Mini Avio
Max Height: 11 ft
Number Of Gondolas: 12
Ride Capacity: 24 (2 per gondola)
The Scaliwags opened just south of Puff The Little Fire Dragon in 1986, replacing the Flying Elephants which had only been at Lagoon since 1982. Both are very similar rides based on Disneyland's famous Dumbo ride, with arms that rise or fall as controlled by riders.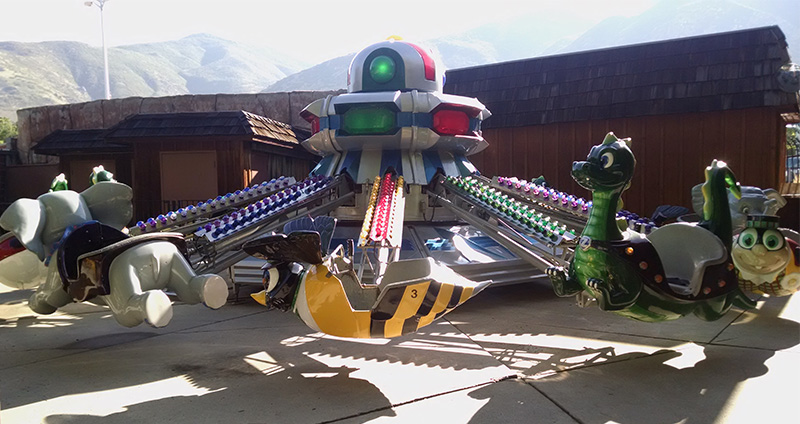 The different characters available for kids to ride represent a mix of different rides that were available from the manufacturer – bees and ladybugs, elephants and Peter Paul dragons.
Scaliwags was the last addition to Kiddieland until Kontiki and The Dragonfly opened in 2004.
Very little has changed with the ride, aside from being repainted a time or two and the usual maintenance, and it still operates in its original location.
Over the years, the name has been spelled many different ways from Scalawags to Scallywaggers. Most often, it appears as Scaliwags.

NOTES
1. Zamperla manufactures the Mini Jet, but it's based on rides they bought the rights to from Barbieri Rides, also of Italy. With the information currently available, it's unclear if Lagoon's model was made before or after Zamperla took over, but the "Z" emblem on the dragons suggest it was made by Zamperla.

MORE FROM LHP
OTHER LAGOON RIDES FROM ZAMPERLA
Moonraker, 1983
Air Race, 2012
Red Rock Rally, 2013
Tipsey Tea Cups, 2013
Flying Tigers, 2017
Ruka Safari, 2017
Engine 86, 2020

SOURCES
Bees & Ladybugs. ZamperlaRides.com, accessed 30 Dec 2019 via Internet Archive.
Elephants. ZamperlaRides.com, accessed 30 Dec 2019 via Internet Archive.
Zamperla Mini Jet Peter Paul Dragon. Ital International, accessed 21 Mar 2020.
Mini Jet. Zamperla.com, accessed 29 Sep 2022.