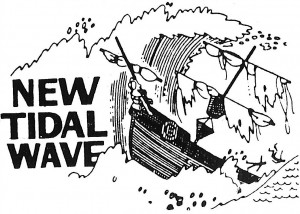 Opened: 1980
Location: South Midway
Manufactured By: Huss Maschinenfabrik – Bremen, Germany
Ride Model: Pirate
Cost: $500,000
Structural Height: 64 ft
Footprint: 34 x 33 ft
Max Height: 57 ft
Ride Capacity: 54 (9 rows of 6)
Hourly Capacity: 900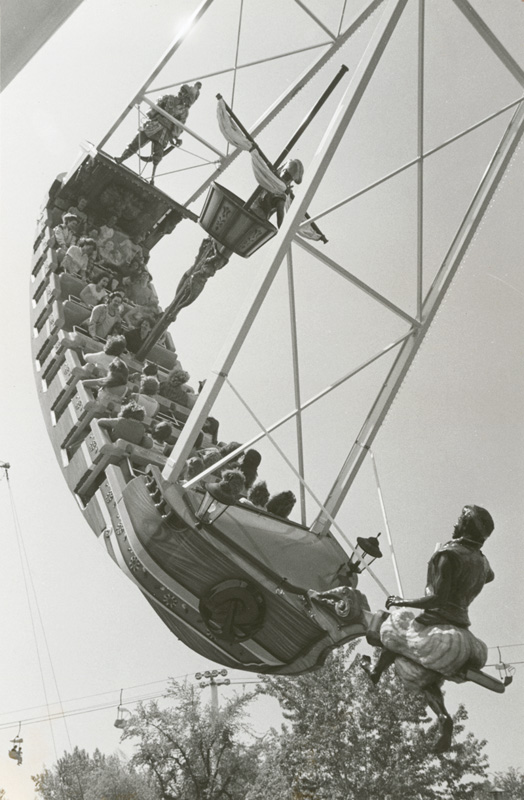 The Tidal Wave opened in 1980 in the northwest corner of Lagoon Lake. The location was previously the loading dock for the Showboat and later the Water Skeeters. When Tidal Wave was installed, a new loading dock for the Water Skeeters was built on the northeast corner of the lake which was accessed by a bridge going over the Wild Kingdom Train. A large metal gate (which had been in place since the days of the Showboat) remained until sometime around the late '80s or early '90s. It was removed and placed in a storage area or "bone yard" behind Pioneer Village. The gate could be seen there from the Lagoon Trail until vegetation grew up around it.
The ride was completely dismantled, refurbished and repainted for the 2007 season. The ship was given a name, "Pieces of Eight," which can be seen on the ship's stern. The ramp leading up to the ride from the queue was also redone.
In the very early days of the park, Lagoon Lake extended north beyond this point about to where the Baby Boats and Red Baron rides are today.

GALLERY

MORE FROM LHP
OTHER LAGOON RIDES FROM HUSS
Tri-Star, 1979-1990
UFO, 1982-1982
Whirlwind, 1984-1984
Cyclone, 1985-1985
Centennial Screamer, 1987-present

SOURCES
Lagoon to open for the season. Deseret News, 22 May 1980.
Arave, Lynn. Changes traditional at Lagoon. Deseret News, 12 Apr 1993.
Pirate Boat: Tech Specs. HussRides.com, accessed 22 May 2011.
Tidal Wave. LagoonIsFun.com, accessed 4 May 2011.