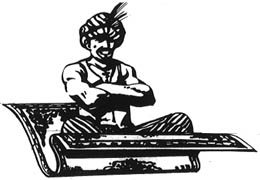 Opened: 19 Apr 1986
Closed: 1999
Location: North Midway
Manufactured By: Weber Maschinenbau GmbH – Bremen, Germany
Ride Model: 1001 Nacht
Max Height: 75 ft
Ride Capacity: 32 (8 rows of 4)
Flying Carpet was part of an expansion on the north end of the Midway in 1986. The development pushed the northern boundary of the park past Jet Star 2, Sky Ride and Boomerang onto land previously occupied by a part of the race track. The Flying Aces were re-introduced as part of the expansion as well. Much like Musik Express and Turn Of The Century, Flying Carpet also had speakers playing music throughout the day.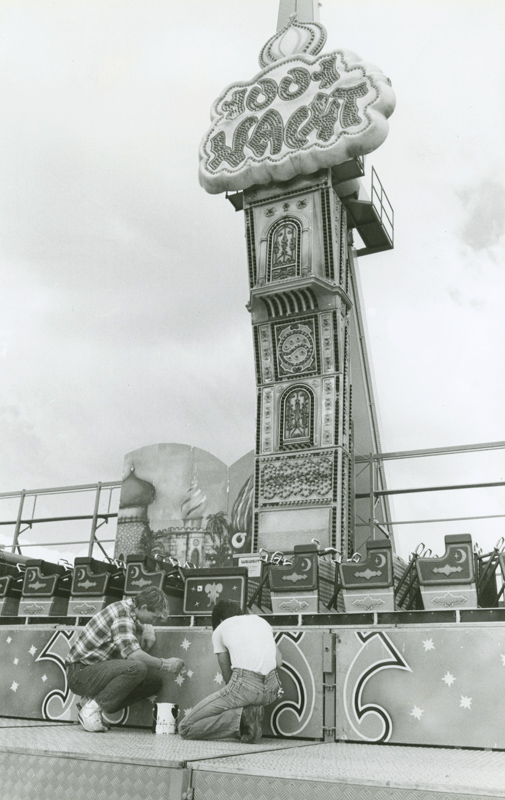 The ride experience was often compared to that of Tidal Wave. The major differences were that Flying Carpet's gondola remained level during operation and made complete revolutions. Even though both were manufactured by companies based in Bremen, Germany, Flying Carpet was manufactured by Weber¹, not Huss as many might assume. Huss had a very similar ride known as the Rainbow.
The model name, 1001 Nacht, appears on a cloud on the center of the arm in electrically-lit, stylized lettering. It's German for "1001 Nights" and refers to the Arabian Nights stories from the Middle East.²
The video above is from a local documentary series in 1986 called PM Magazine. The new expansion, including Flying Carpet, is shown starting at the 2:20 mark.
Like many past rides, maintenance problems seem to have been the cause of the Flying Carpet's removal. The manufacturer had been out of business since before the ride opened at Lagoon, so getting parts could've been difficult as well. After the the 1999 season, Flying Carpet was dismantled and replaced by Samurai the following summer. For several years afterward, pieces of the Flying Carpet were easily visible in the "bone yard" north of the park, but have since disappeared.
Another Weber 1001 Nacht operated at Knoebel's in Pennsylvania beginning in 1998, but it was removed after the 2019 season.


GALLERY

NOTES
1. There doesn't appear to be much information about Weber or its history online (at least in English). But from what I did find, the company was created by Alfred W. Weber, a former employee of Huss (responsible for Lagoon rides such as Tidal Wave and Centennial Screamer). Weber began manufacturing rides around 1983 and had a few different models available, but the company went bankrupt in 1985.
2. This history of Weber states the first 1001 Nacht model was purchased for a traveling carnival by Theo Lehmann who named his ride Flying Carpet. Lagoon bought Colossus from a German traveling carnival a few years earlier so there's a chance that this first Flying Carpet was purchased by Lagoon. Since Weber went bankrupt in 1985, it's also possible Lagoon got a discount on an unsold model.

MORE FROM LHP

SOURCES
Hills, Bruce. Lagoon will open its gates with new rides, games and fun. Deseret News, 13 Apr 1986.
Past Ride: Flying Carpet. Lagoon Is Fun Forum, 21 Mar 2010.
Weber Maschinenbau GmbH Company Profile. Amusement Point, accessed 18 May 2012.