Opened: 20 Apr 1991
Location: North Midway
Manufactured By: Nauta Bussink – The Netherlands
Ride Model: Giant Wheel R50
Motors: 4 25kW rim drive
Footprint: 56 x 77 ft
Structural Weight: 400,000 lbs
Max Speed: 16 fps (~10 mph)
Max Height: 147 ft
Wheel Diameter: 134 ft
Number Of Gondolas: 36
Ride Capacity: 216 (6 per gondola)
Lagoon's fifteen-story-tall giant wheel, called Sky Scraper, opened in 1991. But it seems the ride may have had an earlier life at another park in Florida.
This particular park, south of Orlando in Haines City, was created by the Ringling Brothers Barnum & Bailey Circus in the 1970s. The original plan was to build a new winter quarters for the circus along with a theme park named Circus World.
Only the park was built and it constantly struggled to do well as it changed hands several times through the years. Mattel, the toy manufacturer, owned it for a while. They sold it to a developer who later sold it to book publisher, Harcourt Brace and Jovanovich (who had also just acquired nearby SeaWorld Orlando and Cypress Gardens.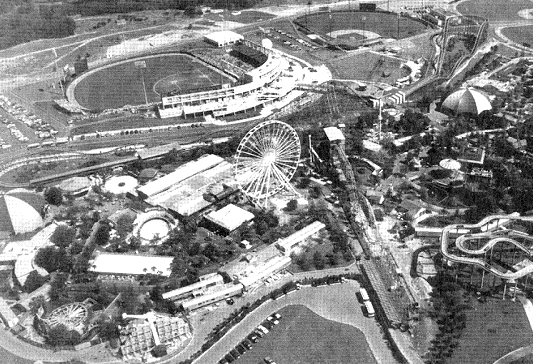 HBJ turned Circus World into Boardwalk & Baseball in early 1987. A brand new baseball stadium was added for the Kansas City Royals to use during spring training and a local minor league team to use during the regular season. A giant Ferris wheel had been operating at the park since around 1985, but in 1987 it was replaced by a new one, about the same size, known as the Big Wheel.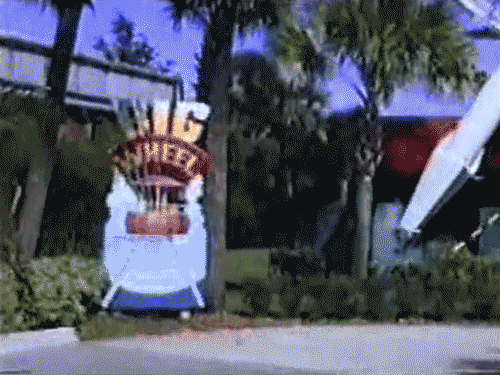 Despite the improvements, the park never really became a success. HBJ sold all of their parks to Busch Entertainment and Boardwalk & Baseball closed for good in January 1990. By July, when an auction was held to get rid of rides and equipment, the Big Wheel had already been sold "for an undisclosed amount".
A few months later, back in Utah, the Farmington Planning Commission gave Lagoon its approval to add a large observation wheel in October. The structure was just under the 150-foot height variance in place at the time. Soon after that, the giant wheel arrived at the park on thirteen semi-trailers.
While it has yet to be confirmed, it's very likely that Lagoon's wheel came from Boardwalk & Baseball considering the time frame and exact likeness of the ride.¹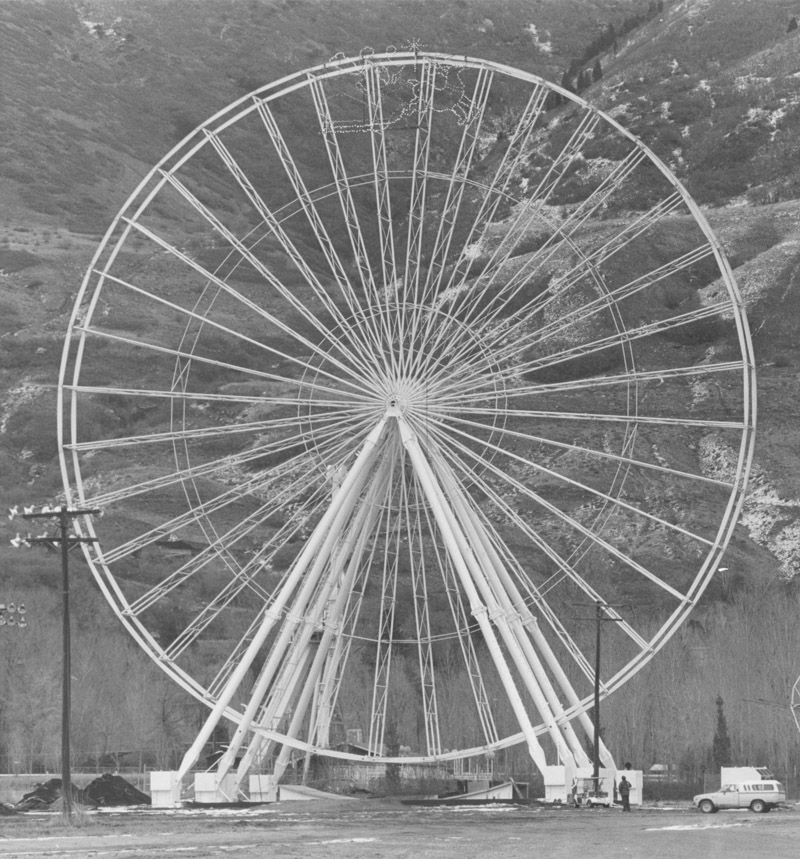 When Sky Scraper opened in spring 1991, it became the tallest ride at Lagoon since Colossus: The Fire Dragon was added in 1983.
The wheel is rim-driven by four motors and engineered to withstand "hurricane-force" winds. Riders have the option of spinning their gondola 360-degrees.
It came with a programmable light show function that utilized 180,000 bulbs and greatly increased Lagoon's visual presence at night.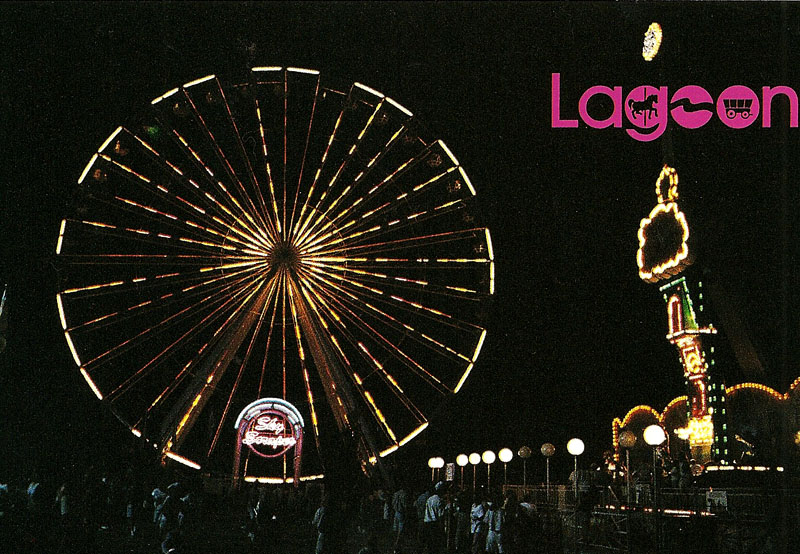 In many ways, Sky Scraper was superior to the much smaller, classic Ferris Wheel. It had been operating since 1953, but closed permanently after the 1990 season.
Over the 2009-10 off-season, Sky Scraper was completely dismantled, causing many to wonder about the ride's fate. But several stories in local news outlets assured the public it was only taken apart to check its structural integrity, replace parts and to be repainted.
Sky Scraper is one of the first rides to close during lightning storms and extremely windy weather. It also used to close during Frightmares, but in recent years it has stayed open longer.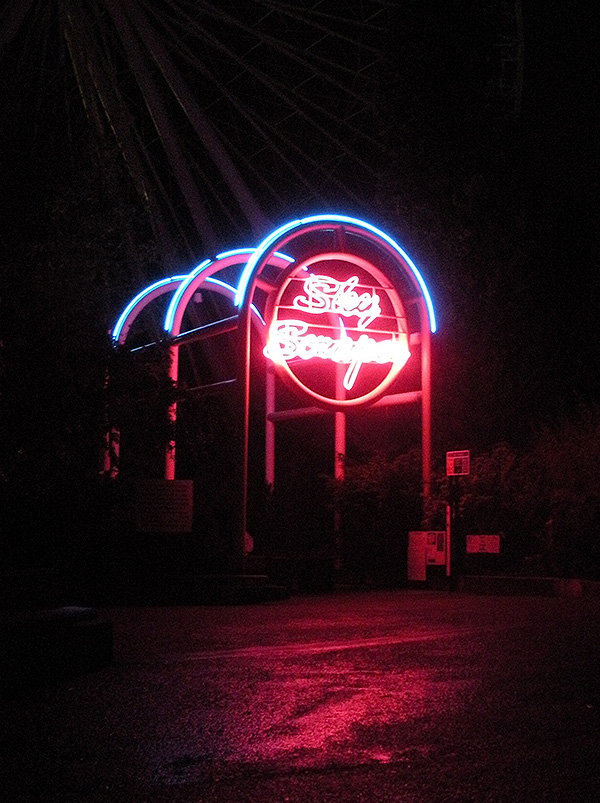 Originally, guests entered through a large metal gate. The queue was divided into three lanes and a group was loaded from each lane consecutively. A typical ride includes three trips around, stopping intermittently as other groups load and unload. Depending on how full the wheel is loaded, a ride can last up to twenty minutes. After unloading, riders used to exit to the opposite side of the entrance and followed a path through trees and shrubbery, ending near the Flying Carpet exit. When Samurai opened in 2000, the end of Sky Scraper's exit was slightly altered.
In preparation for Cannibal, the entrance gate was removed in October 2014. By the following spring, a wide path had been cleared and paved toward Cannibal's entrance. Sky Scraper's entrance was shortened, the old exit was fenced off and one of the three queues was turned into the new exit. The metal gate was later used as the entrance of Double Thunder Raceway.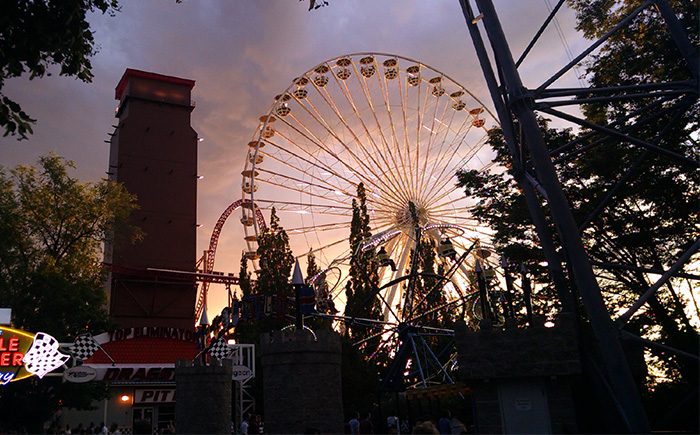 After the Sky Scraper was introduced, other rides began towering over the north end as well. The first structure to top it was the Sky Coaster in 1995 with its 173-foot arch. Rides began reaching the 200-foot mark in 1999 with The Rocket's 217-foot tower. Cannibal's lift tower is about the same height and was completed in September 2014. Catapult, added in 2002, is only 196 feet tall, but slingshots riders above everything, reaching about 250 feet in the air.

GALLERY

NOTES
1. It's also interesting that the price wasn't disclosed to the Orlando Sentinel because when the Deseret News wrote about the Sky Scraper opening at Lagoon, the spokesman for the park only stated that the "value has been set at about $1.5 million". It was common at the time for the cost of new rides to be mentioned in news articles. The use of the word "value" instead of "cost" was also evident on a sign that stood in front of the ride for many years. It listed different stats about the ride including the "value" but not the "cost" of the ride. Perhaps Lagoon just got a great deal on the ride, but it could be one more connection showing the ride's origins.

MORE FROM LHP

SOURCES
Circus World brochure, ca. 1985.
Boardwalk & Baseball park map, 1987.
Blumfield, Michael. Ride's over at Boardwalk & Baseball; Pieces sell cheap. The Orlando Sentinel, 22 Jul 1990.
New Lagoon Ride Approved. Deseret News, 9 Oct 1990.
Lagoon's Giant Kaleidoscopic Wheel Is Getting Prepared to Scrape the Sky. Deseret News, 12 Apr 1991.
Lagoon removes Ferris wheel for maintenance. Provo Daily Herald, 11 Oct 2009.
Giant Wheel Type R50. DutchWheels.com, archived from 13 Feb 2011.
Circus World. Florida's Lost Tourist Attractions, accessed 11 Feb 2020.
Boardwalk and Baseball. Florida's Lost Tourist Attractions, accessed 11 Feb 2020.