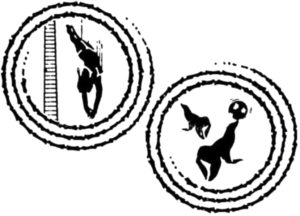 Opened: 1988
Closed: 1992
Location: North Midway
Audience Capacity: 800
Diving Board & Platform Heights: 12 ft, 30 ft, 50 ft, 85 ft
Pool Area: 26 ft Ø
Pool Depth: 10 ft
Pool Capacity: 40,000 gal
Lagoon has hosted just about every kind of entertainment during its multi-century history. One type of show that came to Lagoon on occasion were traveling high diving acts. They often used temporary pools set up on the Midway or at the Lagoon Stadium. In 1988, Lagoon built a more permanent home for these shows just north of the Game Time arcade.
The area had been home to several different flat rides over the years. The Looper was located here until 1987 before it was removed from the park and the Sun 'N' Fun Theatre was built in 1988.
With the new facility, shows could be held throughout the season, instead of just for a few days. With the performing area next to the Game Time building, metal bleachers were set up facing south, toward the diving tower and above-ground pool. Like the other entertainment around the park at the time, shows were free with admission to the park.
The shows held there in its first season featured high divers and sea lions. The venue sat empty the following year, with hopes to re-open in 1990. Long-range plans announced in 1989 called for a massive overhaul of Lagoon Lake with high divers leaping from the top of a tall-masted ship. None of those plans ever came to be.
The next season of diving shows didn't happen until 1992 when the International High Diving Spectacular was held to coincide with the Summer Olympics in Barcelona. In addition to the two diving boards and diving tower, a diving platform was added at 30 feet above the pool. The tower had small platforms at 50 and 85 feet. Talented divers from Denmark, Iceland, Mexico, Canada, France and the U.S. performed impressive stunts and comedy skits throughout the summer in what would be the last season of the Sun 'N' Fun Theatre.
It sat empty for two more years before being demolished to make way for the new Sky Coaster, which opened in its place in 1995. The entrance gate near Boomerang remained in place for years after Sky Coaster opened and wasn't completely dismantled until fairly recently.

GALLERY

MORE FROM LHP

SOURCES
Lincoln, Ivan M. Lagoon A Beach: Resort is making waves this season. Deseret News, 21 Apr 1989.
Lincoln, Ivan M. Making a splash at Lagoon. Deseret News, 29 May 1992.
Taylor, Brian. The Summer Of '92, BrianTaylorOnline.info, accessed via Internet Archive 25 Jun 2020.