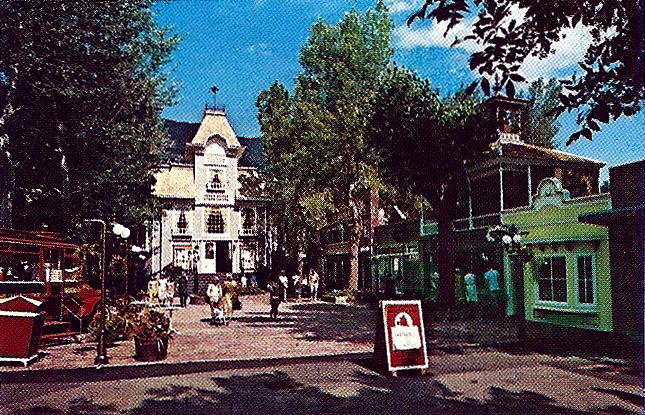 Opera House Square was completed in 1968 and originally featured the 300-seat Opera House, Gaslight Restaurant, Sweet Shop and General Store¹. Robert and Peter Freed searched far and wide for antique pieces and decorations in an effort to make the Victorian-style town square as authentic as possible. Marble-top tables in the restaurant were from a turn of the century European coffee shop. In the Sweet Shop were wire-back chairs from a chocolate factory in Hershey, Pennsylvania with marble tables and a soda fountain from a demolished ice cream shop on West South Temple in Salt Lake City. Stained glass windows were from old churches in the Salt Lake area. The General Store was decorated with pieces from an old barn in Oakley, Utah. Bronze lighting fixtures came from the old Metropolitan Club in New York City. An elevator cage was salvaged from the recently demolished Healy Hotel in Ogden and transformed into the theater's box office. The marble and molded metal ceiling in the lobby also came from the Healy. The chandelier in the lobby once hung in a mansion on 5th Avenue in New York City and the large chandelier in the theater was from the old Salt Lake Theatre. Seats came from many different old theaters including one in Wyoming.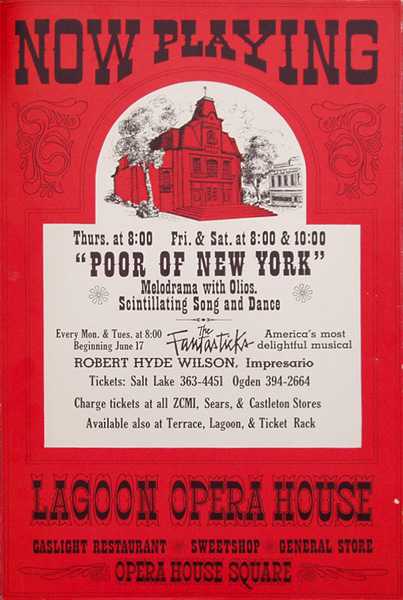 The Opera House opened on 30 May 1968 with a 19th century melodrama entitled Poor Of New York. The small venue became a popular place for theater on the Wasatch Front and generally featured three different productions for about a month at a time each season. In the '80s, Lagoon began leasing out the Opera House to outside production companies and was closed to guests after the 1989 season.
The Gaslight Restaurant was on the east end with the Sweet Shop in the middle and the General Store at the west end of the square. A picnic terrace, alternately known as Gaslight Gardens and Gaslight Terrace, was built in 1971 just south of the Opera House. It was eventually torn down for OdySea, which opened there in 2008. In 1996, the west portion was converted into a Subway restaurant and the Gaslight Restaurant became Arby's in 2001.

Opera House Square Gallery

LINKS
More about the Lagoon Opera House.

NOTES
1. A United Press (UPI) article also mentioned a saloon and Lizzie Anne's Dress Shop as part of the attractions, but this is the only reference I've found for either. It's possible that they would have just been displays. A dress and hat shop later opened in Pioneer Village and is still on display today above the Barber Shop.

SOURCES
New Style Theater Will Open In S. L. Deseret News, 2 Dec 1938.
Lagoon advertisement. Deseret News, 28 May 1968.
Lagoon Opens Opera House. Deseret News, 29 May 1968.
Old Fashioned Opera House Bows in as New Attraction. The Milwaukee Journal, 16 Jul 1968.
Lagoon Coloring Contest. Deseret News, 26 May 1971.
Lagoon and Pioneer Village are opening for the season. Deseret News, 26 May 1989.
Best 'ride' at Lagoon: 'Little Shop'. Deseret News, 30 Jun 1989.
A Producer's-Eye View Of Showbiz. Deseret News, 6 Aug 1989.
U. theater icon Robert Wilson dies. Deseret News, 7 Jan 2001.