The origins of Opera House Square go back much further than its opening at Lagoon in 1968. The small theater was a realization of a lifelong dream for Robert Freed, a former manager of Lagoon who was always fascinated with different forms of entertainment.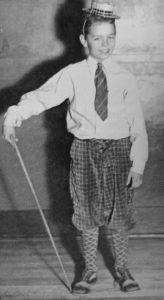 The Freed family was no stranger to theater. Bob and his brother, Peter, would regularly walk or roller skate to a theater in downtown Salt Lake City every week for years. Their mother had appeared in a play at the legendary Salt Lake Theatre and in the basement of their home on South Temple, their parents built a little stage for them to play on. Bob named it The National Theater and they often put on their own plays for friends, family and neighbors. Bob convinced Peter to get involved, asking him to sing for the audience between acts.
Bob began performing in school and community productions, usually taking his reluctant brother along. In high school, he became a regular actor on KSL radio shows and later started writing scripts for them as well.
In December 1938, Bob and his friend, Robert Hyde Wilson, founded The Playbox – a small theater known for its intimate performances. The Playbox moved around to several locations around Salt Lake City, always in small buildings where the actors and audience were together in the same room. Its first home was the Matthew Walker Mansion and succeeding locations included the David Keith Mansion, a restaurant near Liberty Park, the basement of Kingsbury Hall and, finally, a small building that is now the Voice & Opera Center at the University of Utah. Wilson once related the following about the days at the David Keith Mansion:
Interior of the Keith Mansion. Photo: Louis T. Taft

"It seated about 50. We did plays in various parts of the house – the library, the front room . . . it was a gorgeous house with a big fireplace. The doors into the hallway were like a theater proscenium. We would never close them. Audiences could see through the doors down the long hallway."
Bob involved himself with almost every aspect of operating The Playbox, but left the organization shortly before World War II.
Lagoon had been operating in Farmington for almost fifty years when it closed during the war. It was on the route to extinction when Bob and his three brothers saw potential in bringing it back. To operate the park, they teamed up with Ranch Kimball who had been working for Lagoon before the war and performed in magic shows with Bob's older brother, David. After considering a career in New York or Hollywood, Bob finally settled on the family venture at Lagoon and went all in to make it the great place we know it as today. Bob was responsible for bringing in high profile musicians and performers to the Patio Gardens among several other notable achievements like eliminating segregation at the park and serving a term as president of a national ballroom association. Meanwhile, Bob continued to travel to New York to attend plays each year, after the annual amusement park industry convention.
Bob was instrumental in bringing countless popular musicians to Lagoon for decades. But as popular acts began to stray from the family atmosphere Lagoon was trying to nurture, concerts at the Patio Gardens ended.
As new entertainment options were explored, Bob thought of a way to bring his love of theater to Lagoon. It's speculated that he was influenced by the well-established theater program at Elitch Gardens in Denver. The Elitch Theatre was founded in 1891 and made a huge impact on the theater industry. Many stars of stage and screen had their start at the Elitch Theatre such as Debbie Reynolds, Grace Kelly and Vincent Price.
Bob seemed to love theatrical productions in small venues and was excited about a new venture that would involve his passion. His older brother, David, thought it was a crazy idea, but Bob had faith in the idea and was driven to make it work. After enlisting his old friend Robert Hyde Wilson as impresario, plans for the Lagoon Opera House were underway.
THE LOCATION
For several decades, the northern boundary of Lagoon was a road that ran east to west. In 1896, a bowery was built near this northern boundary. Originally it had the park's mule-driven merry-go-round inside, before the current electric one was introduced. The bowery was used as a luncheon pavilion for a long time. At some point, the open-air bowery was replaced by an enclosed building that matched the dimensions of the bowery.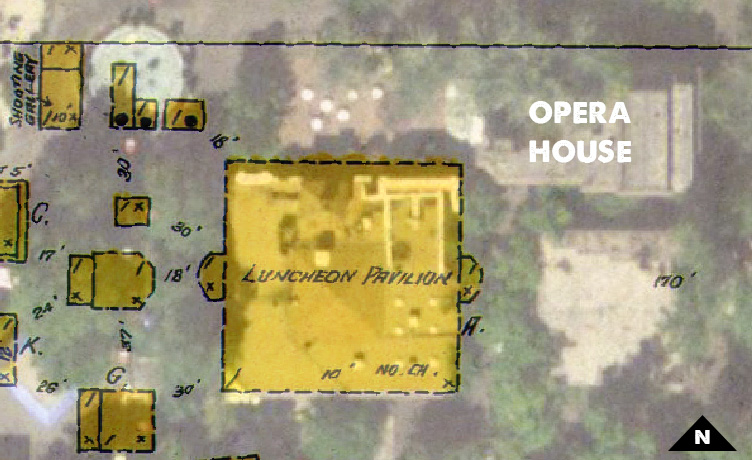 In the 1960s, Lagoon was considering the idea of hosting the Utah State Fair on the north end of the park. A conceptual expansion plan was drawn out showing a new entrance on the north side of the Patio Gardens building leading to a large fountain at the axis of two main thoroughfares. The state fair never moved to Lagoon, but the Davis County Fair, which began at Lagoon in the early 20th century, returned to the park after using other sites for about twenty years.
Some of the additions planned for the state fair were still carried out as they were still practical for the county fair as well as the park's northward expansion. The Bamberger Fountain was built in 1965  followed by the Lagoon Stadium and Davis Pavilion exhibit building.
Opera House Square found a home just east of the Bamberger Fountain. Shops and a restaurant were built into the north side of the building that replaced the old Bowery with different facades made to fit the style of a New England town square around the turn of the century. Bob had his brother Peter design the Opera House and square.
Both brothers went to great lengths to make the area look and feel authentic. They searched far and wide for antique pieces and decorations. Marble-top tables from a turn of the century European coffee shop were used in the restaurant. In the Sweet Shop were wire-back chairs from a chocolate factory in Hershey, Pennsylvania. Marble tables and a soda fountain came from a demolished ice cream shop on West South Temple in Salt Lake City. Stained glass windows were from old churches in the Salt Lake area and the General Store was decorated with pieces from an old barn in Oakley, Utah.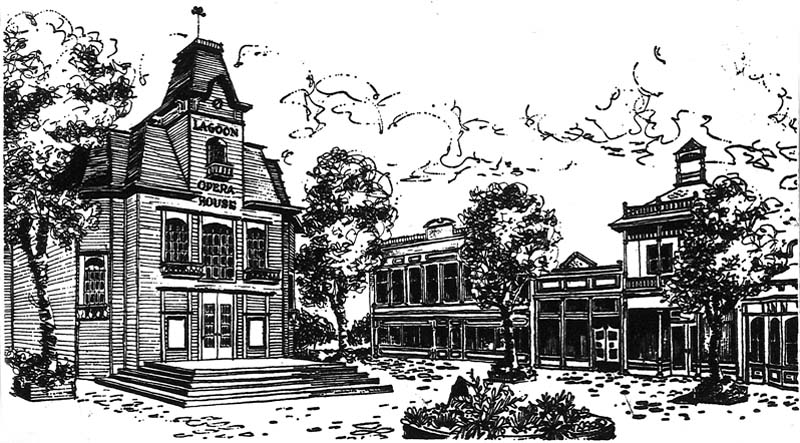 THE SHOPS & OTHER FEATURES
The square was a well-rounded experience, providing more than just plays at the Opera House. Before a show, guests could browse the General Store, enjoy a meal at the Gaslight Restaurant, grab a treat at the Sweet Shop or the Popcorn Wagon during intermission and top off the evening with dessert from the Ice Cream Parlour.¹ For seven years, ragtime piano music was provided in the square by Jerry Jensen, usually between shows.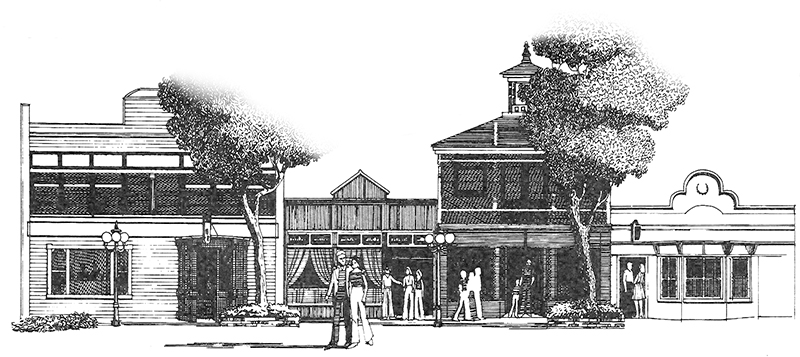 A picnic terrace, Gaslight Terrace (sometimes referred to as Gaslight Gardens), was built in 1971 just south of the Opera House. After Lagoon began its annual Frightmares event, the Gaslight Terrace doubled as the home of The Labyrinth haunted walk-through. It was eventually torn down for OdySea, which opened there in 2008.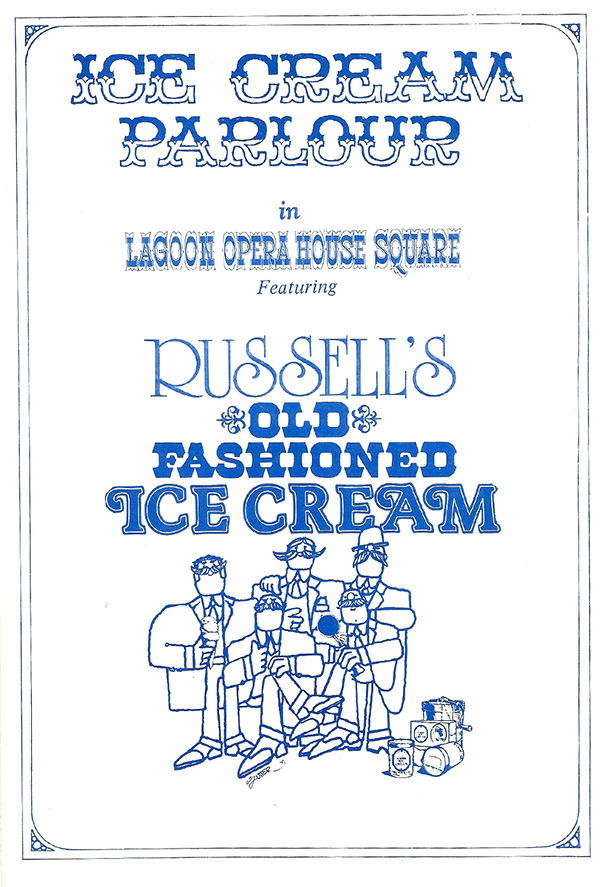 Many undocumented changes occurred in the shops over time. The General Store and Sweet Shop, famous for its salt water taffy, disappeared. In 1997, the Ice Cream Parlour was converted into a Subway restaurant – the first franchise at the park in modern history. In 1998, Lagoon bought a Jabooka Jooce smoothie franchise and added it to the menu at the restaurant. But the Gaslight Restaurant closed soon after and reopened as Arby's in 2001. Upgrades were made to the storefronts in Opera House Square during those years to ensure the square retained a fresh look even though the Opera House itself had closed in 1989.
The addition of Opera House Square was a pivotal point in the history of Lagoon. Some may see it as a reaction to the trend started by Disneyland to divide parks into areas with different themes. But it can also bee seen as a precursor to the addition of Pioneer Village in 1976.
Both Pioneer Village and Opera House Square used authentic elements to recreate a similar time period in American history, albeit in two completely different parts of the country. A 1972 Lagoon brochure informed guests they could "See the Historic Pioneer West at the Lagoon Opera House". Perhaps before acquiring the Pioneer Village collection, Opera House Square was the beginning of a different old West town that would've been created entirely by Lagoon. It's been said that the addition of Pioneer Village was a realization of a dream of Bob Freed's, but he passed away in 1974 before the collection was purchased and moved to Lagoon. There were further connections to Opera House Square even after Pioneer Village opened. A variety of Pioneer Village souvenirs were sold in the 1970s with the Opera House featured prominently along with Pioneer Village attractions. But the two areas were never connected geographically.
Even with the darkened Opera House, the square still serves as a welcome resting area amidst the noisy thrill rides where guests can take a break and enjoy a meal under the shade of the cottonwoods and sycamores or inside an air-conditioned building.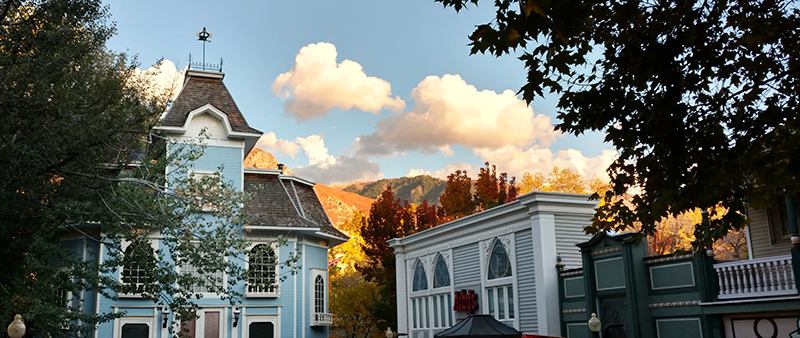 LINKS
More details about the Lagoon Opera House

Opera House Square Gallery

NOTES
1. A United Press (UPI) article also mentioned a saloon and Lizzie Anne's Dress Shop as part of the attractions, but this is the only reference I've found for either. It's possible that they would have just been displays. A dress and hat shop later opened in Pioneer Village and is still on display today above the Barber Shop.

SOURCES
New Style Theater Will Open In S. L. Deseret News, 2 Dec 1938.
Lagoon advertisement. Deseret News, 28 May 1968.
Lagoon Opens Opera House. Deseret News, 29 May 1968.
Old Fashioned Opera House Bows in as New Attraction. The Milwaukee Journal, 16 Jul 1968.
Lagoon Coloring Contest. Deseret News, 26 May 1971.
Lagoon and Pioneer Village are opening for the season. Deseret News, 26 May 1989.
Best 'ride' at Lagoon: 'Little Shop'. Deseret News, 30 Jun 1989.
A Producer's-Eye View Of Showbiz. Deseret News, 6 Aug 1989.
Accessible Fun: Subtle Changes At Lagoon Open Up Park To Disabled. Deseret News, 17 Apr 1992.
Lincoln, Ivan M. Utahn played a starring role in S.L. Valley theater. Deseret News, 24 Oct 1999.
U. theater icon Robert Wilson dies. Deseret News, 7 Jan 2001.
Thatcher, Geoff. Legends of the Industry: Peter Q. Freed. FunWorld Magazine, March 2003.
Jerry Ernest Jensen obituary. Standard-Examiner, 26 Feb 2015.
Freed Chavre, Jo Ann. The Bob Book: A Collective Memory of Robert E. Freed. Salt Lake City, Utah, 1999.
Flynn, Katherine. The Big Potential of Small-Town Opera Houses. National Trust for Historic Preservation, 9 Jun 2017.
Theatre History. HistoricElitchTheatre.org, accessed 10 Apr 2018.
Lagoon Opera House programs, 1978 & 1979.
Emails from Sid V. to author, Sep 2003.
RE: Lagoon History comment. Emails from Jeffry Belnap to author, Feb 2011.