Things warmed up in June with rising temperatures and the new night show Anyway You Want It!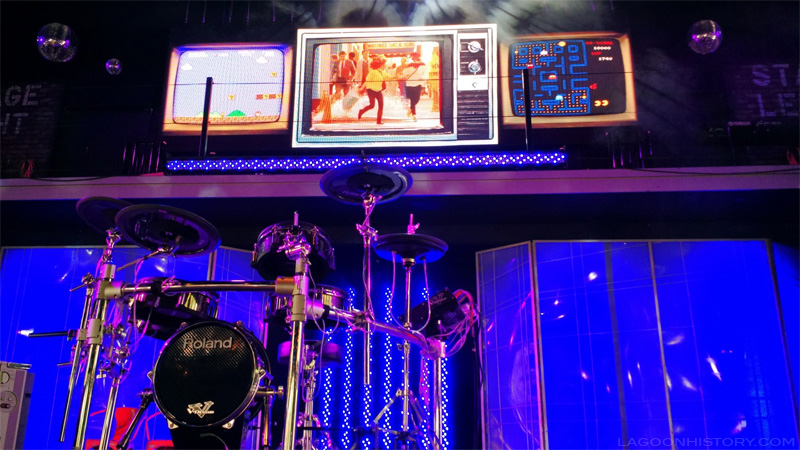 The show, set in the 1980s, follows a group of girls trying to save their roller skating rink from being turned into an all male exercise club. The classic music that ties it together is performed by Lagoon's live band with some songs receiving a fresh, new take. Even before the show starts you'll see old video games and TV commercials that really set the stage for a trip back in time.
There were a few changes and additions around the park including the opening of the updated terrace by the Old Mill in Pioneer Village with a few finishing touches still left. Painting continues along Main Street. The Peddler's Place gift shop by Rattlesnake Rapids transformed into a game after the absence of Rising Waters this year. Oddly enough, the frog flipping game called Jean Bob's Gator Escape is apparently tied into 22-year-old animated film The Swan Princess. It's confusing what the tie-in is here. The signs for the game are brand new. Speaking of signs, the "Fun Facts" on the back of Carousel Theater have been updated, including new ones for Cannibal and the parks gardens. The park's billboard along I-15 has also been updated and now features the large retro logo and illustration.
Soon after daily operation began, the popular BounceBack promotion returned and will continue for several more weeks. A special discount was also offered for anyone visiting on Father's Day.
Dole Whip lovers can now satisfy their cravings at three locations in the park. In addition to Ice Cream Corner at Carousel Plaza, they are now available at Rattlesnake Grub and Smokin' Eddie's inside Lagoon-A-Beach.
More holidays are coming up in July including an important milestone for Lagoon – the park's 130th anniversary. There have been hints about an observance of some sort, but details have yet to be announced. There's also this interesting project in progress…
Get updates from Lagoon Today with the following: