Opened: 13 Apr 2002
Location: X-Venture Zone / North Midway
Manufactured By: Funtime Industries – Dölsach, Austria
Ride Model: Slingshot (Fixed Foundation)
Max Speed: 90 mph (0-90 mph in 3.5 sec)
Max Height: 250 ft
Ride Duration: ~2 min
Structural Height: 196 ft
Footprint: 66 x 26 ft
Ride Capacity: 2
Hourly Capacity: 60
Prices: 1 Launch – $20 per person, Re-Launch – $10 per person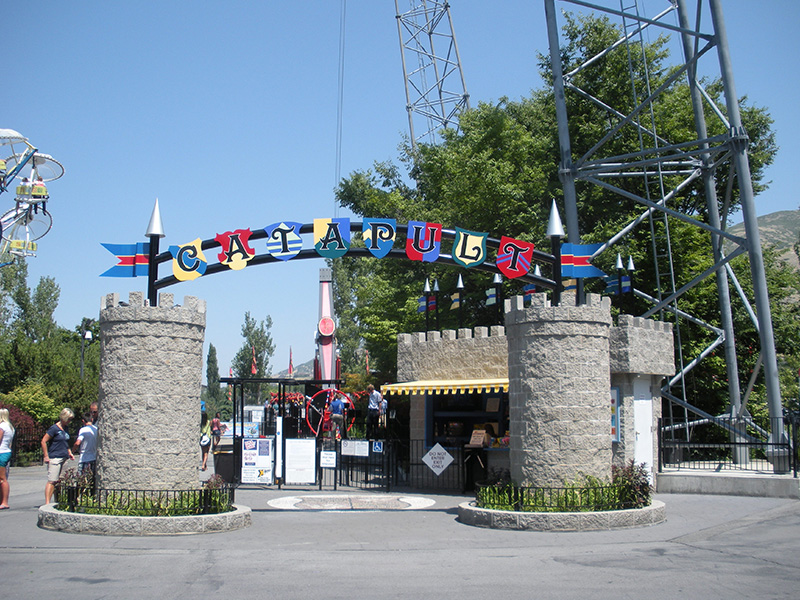 The Catapult was built on the North Midway in what used to be a large planter full of trees and shrubs (many of which were able to be retained). At the time of a newspaper article in early January 2002, piles were being driven for the towers and park president Dave Freed was about to fly to Europe to approve the design of an upgraded rider capsule for the ride.
It was reportedly ready to open on the park's opening day in April. The Catapult was Lagoon's fourth X-Venture Zone ride, a collection of up-charge attractions. The cost to ride the Catapult has never increased since it opened.
Riders are strapped inside the capsule while it's held in the loading area by an electromagnet. Meanwhile, a tower full of large springs behind the ride are stretched with 40 tons of force. When ready, the springs are released and the capsule is launched over 200 feet, higher than any other ride at the park.
A video camera is mounted on the front of the capsule to capture the reaction of the riders. For years, the video feed was shown on a monitor near the control booth.
In June 2015, the capsule was allegedly damaged. It was fixed and reopened within a month. The ride had to close again for repairs in early October 2015, but the reasons for the closure weren't shared, leading to a lot of speculation about whether it would ever open again. It was standing but not operating for almost three years, which is uncommon for Lagoon rides in recent history. But it finally re-opened at the end of June 2018 and has continued to thrill guests ever since.

GALLERY

MORE FROM LHP

SOURCES
Hinds, Gary. Ogden, Utah-Area Outdoors Activities Remain Popular in Winter. Standard-Examiner, 6 Jan 2002.
Arave, Lynn. Lagoon ready to unveil new ride: Catapult. Deseret News, 12 Apr 2002.
Sling Shot. FunTime.com.au, accessed 24 Apr 2021.