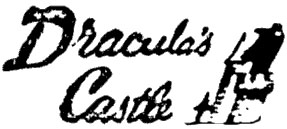 Opened: 1974
Location: Central Midway
Designed By: Bill Tracy
Manufactured By: Amusement Display Associates, Inc. – Cape May Court House, New Jersey
Ride Vehicles Manufactured By: Bradley & Kaye – Long Beach, California
Cost: $125,000
Ride Capacity: 2 adults or 3 children per car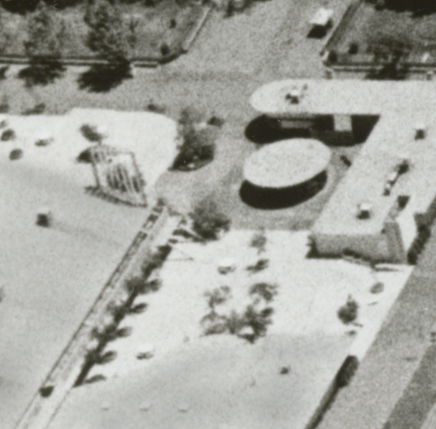 When Dracula's Castle opened in 1974, it was the third haunted attraction that had been added to Lagoon within an eight-year period (following the Haunted Shack and Terroride). It occupies a portion of the Patio Gardens building which was one of Utah's top venues for world-renown and local performers from 1954 until about 1970. The rest of the building had been transformed into the Penny Arcade by the time Dracula's Castle was built.
In its opening season, Dracula's Castle was advertised to "scare the yell out of you" and was the third most popular ride at Lagoon.¹
Just like Terroride, many changes have been made to the ride since its opening. One contributor remembered the ride this way:
"I visited Lagoon several times over the summer of 1977 when the attraction was three years old. I recall it was one of the first rides I ever enjoyed that used strobe lights and I seem to recall there were two rooms with strobe lights flashing. One room was brightly colored with striped wallpaper. The strobe lights made the room almost seem to be alive itself. The second room with strobes was filled with mirrors. The strobes made it difficult to focus on your own reflection but the effect was entrancing nonetheless. I also remember that at that time there were live characters standing in those rooms that would make a move towards your car as it passed through the room. I don't know how long the live individuals were used but I remember being startled at the sight of a real person moving towards me in those rooms. They were not there every time I visited Lagoon."

"I seem to recall that they were dressed in outfits that blended in with the striped wallpaper. That made them hard to recognize until they made a move. In the mirror pattern room it seems like they were dressed in black and there were black spaces between the mirror panels in the room. They would stand in between the mirrors and then as the car approached the exit (into the next room) they would step out. They never really did anything other than make a movement."
Another contributor added his early memories of Dracula's Castle:
"When Dracula's Castle first opened there were three rooms with strobes. The first room was a jail scene that consisted of mirrors painted to look like jail bars. When the attraction first opened this room was fairly lengthy, it had about 3-4 switchbacks. A couple years later it was cut down to a simple pass through. The thing that I remember that was cool about this room is when you were about to leave it, you could see the next car coming in and you could wave at your friends. When they cut it back you couldn't do this any longer.

This first room occurred after going down the entrance hall and the hall after the first right turn. The second room was a green striped small room. The strobes made you feel that the wall was approaching and distorted your perception. The third strobe room was kinda similar but the effects were not as good. It was a room covered with aluminum foil. It had a little dip that was cool."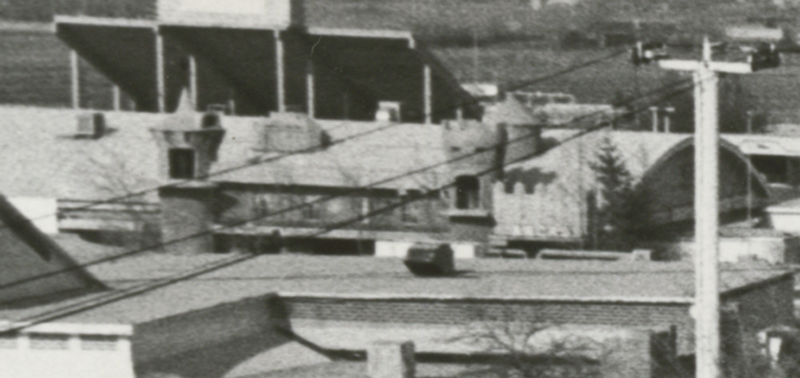 Many assume that the rotating tunnel no longer spins because it broke down and just hasn't been fixed. But from what has been submitted to me, it sounds like it was turned off for a couple possible reasons. One being that it just made too many people sick and another being the safety of riders (if the cars happened to stop and they tried to get out of the vehicle and walk out without an employee's help). It's possible that the Philadelphia Toboggan Company built this tunnel along with similar ones in other dark rides, but I'm still looking for more details on that.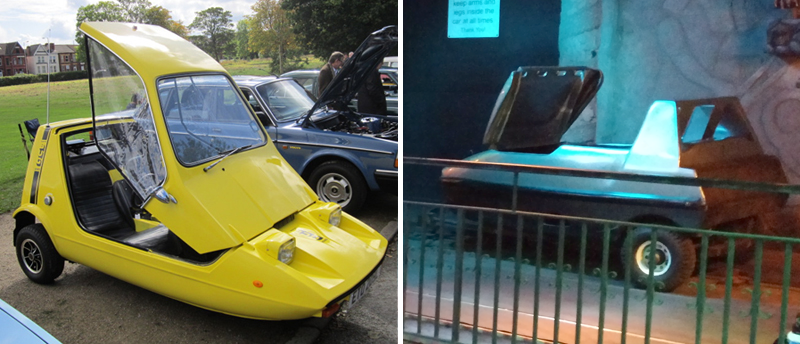 The ride vehicles are very similar to an odd little British car – the Reliant Bond Bug. The Bond Bug was produced from 1970 to 1974. The ride at Lagoon opened in 1974 and the current vehicles were added in 1978. The biggest visual difference between the two is that the Bond Bug has a roof and windshield. Otherwise, the profile of the vehicle, the wheel arrangement and the way the door opens have an uncanny resemblance to the ride vehicles at Dracula's Castle. If this little car wasn't the inspiration of the ride vehicles, it's quite the coincidence. They were made by Bradley & Kaye and are low to the ground by design – to make it harder for riders to get out of the vehicle during the ride.
In 2007, Terroride and Dracula's Castle both received new scenes and features. The additions to Dracula's Castle included the animatronic Headless Horseman and a large gargoyle among other things. The owl perched above the loading area got an updated recording in 2010. Dracula used to be found in the room after the Headless Horseman, but that figure now stands in one of the towers outside, replacing a smaller Dracula which had been there previously.
When Terroride was renovated in 2017, many of the elements taken out of the ride were moved to Dracula's Castle. The most noticeable ones being the gorilla and rat which had been used for Frightmares. A werewolf from Terroride was placed in the west tower of the castle where a white one used to be a few years prior.
Dracula's Castle was given the Hollywood treatment in 1987 when scenes for an episode of the short-lived TV series Werewolf were filmed at Lagoon. Some scenes were shot at the Roller Coaster station and other spots on the South Midway with the climax filmed at Dracula's Castle. The episode aired on Fox in March 1988.

GALLERY

NOTES
1. The most popular ride in 1974 was Roller Coaster and Sky Ride (which was also new that year) took second according to a 1975 Deseret News article.

MORE FROM LHP
OTHER LINKS
OTHER LAGOON RIDES FROM BRADLEY & KAYE
Terroride (current ride vehicles)
Speedway, Jr. (current ride vehicles)

SOURCES
Lagoon to open 6-story sky ride. Deseret News, 5 Apr 1974.
Soon…Lagoon can turn a frown upside-down. Deseret News, 5 Apr 1975.
Bastrup, Richard & Richard Ferrin. Bradley & Kaye. Amusement Park Journal, 1982.
"Werewolf" Blind Luck (1988). Internet Movie Database, accessed 28 Oct 2011.
Bahur, Wayne R. & Brandon M. Seidl. The Bill Tracy Project, BillTracyProject.com. Accessed 3 Nov 2011.
Werewolf TV Series > Blind Luck. Werewolf: The Complete Unofficial Site, accessed 28 Oct 2011.
Bond Bug. BondOwnersClub.co.uk, accessed 26 Aug 2020.
Old television commercials. Email message to author from Stephen A., 20 Dec 2004.
Lagoon, Dracula's Castle. Email message to author from Barry, 2 Mar 2005.
Dracula's Castle. Email messages to author from Stephen A., 16 & 18 Mar 2005.
Dracula's Castle. Email message to author from Robert J., 22 Jun 2006.
Facebook messages to author, Oct 2022.