Opened: 1984
Location: Kiddieland
Manufactured By: Bradley & Kaye – Long Beach, California
Ride Model: Red Baron
Cost: $70,000
Max Height: 15 ft
Number Of Planes: 8
Ride Capacity: 16 (2 per plane)
Hourly Capacity: 320
Compared to most rides at Lagoon that are planned for well in advance, the Red Baron was more of a last minute addition in spring 1984. It was purchased as a replacement for the old European Carousel which was damaged by heavy snowfall over the winter. The park's president, Peter Freed, told the Deseret News, "The ride was ruined beyond repair. It was quite an old ride. They don't make it anymore, so we were forced to buy a brand new ride called the Red Baron – an airplane ride for children that I think will be a big hit this year."
Like other kiddie rides added to Lagoon in the '80s, the Red Baron lets riders control how high their plane soars as it spins counter-clockwise. The planes are loosely based on the planes used in combat during World War I. Four red planes bear the cross pattée of the German Air Force and are interspersed with four white planes featuring the roundel of Britain's Royal Air Force.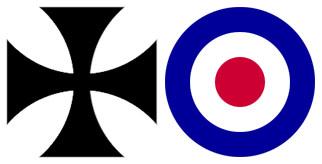 The center structure and operator booth are made to resemble air control towers. Lagoon's Red Baron has some fairly uncommon features for this ride model including the water trough and the floats on the bottom of the planes. Recently, the ride received a pre-recorded safety spiel. It was probably at this time that the plane motor sound was added to play during the ride.

MORE FROM LHP
OTHER LAGOON RIDES FROM BRADLEY & KAYE
Terroride (current ride vehicles)
Dracula's Castle (ride vehicles)
Speedway, Jr. (current ride vehicles)

SOURCES
Hills, Bruce. Raindrops keep falling on Lagoon on opening day. Deseret News, 20 Apr 1984.
Lagoon now open on weekends. Deseret News, 12 May 1984.
The Royal Air Force Roundel. Royal Air Force, accessed 27 Mar 2014.
Red Baron. RideManuals.com, accessed 10 Apr 2014.
Message to author from Sid V. via LagoonIsFun.com, 10 Apr 2014.