Opened: Apr 1963
Location: Kiddieland
Manufactured By: Allan Herschell Company, Inc. – North Tonawanda, New York
Ride Model: Helicopter
Max Height: 10 ft
Number Of Helicopters: 8
Ride Capacity: 16 (2 per helicopter)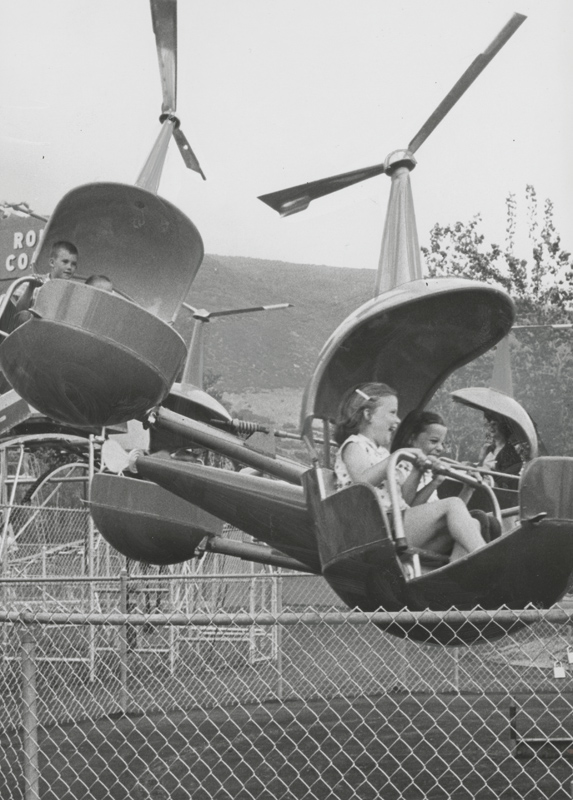 The Helicopters are one of the longest-operating rides in the park. The ride was introduced by the Allan Herschell Company in 1956 amidst a boom in kiddie rides and parks. Lagoon added its Helicopters a few years later in 1963 in addition to other Allan Herschell rides that had been at Lagoon for years including the Baby Boats, Kiddie Coaster and Sky Fighter.
Like most kiddie rides, the Helicopter's operation is simple. As the ride spins counter-clockwise, riders can move the bar in front of them forward or backward to change their altitude, much like the Red Baron or OdySea.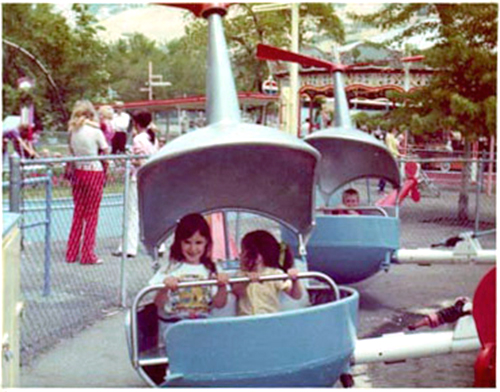 The ride was first installed just west of the corner where Scaliwags is today. It was later moved to its current location west of Speedway, Jr. and north of Baby Boats. It has had a few different color schemes as shown in the photos on this page. The current scheme has four different designs: fire department, police, military and KSL news chopper. A center tower with lights was removed during the '70s or '80s. One recent change was the addition of a pre-recorded safety spiel along with helicopter sound effects during the ride.

GALLERY

MORE FROM LHP
OTHER LAGOON RIDES FROM ALLAN HERSCHELL
Speedway, Jr. (original cars)

SOURCES
Allan Herschell Firm Buys Miniature Train Company. The Billboard, 24 Nov 1956.
Helicopter ad in The Billboard, 13 Apr 1957.
Lagoon Chief Cites Improvements, Predicts 'Most Promising Season'. Deseret News, 6 Apr 1963.