Opened: 1940 or earlier
Closed: 1977 or later
Location: Mother Gooseland
Manufactured By: Allan Herschell Company – North Tonawanda, New York
Ride Model: Kiddie Auto Ride
Structure Height: 14 ft
Footprint: 23 ft Ø
Structure Weight: 7,000 lbs
Number Of Cars: 10 (5 roadsters & 5 fire trucks)
Ride Capacity: 20 (2 per car)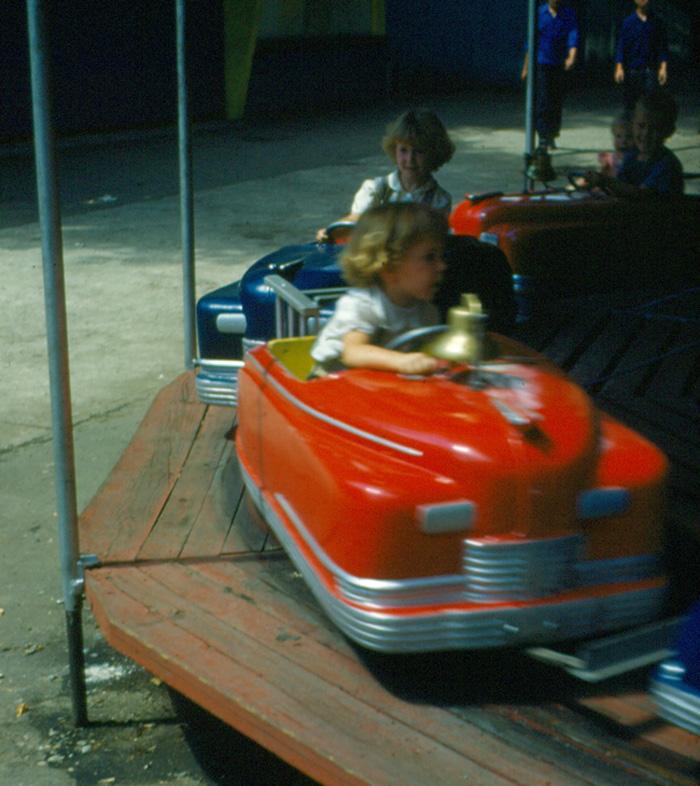 The Kiddie Autos were simply kid-sized cars that rotated in a circle, very similar to the European Carousel. The cars were similar in style, except that every other car was made to look like a fire engine with a short ladder in back and a bell in front that kids could ring.
It was manufactured by the Allan Herschell Company of New York, who was also made Lagoon's Helicopters, Baby Boats, Sky Fighter and the Kiddie Coaster.
The earliest reference to the ride I've found so far is in a list of a kids' rides in a 1940 newspaper article. A 1952 photo shows the ride south of the Carousel. Photos of the ride after the opening of Mother Gooseland show the Kiddie Autos near the European Carousel, which was located where the Red Barons are today. The ride appears in the background of a photo from 1977 and it was most likely removed by the early '80s.

GALLERY

MORE FROM LHP

SOURCES
Utah Copper Co. Employes Day Program Varied. Bingham Bulletin, 9 Aug 1940.
Allan Herschell catalog, ca. 1950.
Lagoon/Davis County Fair ad. Davis County Clipper, 22 Aug 1969.