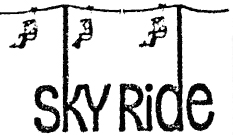 Opened: 1974
Location: North & South Midway
Manufactured By: O.D. Hopkins Associates, Inc. – Contoocook, New Hampshire
Ride Model: SkyGlider
Max Speed: 2.6 mph
Max Height: 60 ft
Ride Duration: ~8-9 min
Number Of Gondolas: 59
After Lagoon's first Wild Mouse was removed from the North Midway it was replaced in 1972 by a large lawn and The Rotor (as seen below). This is the area where the Sky Ride's north station was built in 1974, marking the end of park until the North Midway was extended in 1986.
Meanwhile, the south end of the Midway had been expanding little by little as rides were added and moved around. In the 1972 photo below, the Flying Saucer stands at what was then the southern boundary of the Midway. The addition of the south Sky Ride station stretched the Midway farther south to the edge of the Campground. From there it would later extend westward in the early 1980s.
Sky Ride was the second-most popular ride (after Roller Coaster) in its first year of operation. Dracula's Castle, which opened the same year, ranked third.
Lagoon's Sky Ride continues to serve as the park's only transport ride. In fact, on top of Lagoon's regular safety tests and inspections, the Sky Ride is also regularly checked by the Utah Department Of Transportation just like the many ski lifts within the state.
The trees that used to reach up from below the ride now seem to almost completely enclose it in some places, providing a relaxing environment that's increasingly separated from the park below.
For decades, the Sky Ride has also gained a reputation as the starting point of many new relationships among teenagers – even if it often only lasts as long as it takes to pass each other. It's interesting how the same people who may have been oblivious to each other on the Midway will suddenly become friendlier (or ruder) when they're suspended 60 feet in the air.
Unfortunately, it has also become popular for thoughtless kids to use the ride as a form of target practice – spitting on guests or flipping hair elastics onto the rooftops. However, there's one day each year when dropping things from the ride is actually encouraged, in the name of science. The Sky Ride is a regular part of the annual USU Physics Day competition where students drop eggs from the ride. The challenge is to create their own capsule that will keep the egg from breaking on impact.
The technology behind cable-propelled transit systems has been around for centuries, but in modern times, this mode of transportation really took off when it began appearing at ski resorts. They also helped to boost the popularity of ski resorts before becoming a common attraction at amusement parks. The technology has also been introduced in different cities as a form of public transportation.
Lagoon's Sky Ride was manufactured by O.D. Hopkins in New Hampshire, which was originally founded as an engineering firm. The company started making ski lifts before focusing solely on amusement rides. Their SkyGliders were installed in parks across the country and many of them still operate today.¹

GALLERY

NOTES
1. The aerial ropeway division of O.D. Hopkins became Skyfair in 1986 and is now known as SkyTrans Manufacturing.

MORE FROM LHP

SOURCES
Lagoon to open 6-story sky ride. Deseret News, 5 Apr 1974.
Soon…Lagoon can turn a frown upside down. Deseret News, 5 Apr 1975.
WhiteWater acquires Hopkins Rides. WhiteWaterWest.com, 23 Aug 2012.
Saxton, Bryon. Lagoon inspects roller coasters on daily basis for safety reasons. Standard-Examiner, 1 Aug 2013.
Baier, Tatiana. Q&A with SkyTrans President Jerry Pendleton. NH Business Review, 8 Feb 2017.
O.D. Hopkins. CoasterGallery.com, accessed 6 Jun 2020.
Sky Rides. SkyTrans-mfg.com, accessed 6 Jun 2020.
A Brief History of Gondolas and Cable Propelled Transit. YouTube.com, 3 Jul 2020.