Opened: 1 Apr 1972
Closed: 1973?
Location: North Midway
Manufactured By: Chance Manufacturing – Wichita, Kansas
Ride Model: Rotor
Max Speed: 33 rpm
Ride Capacity: ~20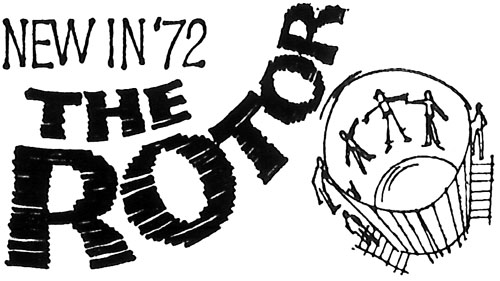 The Rotor was a predecessor to the more modern Gravitron rides which are commonly found in traveling carnivals. Riders stood around the inside of a large drum that would spin increasingly faster until the centrifugal force was enough to pin everyone to the wall. At that point the floor would drop down and riders could attempt to move up, down, sideways or upside-down while experiencing about 3 G's.
The Rotor was developed in Germany in the 1950s by Ernst W. Hoffmeister. It was one of the first rides to be built by Schwarzkopf (the company that made Lagoon's Jet Star 2 and Colossus: The Fire Dragon). Max Myers of London also filed a patent for the ride which led to a dispute over rights to the ride in the United States. It ended with one company building transportable models using the Hoffmeister patent and and the other company building park models under the Myers patent. The company building park models was the Anglo Rotor Corporation which became part of Chance Manufacturing by the time Lagoon purchased their Rotor in the 1970's.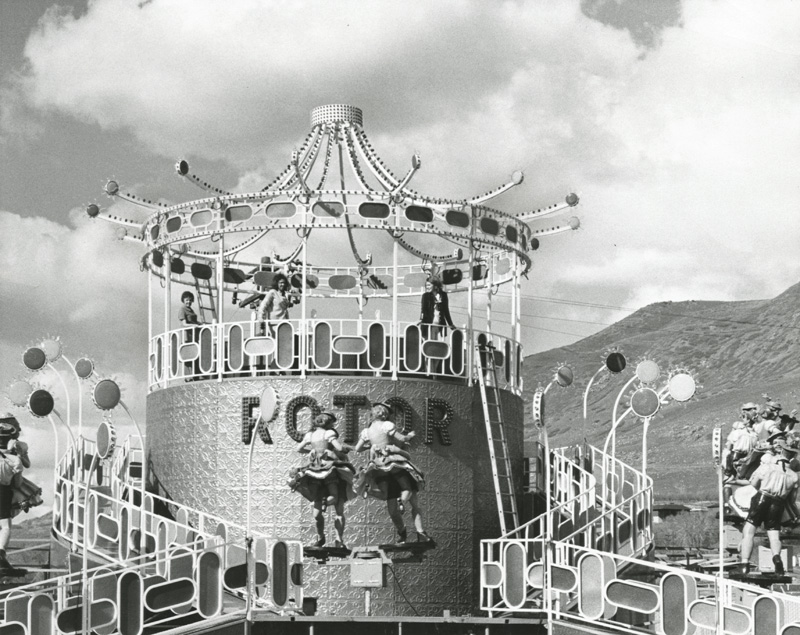 A unique feature included with Rotor rides was a viewing area for non-riders. Even in the early days, carnival and park operators realized that the ride would get more spectators than riders and even charged for both. Whether or not Lagoon required tickets to access the viewing area is unknown.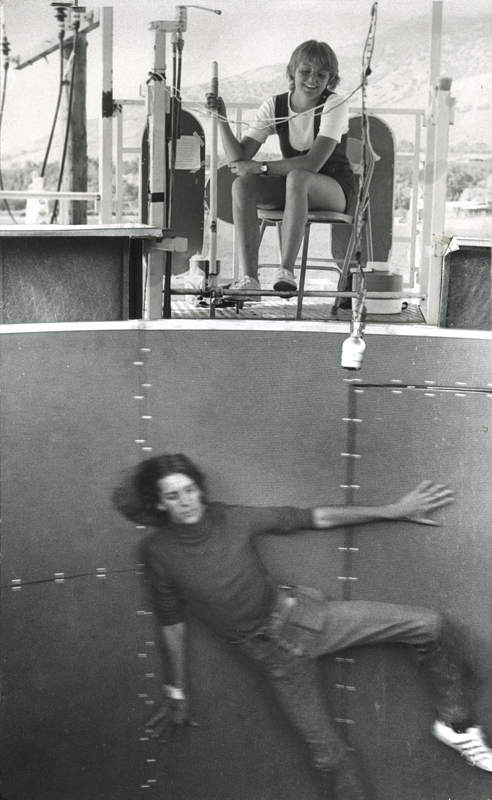 At Lagoon, the Rotor was placed where the northern edge of the park was at the time, near the Race Track. When the original Wild Mouse was dismantled after the 1971 season, a vacant spot was left which was partially filled by the Rotor in 1972.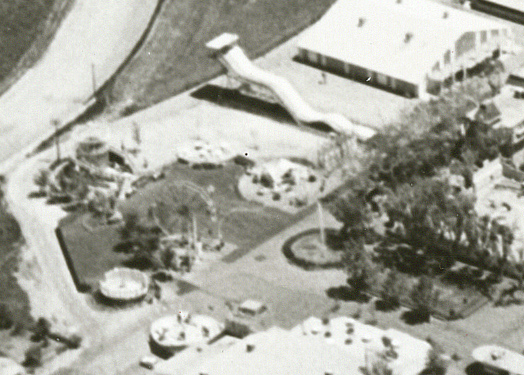 Considering that Lagoon was beginning to steer away from spinning rides at the time and the fact that Sky Ride's north station was built in 1974 about where the Rotor stood, it's very likely the Rotor was removed after the 1973 season. This would've made it one of Lagoon's shortest-lived rides and it's possible the ride was sold to another park or traveling carnival.

NOTES
A pre-cursor to the Rotor was the Joy Wheel. Lagoon had a Joy Wheel south of the Carousel, as shown on this 1911 property map.

MORE FROM LHP
OTHER LINKS
Pictures of a Rotor ride that opened at Great Adventure in 1975…

SOURCES
West Coast Firm To Build, Operate Portable Rotors. The Billboard, 6 Dec 1952.
Freise Charges Hoffmeister Has No Right to Sell Rotor Ride in U.S. The Billboard, 20 Dec 1952.
Hoffmeister Settles Freise Rotor Cases. The Billboard, 12 Dec 1953.
Burton, David. Rotor. Amusement Ride Extravaganza, accessed 12 Aug 2017.
Rotors. Roller Coaster and Amusement Ride Home Page, accessed 16 Aug 2017.
Rotor. National Fairground and Circus Archive, accessed 16 Aug 2017.