Opened: 1965
Closed: 1971
Re-Opened: 1973
Final Closing: ca. 1989
Location: North Midway / South Midway
Manufactured By: Mack Rides – Waldkirch, Germany
Ride Model: Wilde Maus
Ride Capacity: 2 riders per car
The first of Lagoon's three wild mice had wood supports painted white with cars that seated two riders each, tandem style. It was about half the height of the current steel Wild Mouse at the park.
AT THE WORLD'S FAIR
A few years after German designer, Franz Mack introduced the first Wild Mouse in 1957¹, a model was showcased at the 1962 World's Fair in Seattle. Microsoft founder and Seattle native, Bill Gates, was a child at the time and considered the Wild Mouse and the monorail his favorite memories of the fair. When the fair closed, the amusement park section remained open. The Wild Mouse continued operating there until Lagoon bought it in 1964 and it was replaced with another Wild Mouse.
AT LAGOON
It had been 44 years since a new roller coaster was added to Lagoon (aside from Kiddie Coaster) when the Wild Mouse opened in 1965. As part of a major expansion on the north end of the Midway, the Wild Mouse stood just north of the new Bamberger Fountain with the Ferris Wheel on one side and Space Scrambler on the other.
In 1971, the ride reportedly had mechanical problems and was dismantled "to make room for a new ride". In the following season, space that had been occupied by the Wild Mouse was mostly empty with a new ride, The Rotor, installed on the north end of the space. Then in 1974, The Rotor was replaced by the north station of the Sky Ride.

NEW WILDER WILD MOUSE
After Lagoon's first Wild Mouse was dismantled in 1971, an overwhelming response from comment cards given out to guests showed they wanted the ride back. Soon, in 1973, the Wild Mouse returned to the park – this time south of Speedway, Sr. The ride was rebuilt with improvements and named the New Wilder Wild Mouse.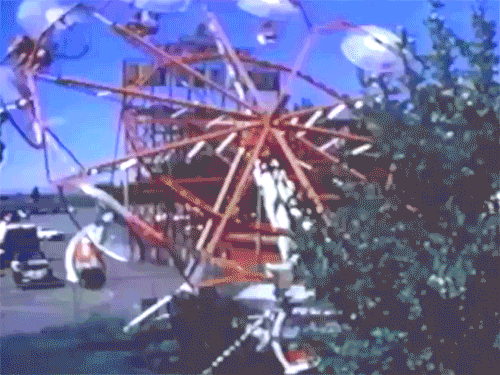 A new sign was ordered for $9,000 and placed on top of the ride at the end of March 1973. But the following week, eighty-mile-an-hour winds blew the sign down.
Some visible changes to the ride included yellow cars with high-back seats, something the earlier version lacked. Later on, the cars were painted white with a picture of a mouse on the front. The metal supports were painted orange, but some time in the late '70s or '80s it was repainted white, except for the supports around the loading station.
Here's one guest's memory of the 1973 Wild Mouse which probably sums it up best for most who remember the ride:
"I recall the old…Wild Mouse to be a bone-shaking, tooth-jarring experience. There was one turn about sixty seconds into the ride that was the most violent. The cars were so small and cramped that it was impossible to avoid banging knees, hips and elbows, but it was fun nonetheless."
An article published in 1998 stated this Wild Mouse also closed because of "mechanical problems," but never goes into any detail beyond that. There's differing information concerning when the ride actually closed. One former employee informed me that they operated the ride in 1989. I've also been told it remained closed for a season before being removed prior to the 1990 season. It's apparent from photographs that it was in fact standing in 1989, but I'm waiting for further confirmation of its final season of operation.
A common rumor, especially around the time of its closure, involved cars jumping the track. Although there were times on the ride that it definitely felt like the car was lifting up off the track, records confirm there were never any fatalities on any Wild Mouse ride at Lagoon. 1990 to 1997 marked the longest absence of a Wild Mouse at Lagoon since the first one opened in 1965.

GALLERY

NOTES
1. It was in Seattle where Ted Hopkins, manager of Australia's Luna Park, saw the Wild Mouse in operation and bought a license from Mack Rides to build his own version in Australia. His version was pretty much the same as the ride that was at Lagoon and can be experienced in this video.

MORE FROM LHP
OTHER LINKS
Two more great photos of the New Wilder Wild Mouse appear at Roller Coaster Database.
OTHER LAGOON RIDES FROM MACK

SOURCES
Cotter, Bill. Seattle's 1962 World's Fair, Arcadia Publishing, Charleston, South Carolina, 2010.
Lagoon '65. Deseret News, 26 May 1965.
Snow and winds batter state. Deseret News, 2 Apr 1973.
Soon…Lagoon can turn a frown upside down. Deseret News, 5 Apr 1975.
Lythgoe, Dennis. Attractions from Lagoon's good old days just wouldn't cut it today. Deseret News, 1 Jul 1991.
Arave, Lynn. Take a wild ride at Lagoon on new Wild Mouse in '98. Deseret News, 5 Dec 1997.
Arave, Lynn. Lagoon questions data on injuries. Deseret News, 15 Aug 2000.
Wild Mouse. Email message to author, 19 Dec 2004.
Re: Whirlwind Update and More. Email message to author, 21 Oct 2005.
Wild Mouse. Roller Coasters of the Pacific Northwest, accessed 13 Jan 2011.
Mad Mouse. Amusement Ride Extravaganza, accessed 13 Jan 2011.
North American Wild Mouse. Roller Coaster and Amusement Ride Home Page, accessed 13 Jan 2011.
Top 10 Bill Gates anecdotes from his early days. Instant Seattle, accessed 13 Jan 2011.