The World's Columbian Exposition of 1893 was held in Chicago as a tribute to four centuries since Columbus landed in North America. It would become recognized as a pivotal point in history and culture. Many innovations were introduced at or inspired by this fair including the Ferris Wheel, the Midway, Cracker Jacks, Juicy Fruit gum and Quaker Oats to name a few. It became a standard for future world's fairs as well as amusement parks, which were increasing in popularity. Among the millions of attendees was Simon Bamberger, a German immigrant who had become an entrepreneur in Utah's mining and railroad industries. Beginning with his involvement in the Lake Park resort on the Great Salt Lake, Bamberger strove to create a place of beauty and joy. In an age of rapid growth in urban and industrial areas, the exposition with its White City sharply contrasted with American cities at the time. It portrayed the idea of a utopian society which served as added inspiration for Bamberger. After the level of the Great Salt Lake had lowered and left many resorts far from its shore, Simon Bamberger looked inland and with the ideas sparked by the exposition, he created the three-acre Eden Park at the end of his Salt Lake & Hot Springs Railway in Bountiful in 1894. The railway benefited from traffic to the park. When it was decided to extend the line north to Ogden, plans for a larger park to be located at the halfway point were developed. A large man-made lagoon was excavated west of Farmington, buildings and equipment were brought in from Lake Park and the new park, Lagoon, opened there in July 1896.
While the 1893 exposition contributed to the origin of Lagoon, the park's management in later decades brought home some significant souvenirs of their own. Following are the stories of three World's Fair attractions that were relocated to Lagoon in the 1960s and '70s.
CENTURY 21 EXPOSITION – SEATTLE 1962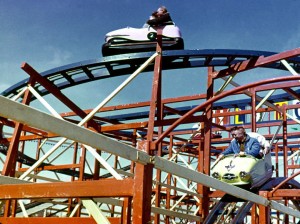 The tight turns and quick movements of the Wild Mouse was an unforgettable experience for many including Seattle native Bill Gates, who recalled this and the monorail as his favorite rides at the fair. It continued operating on the fairgrounds after the exposition closed until Lagoon bought the ride and it opened as part of a new expansion north of the park. It operated just north of the Bamberger Fountain from 1965 to 1971. There has been conflicting information about whether or not it was the same Wild Mouse that ran from 1973 to 1989 on the South Midway, but it's possible that it was the same ride.
NEW YORK WORLD'S FAIR – NEW YORK 1964-65
Transportation was a necessity of modern fairs that sprawled across hundreds of acres of land. For the 1964-65 New York World's Fair, Greyhound had a large fleet of vehicles built to relieve weary visitors. There were smaller, golf cart-like vehicles called Escorters and three-car trams called Glide-A-Rides. After the fair they were sold off at $5,000 each. One Glide-A-Ride tram was sold to Lagoon who called it the Picnic Train and used it to carry park guests between the parking lot and picnic terraces. So far, I haven't come across any information about how long this was in use at Lagoon or what became of it.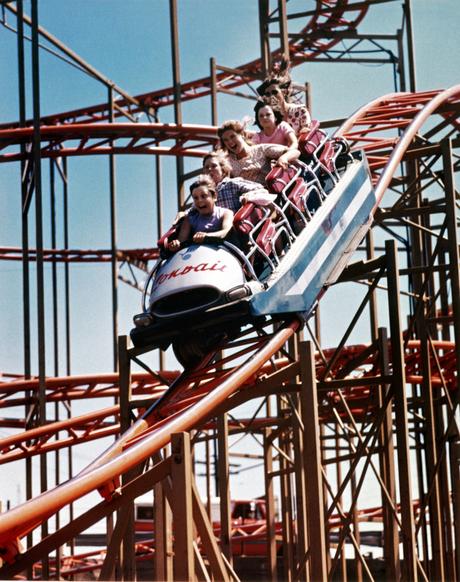 EXPO '74 – SPOKANE 1974
The smallest city to hold a World's Fair was Spokane, Washington in 1974. Railyards and abandoned buildings were cleared away near the Spokane River to provide space for the fair, but also to rejuvenate the city's center. The star of the fair's Great Northwest Midway was an innovative Schwarzkopf roller coaster called Jet Star 2. Lagoon bought the Jet Star 2 and it opened there in 1976. It was the park's fourth roller coaster at the time and has been operating in the same location for over 30 years.

more from lhp

SOURCES
Lagoon Sets 69th Season. Deseret News, 26 May 1965.
Bargains – The Great Souvenir Sale. Time, 8 Oct 1965.
Fun Way To Picnic. Deseret News, 6 Apr 1966.
Smith, Jacob. The Lagoon Resort: A Thrilling Urban Escape. 2005.
Top 10 Bill Gates anecdotes from his early days. Instant Seattle, accessed 13 Jan 2011.
World's Columbian Exposition. ExpoMuseum.com, accessed 3 Jul 2013.
Glide-A-Rides. New York World's Fair 1964/1965, accessed 30 Jul 2013.
Greyhound Escorter. The World's Fair Community, accessed 30 Jul 2013.
Amusements. Expo '74: The Spokane World's Fair, accessed 29 Aug 2013.
History. Expo '74: The Spokane World's Fair, accessed 29 Aug 2013.
The Legacy of the Fair. World's Columbian Exposition: Idea, Experience, Aftermath, accessed 29 Aug 2013.