Opened: 18 Apr 1998
Location: South Midway
Designed By: Ingenieur Büro Stengel – Munich, Germany
Manufactured By: Maurer-Söhne – Munich, Germany
Ride Model: Wild Mouse
Lift Type: Chain Lift
Max Speed: 28 mph
Max Height: 50 ft
Max Drop: 25 ft
Ride Duration: 1 min, 10 sec
Track Length: 1,214 feet
Number Of Cars: 10
Ride Capacity: 4 per car (2 rows of 2)
Hourly Capacity: 1,030
In a 1991 Deseret News interview, Lagoon spokesman Dick Andrew responded to a question about the possibility of older rides making a return, to which he replied, "If there was a groundswell for a comeback for anything that disappeared, believe me it would be back in a flash. We work to please the public."
That was just a few years after the old wooden Wild Mouse had closed. Later, in December 1997, another Deseret News article announced a new Wild Mouse:
"Lagoon reports receiving numerous inquiries during the past 10 years about the absence of the Wild Mouse. 'I don't think any ride that we've ever had that was taken out has generated this much interest,' Lagoon spokesman Dick Andrew said."
It was assembled in a fairly short amount of time in early April 1998. Although it was completed in time for opening day, it didn't open until the next weekend because of the time needed to properly train ride operators.
With the arrival of the new Wild Mouse, some changes were made to the walkways. Large planters were placed in front of the ride diverting the flow of traffic to a new walkway¹ added on the north and west sides. The entrance was located towards the back of the ride as opposed to the front as it was on the previous Wild Mouse.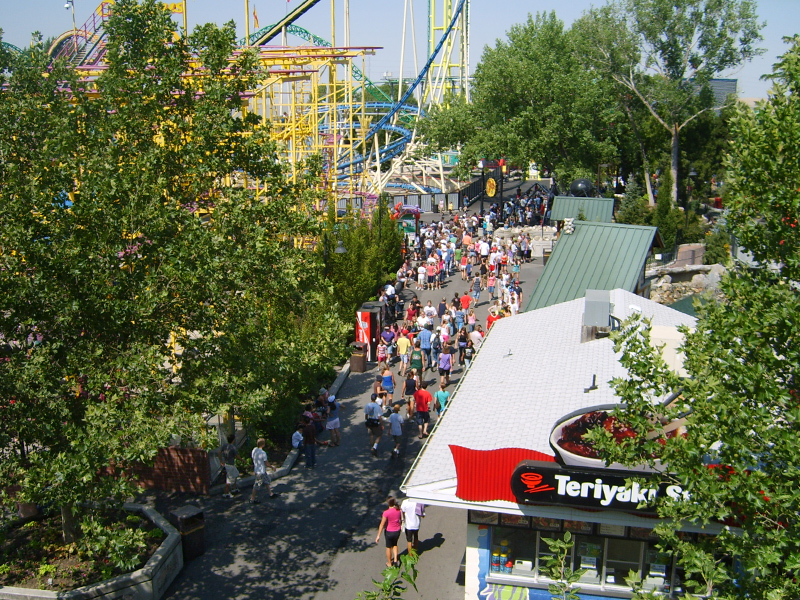 The "Mouse House" in the middle of the ride was added in 1999. After the 2012 season ended, the track was removed and painted with a new color scheme before the 2013 season began. The track and other parts that are now green were pink before then.

GALLERY

NOTES
1. After the wooden Wild Mouse was removed, the Basketball game was placed where the station had been. After the new Wild Mouse opened and the new walkway was put in place in 1998, Basketball was moved to a spot across the walkway to the north. It was there until the Cliffhanger opened in that location in 2001. Basketball then moved to a spot north of Teriyaki Stix and has since been replaced by Soccer Darts and Hang Time.

MORE FROM LHP
OTHER LINKS
More info and photos at LagoonIsFun.com.

SOURCES
Lythgoe, Dennis. Attractions from Lagoon's good old days just wouldn't cut it today. Deseret News, 1 Jul 1991.
Arave, Lynn. Take a wild ride at Lagoon on new Wild Mouse in '98. Deseret News, 5 Dec 1997.
Arave, Lynn. Lagoon opens Friday with new Wild Mouse ride. Deseret News, 10 Apr 1998.
Arave, Lynn. New Mouse gives wild ride at Lagoon. Deseret News, 14 May 1998.
Maurer Rides GmbH. Maurer Sohne, accessed 18 Jan 2011.
2012/2013 Off Season Construction Projects. LagoonIsFun.com, accessed 30 Mar 2013.