A few months ago I posted an article about the animated gorilla figure used in Lagoon's Haunted Shack and Terroride attractions. I have since received an update on the history of these hulking creatures from the same man, John Clowers, who has obtained his own gorilla. He says:
"The original company that created these big lugs did so back in 1933 (the same year the first King Kong premiered) and displayed one as part of a huge World's Fair animated exhibit called 1 Million Years B.C. as shown on the attached page from Popular Mechanics, June edition 1933, the Company was Messmore & Damon, Inc. and created giant mechanical dinosaurs, mammoths and more! Later they used the 1933 gorilla molds to make some replicas for dark rides and theme parks. They made some until the early 1970s and charged $1,800.00 for one back then…

As you may notice, the earlier Gorilla's detailed chest remained uncovered by faux fur just as I stated I thought mine looked best! So the few remaining animated gorillas by this company are actually made from the 1933 World's Fair molds (78 years ago) the year Fay Ray and Kong created all that buzz! I'd suggest that the Lagoon gorilla might be treated to indoor restoration instead of weathering outside amongst tossed Halloween pumpkin shells. These have real historic value indeed!"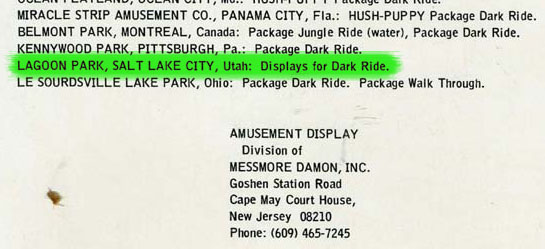 With a little more digging, I found a 1967 catalog from Messmore & Damon that lists Lagoon as one of their clients. It's also listed in catalogs from 1968 and a This Is, Inc. catalog from 1975. It's very likely that the displays and props for The Haunted Shack, Terroride and Dracula's Castle were supplied by Messmore & Damon. It seems there's also a possibility that Messmore & Damon designed the displays in Mother Goose Land so I'll be looking into this a lot more. If you have any helpful information, please let me know by clicking the "Contact" link at the top of the page.

more from lhp

SOURCES
Amusement Display Associates, Inc. Catalogs, The Bill Tracy Project. Accessed 1 Jun 2011.
RE: Haunted Shack Gorilla. Email message from John C. to author, 21 Apr 2011.