Opened: 1966
Closed: Pre-1981
Over the years, Lagoon has had many different haunted attractions, but only a few walk-through attractions. The Haunted Shack was both. It was located where the Carousel Plaza food stands are today with the front of the Shack facing south near the Helicopters ride.
Most of the information I have about this attraction is pulled from the memories of those who were lucky enough to enjoy it. Here, I've pieced together a description of this walk-through based on the more commonly shared details and memories.
You'd start by carefully climbing the stairs (which shifted up and down in opposite directions) to reach the second floor. Once you reached the top, you'd walk down some narrow hallways with windows you could look into and see various "spooky" scenes. An employee would randomly wander through trying to surprise wary and unsuspecting guests. Next, you'd find your way out front (seen behind the gorilla in the photo on the left) where a skeleton band played. Back inside, after traveling down more halls, you had two options to continue down to the first floor – either a very slick steel spiral slide or a regular staircase. On the first floor was the hall of mirrors which ended near a large imitation of one of those cymbal-banging monkey toys.
A former employee, who contacted me via email, shared this memory of an "attic" area accessed by operators of the attraction.
"I worked Lagoon during the summer of 1969, and on breaks would often wander down there where one of my buddies would take me up into the rafters where we could watch the patrons from above."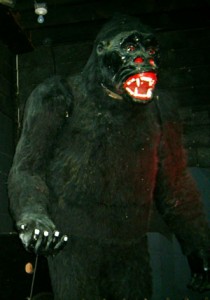 Another visitor recalls…
"I remember a dark hallway that had about 6″ pieces of rubber surgical tubing sticking out of the wall at about ankle height–it would brush against your ankles as you walked through the hallway creating kind of an eerie feeling."
I don't have a specific closing date of the attraction, but it would have been before the Carousel Plaza opened in its place in 1981.
The large gorilla (or ape?) which leaned over crowds from the top floor would later be used in Terroride and more recently as a prop in Frightmares walk-throughs. It's also possible that the smaller monkey with the cymbals near the exit of the Haunted Shack was once part of the eight-piece monkey band which played on a ledge above the Fun House entrance starting in 1957, but that has not been confirmed.
Please leave a comment below or email me if you have any other memories, information or photos you'd like to share.

LINKS
Gorilla Background Check, 8 Mar 2011
Missing Link Located in Hairy Heredity, 1 Jun 2011

SOURCES
Many Features Mark New Lagoon Fun House. Deseret News, 4 May 1957.
2nd Entry In Lagoon Contest. Deseret News, 24 May 1966.
Moncur, Laura. Lagoon: Hall of Mirrors (Part 2 of 2). Pick Me!, 9 Aug 2004.
RE: Haunted Shack. Email message from Stephen A., 19 Dec 2004.
RE: Haunted Shack – Lagoon. Email message from George A., 19 Mar 2005.
RE: Haunted Shack. Email message from Robert J., 22 Jun 2006.
RE: LHP Contact: Haunted Shack. Email message from Christopher D., 2 Oct 2010.
LHP Contact: Haunted Shack. Email message from Gary M., 17 Oct 2010.