As we pass the halfway point of the 2016 season, there are still plenty of new updates and changes at Lagoon.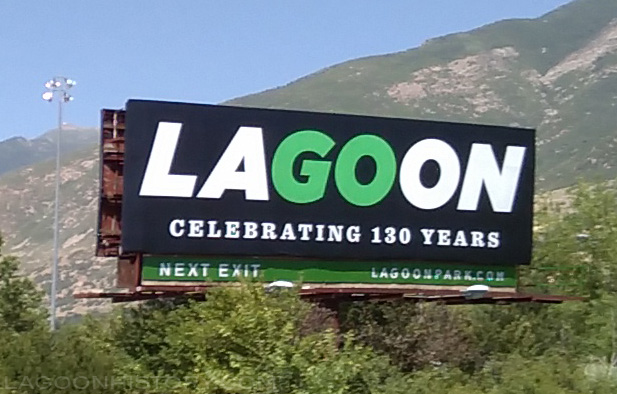 At the beginning of the month, the billboard south of Lagoon off of I-15 was changed once again to a very simple, yet bold design.
The biggest event of the month was the celebration of the park's 130th anniversary on July 15th. During the week there were promotions and live television broadcasts from the park by KUTV and Fox 13.
Kids Heroes Foundation was at the park early in the morning on Monday the 11th to raise money by traveling the equivalent of a 5K on Lagoon's Roller Coaster.
On Friday the 15th, Big Budah from Fox 13 was at the park all morning including the ceremony presenting the new commemorative gazebo on the North Midway right after the park opened at 11am. A special cake was displayed inside the gazebo topped with a moving carousel. Guests had the opportunity to write birthday wishes on a wall in front of Game Time and at 5pm, cookies and drinks were served near the gazebo.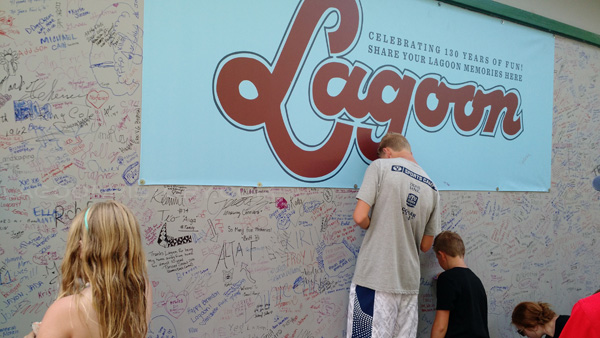 Unfortunately that day, technical problems forced the cancellations of all the shows at Carousel Theater for a few days and The Spider closed for almost two weeks. It reopened the night of Saturday, July 30th.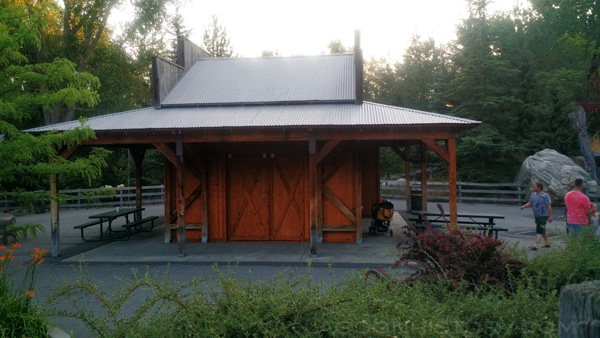 There has been light construction work going on in Rattlesnake Rapids Plaza where the old Rising Waters game building was converted into a gift shop.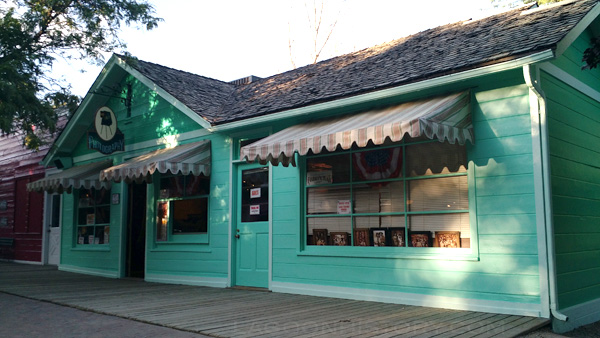 There are also still more buildings getting fresh coats of paint in Pioneer Village including the Photography Studio. Towards the end of the month, carpet was added to the floor of the sundeck at the south end of Lagoon-A-Beach.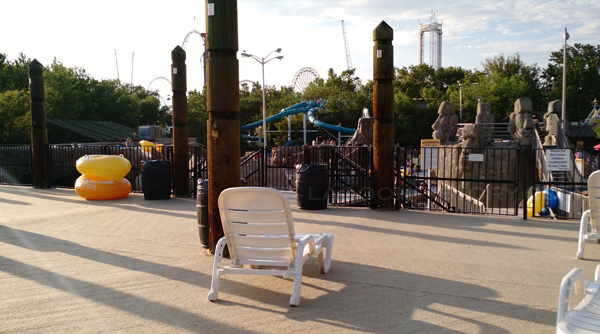 Temperatures have been hovering around the 100 degree mark for most of the month, sometimes going a little over, making all of the water attractions even more popular.
Discounts on all day passports were available for Independence Day weekend, Pioneer Day weekend and for a few days around the time of the birthday celebration in the middle of the month.
August will be busy as more people plan last minute trips to the park before school starts again. On the bright side, temperatures should start to cool down after the first week or two. Frightmares is also coming soon and work has already begun on something new for this year.