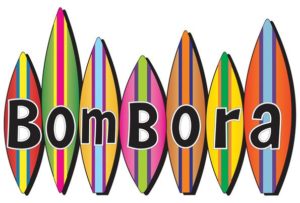 Opened: 2 Apr 2011
Location: Kiddieland
Designed By: Dal Freeman
Manufactured By: Lagoon
Trains Manufactured By: ART Engineering GmbH – Oberreid, Germany
Cost: $5,000,000
Lift Type: Booster Wheel
Max Speed: 31 mph
Max Height: 50 ft
Track Length: 1,040 ft
Footprint: 100 x 165 ft
Number Of Trains: 2
Cars Per Train: 8
Ride Capacity: 16 (2 per car)
Hourly Capacity: 950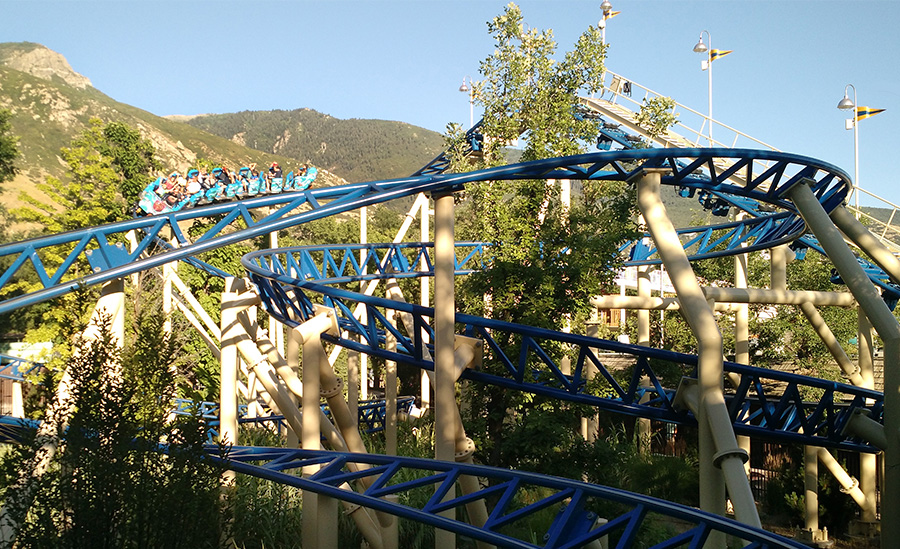 Bombora is a one-of-a-kind family coaster north of Lagoon-A-Beach. It was designed by Lagoon's in-house engineer, Dal Freeman, who previously worked for Arrow Dynamics.
The area where Bombora stands had historically been picnic terraces near what used to be the Swimming Pool. On the west end was the large Beach Terrace and in the 1960s, four small, square picnic terraces were added on the east end. When Lagoon-A-Beach replaced the Swimming Pool, the Beach Terrace was torn down and became the place where rental tubes were stored. The four small terraces were fenced off from Lagoon-A-Beach, but later they were converted to house lockers and became part of the water park area. Some of the mature trees from the area were retained and Bombora's track and even the station were designed around them.
Bombora has its own shop on the north side of the ride enclosure. A switch track always trains to be backed up into the shop for maintenance.
The Volkswagen bus by the entrance was originally brought to Lagoon in 2000 for a show. Before the interactive fountain at the center of the Midway was installed in 2004, several shows were held on that spot. From 2000 to 2001, Club-A-Go-Go, featuring music of the late '60s was held there, using the VW as part of the show. After that, the bus was taken out to the boneyard north of the park where it sat until it was fixed up and repainted for its new home at Bombora. Inside, you could see surfboards that were used for Lagoon commercials in 2009. The VW bus was repainted in orange and white with the Lagoon logo on the tailpipe in 2022.

SOUNDTRACK
Bombora is unique for its on-board sound system. Below is a Spotify playlist of a majority of the surf-centric songs that have been known to play on the ride. It's particularly fitting that The Beach Boys are played on the ride, considering that they performed at the park many times in the 1960s and '70s and even mentioned Lagoon in one of their songs. A newer song by The Drums was used in Lagoon commercials the year Bombora opened.

GALLERY

MORE FROM LHP

SOURCES
Dal Freeman – Saved the Best for Last. ArrowDevelopment.blogspot.com, 16 Jul 2015.
BomBora. Lagoon Is Fun Wiki, accessed 12 Jan 2017.