Opened: 4 Apr 2009
Location: Kiddieland
Manufactured By: Zierer – Deggendorf, Germany
Ride Model: Roundabout (Dragon Ride)
Max Speed: 13 rpm
Max Height: 16 ft
Structural Height: 40+ ft
Footprint: 44 ft Ø
Number Of Gondolas: 18
Ride Capacity: 36 (2 per gondola)
Hourly Capacity: 720
Jumping Dragon was the first of several rides to be built in the former location of the miniature golf course, which operated from 1961 to 2008.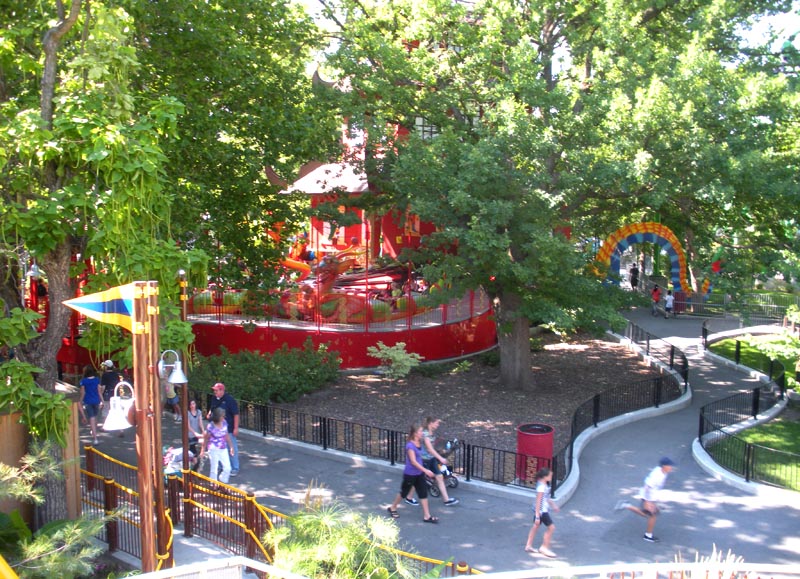 While similar to the Musik Express, Jumping Dragon is a little more tame and has no minimum height requirement. Jumping Dragon also spins forwards and backwards, which Musik Express no longer does.
It's heavily decorated and also features a pagoda over 40 feet tall, special landscaping and a vine-covered dragon tunnel behind the ride.

GALLERY

MORE FROM LHP
OTHER LAGOON RIDES FROM ZIERER
Puff, The Little Fire Dragon, 1985
Turn Of The Century, 1987
Kontiki, 2004
Dinosaur Drop / Ladybug Bop, 2006
Wicked, 2007

SOURCES
Dragon Rides. Zierer.com, accessed 20 Apr 2020.
Jumping Dragon. LagoonPark.com, accessed 20 Apr 2020.