Opened: May or Jun 1987
Location: South Midway
Manufactured By: Zierer – Deggendorf, Germany
Ride Model: Wave Swinger 48
Structural Height: 31 ft (39 ft during operation)
Footprint: 66 ft Ø
Aerial Operating Circle: 69 ft Ø
Structural Weight: 32 metric tons
Ride Capacity: 48
Hourly Capacity: 1,200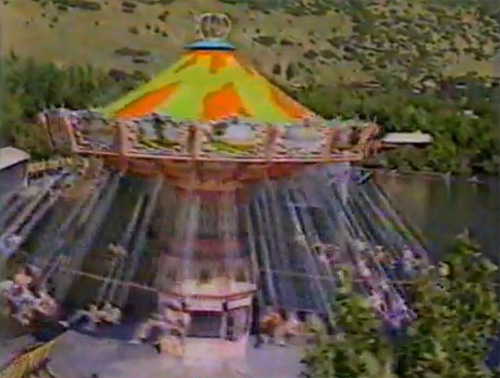 As part of Lagoon's centennial celebration in 1987,¹ two new rides were added – a Huss Enterprise and a Zierer Wave Swinger. When the park opened in April, only the Enterprise (named Centennial Screamer) was operating. The Wave Swinger was projected to open later in May, but the opening of the ride wasn't announced in newspaper ads until mid-June. A contest was held that spring to decide the name of the new ride with prizes including a season pass. The winning entry – Turn Of The Century – also paid tribute to the park's centennial as well as the Victorian imagery on the ride's panels.
Turn Of The Century replaced a somewhat similar ride. It stands on the former location of the Rockets which had been swinging guests over Lagoon Lake for over 60 years.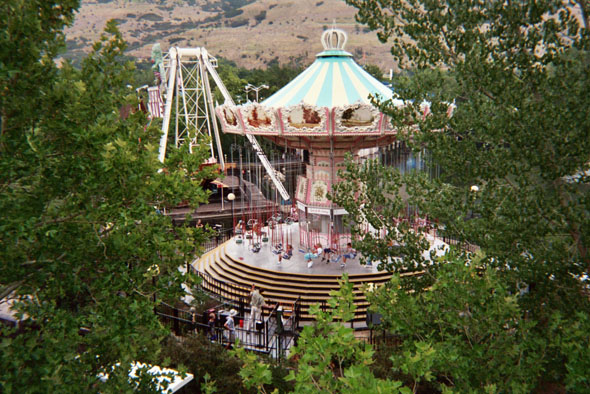 Not a lot of major changes have been made to the ride over the years. The color scheme has stayed mostly the same except for the striped canopy, which changed from orange and yellowish-green to white and light blue in the early '90s. Modifications to the queue were made in 1992 to make the ride more accessible. In 2004, the 16 seats of the inside row were replaced with eight double-seats, giving riders an option to sit together. The queue was partially redone in 2017, moving the entrance closer to Lagoon Lake with a roof to shield guests from the sun.

GALLERY

NOTES
1. Lagoon's early beginnings go back to the Lake Park Bathing Resort which opened in 1886 on the shores of the Great Salt Lake. 1986 would have been the park's centennial year, but for whatever reason it was celebrated the following year.

MORE FROM LHP
OTHER LAGOON RIDES FROM ZIERER
Puff, The Little Fire Dragon, 1985
Kontiki, 2004
Dinosaur Drop / Ladybug Bop, 2006
Wicked, 2007
OdySea, 2008
Jumping Dragon, 2009

SOURCES
Lagoon opens Saturday. Deseret News, 17 Apr 1987.
Wave Swinger. Zierer.com, accessed 1 Nov 2012.
Email to author from Byron B., 19 Aug 2004.