Opened: 10 Apr 2004
Location: Kiddieland
Manufactured By: Zierer – Deggendorf, Germany
Ride Model: Kontiki
Structural Height: ~19 ft
Footprint: 49 x 33 ft
Ride Capacity: 24 children or 8 adults & 12 children
Hourly Capacity: 600-700
Kontiki starts out rolling back and forth, like Tidal Wave, then as it picks up speed, the raft starts spinning as it slides along the sloped track.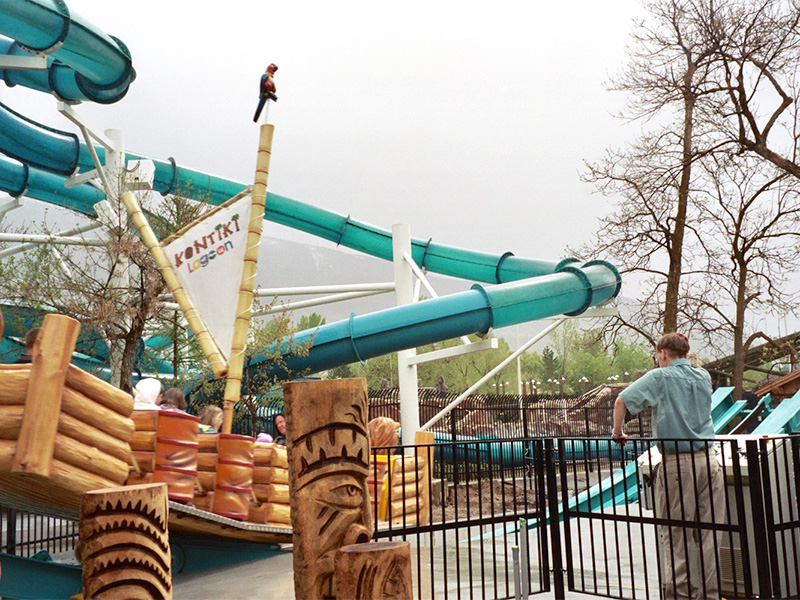 When Kontiki and The Dragonfly were added in 2004, they were the first additions to Kiddieland since 1986. Speedway, Jr.'s track layout was modified and Bulgy The Whale was relocated to make room for the new rides. Brightly-colored metal bugs and flowers were made by Lagoon to freshen up Kiddieland. New Kiddieland rides from that point on have been able to accommodate both adults and children.
While The Dragonfly was customized to fit the new flower garden decor, Kontiki tied in a little more with Lagoon-A-Beach, which sits behind the ride. Palm trees, tikis and lava rocks were placed in front of and behind the ride.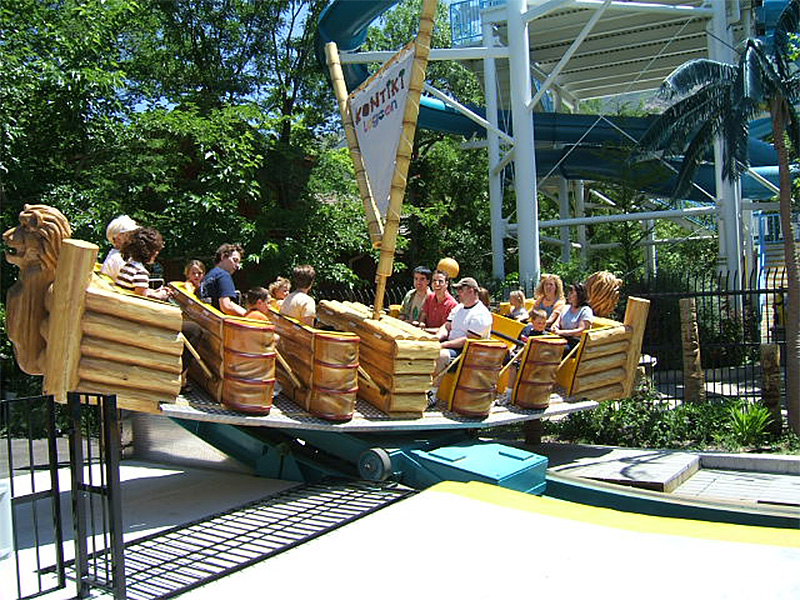 The ride is named after the famous raft used by Thor Heyerdahl in 1947 which he successfully navigated from Peru to the Polynesian Islands. His expedition was intended to prove the possibility of a Peruvian legend which tells how a native chief sailed the same path across the Pacific Ocean on a balsa raft. Heyerdahl's raft was also made of balsa and was named in honor of the chief, Kon-Tiki Viracocha.

MORE FROM LHP
OTHER LAGOON RIDES FROM ZIERER
Puff, The Little Fire Dragon, 1985
Turn Of The Century, 1987
Dinosaur Drop / Ladybug Bop, 2006
Wicked, 2007
OdySea, 2008
Jumping Dragon, 2009

SOURCES
Arave, Lynn. Lagoon focusing on 'little kids' in '04. Deseret News, 5 Mar 2004.
Mickleson, Bob. Lagoon to greet visitors with new look. Davis County Clipper, 18 Mar 2004.
Saxton, Bryon. Lagoon gears up. Standard-Examiner, 10 Apr 2004.
Kontiki. Zierer.com, accessed 20 Mar 2020.
Kon-Tiki Expedition. The Kon-Tiki Museum, accessed 20 Mar 2020.