Opened: 10 Apr 2004
Location: Kiddieland
Manufactured By: Eli Bridge Company – Jacksonville, Illinois
Ride Model: SpiderMania
Structural Height: 19 ft
Footprint: 49 ft Ø
Number Of Seats: 24
Ride Capacity: 48 small children or 24 adults
After a major reconfiguration of Mother Gooseland in 1985 and the addition of Scaliwags in 1986, the kids' area at Lagoon pretty much stayed the same for many years. The first real changes to what had become known as Kiddieland occurred in 2004 with the addition of two new rides – Kontiki and The Dragonfly.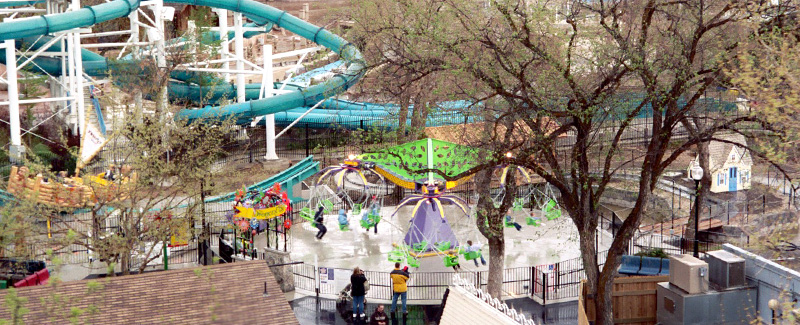 To make room for the rides, the northern half of the Speedway, Jr. track was rerouted and Bulgy The Whale moved next to the Carousel Theater (where Sky Fighter is now).
The Dragonfly is very similar to Lagoon's Space Scrambler, which was made by the same company – Eli Bridge. But instead of three groups of four gondolas, The Dragonfly has three groups of eight swings.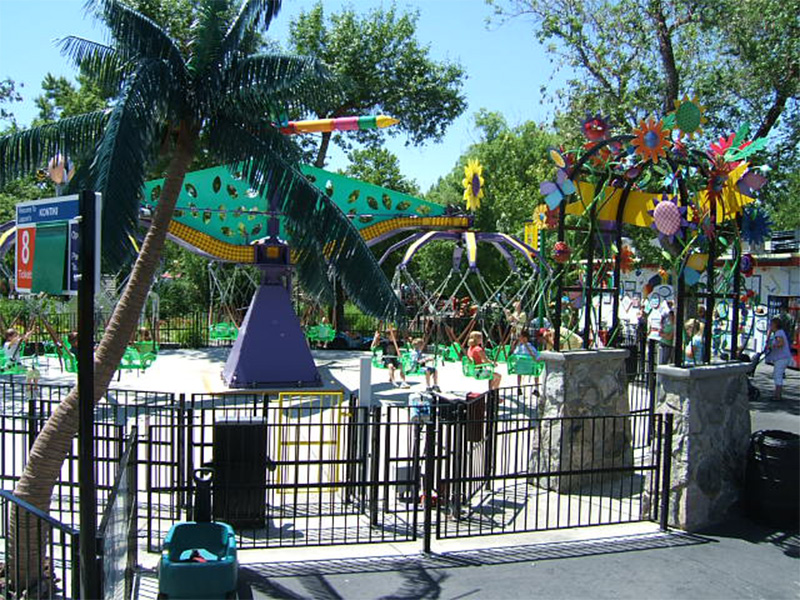 The large dragonfly sitting on top of the ride was added a month or so after the ride's opening. Made by Lagoon welders and artists, it measures twelve feet long with a sixteen-foot wingspan and weighs 200 pounds.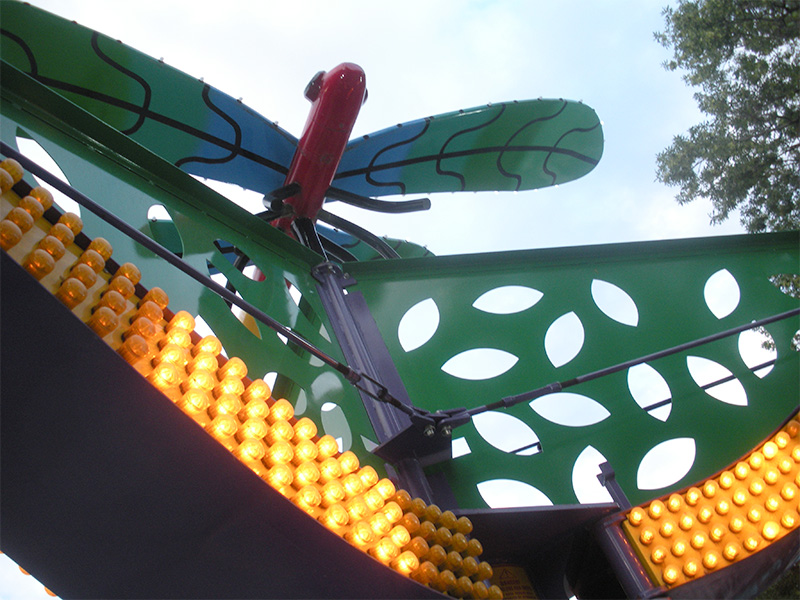 Other custom touches reflect the flower garden theme used in the redecorating of Kiddieland in 2004. These include the flowers on the top of each spinning pod and green panels with leaf cut-outs on the top of each arm. The gate at the entrance was also made by Lagoon.
Along with Kontiki, these rides marked the beginning of a new era in Kiddieland. Unlike many of the early kiddie rides, each new kiddie ride since 2004 is designed for kids and parents to ride together and have included additional enhancements created by Lagoon.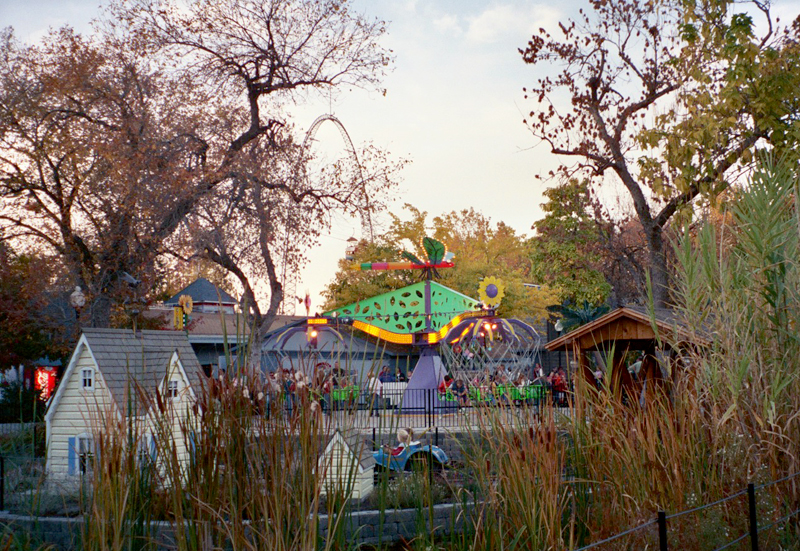 MORE FROM LHP
OTHER LAGOON RIDES FROM ELI BRIDGE COMPANY
Ferris Wheel, 1953-1990
Space Scrambler, 1961-present

SOURCES
Arave, Lynn. Lagoon focusing on 'little kids' in '04. Deseret News, 5 Mar 2004.
Mickleson, Bob. Lagoon to greet visitors with new look. Davis County Clipper, 18 Mar 2004.
Lagoon press kit, 2004.
Saxton, Bryon. Lagoon gears up. Standard-Examiner, 10 Apr 2004.
Family Rides. EliBridge.com, accessed 9 Mar 2020.