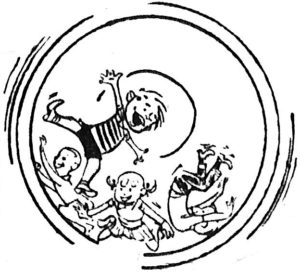 a.k.a. Crazy House
Opened: 4 May 1957
Closed: 1990
Location: Central Midway
Designed By: Ranch S. Kimball
Original Cost: $100,000+
When Lagoon's previous Fun House burned down in a fire in November 1953, the initial decision was not to rebuild it. But there was enough demand from park guests that the idea was quickly revived. Lagoon's president and general manager at the time, Ranch S. Kimball, designed the new Fun House. As part of his research, he traveled to 40 different fun houses at parks across America and beyond.
Construction began in 1956. It took longer than expected to find different parts because the installation of new fun houses had diminished significantly in recent years. When it was finally completed in 1957, Lagoon's was the first permanent fun house to be built in the United States in 28 years, or since before the Great Depression.
FEATURES
There were a variety of different features inside the Fun House over the years. Here's some of the known elements beginning at the entrance (which was north of Terroride between what is now Big John's Shake Shack and Midway Munchies).
Monkey band – Above the door to the Fun House, on the east side of the building, was an eight-piece animated monkey band. It's uncertain how long it lasted there, but it was there when the Fun House opened in 1957.
Laughing Sal – A "Laffing Sal" was an animated, buck-toothed lady that continuously rocked back and forth with her head bobbling around as she laughed. These figures were common at amusement parks at the time and were generally placed in front of a fun house to attract visitors. Many remember this laughing lady at Lagoon, but so far very little information about her has surfaced. Just an obscure reference in an unrelated 1962 newspaper article acknowledging that she existed.
Spectator Area – For those who had more fun watching others make their way through the different obstacles, there was a viewing area on an upper level of the Fun House. Apparently, this was inspired by a common feature in European fun houses.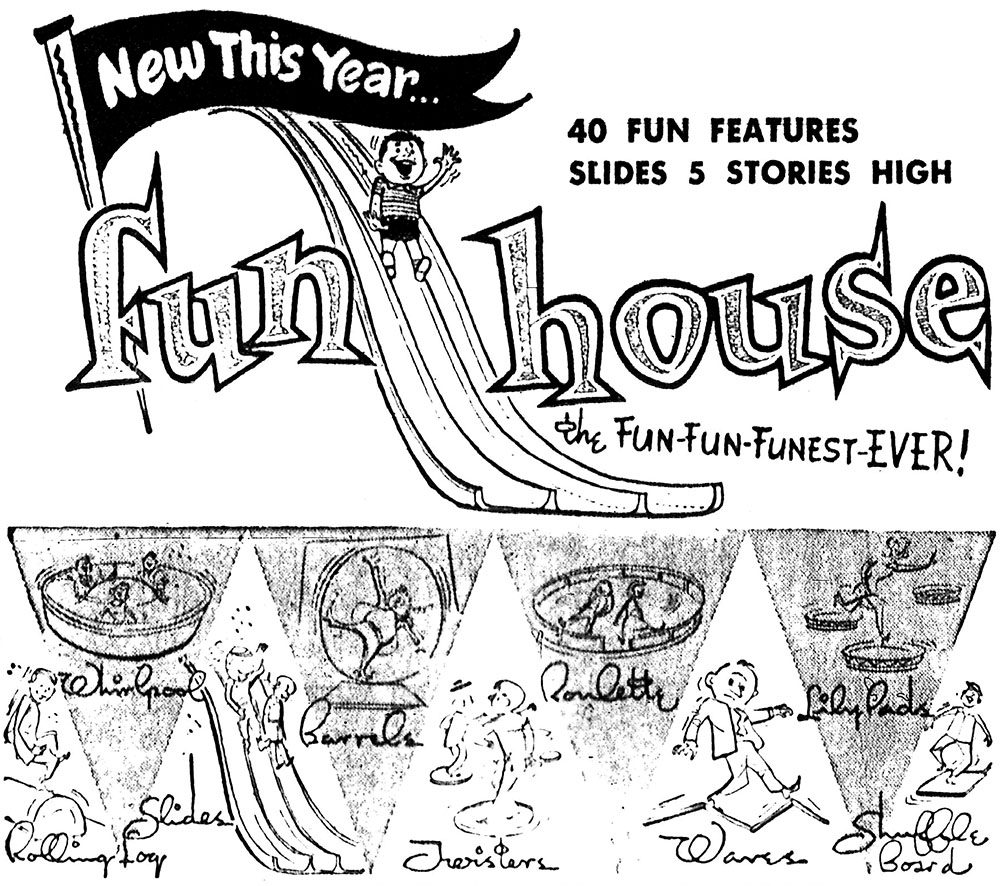 Obstacle course – After entering the Fun House, you made your way through a bunch of different obstacles. Many of the ones found at Lagoon are still common in transportable fun houses used at carnivals and fairs today. Obstacles listed at the time of its opening in 1957 included "a skating floor, shuffleboard, crash bumper, lily pads in a tank of water, Sahara Desert, rolling logs, twisters, teeter boards, electric air valves, moving floor, whistle trap, roller inclines, dog house crawl-thru, a jail" as well as a "tilted room, ocean waves, the camel back, and a new cage maze."
A former employee related the following in an article:
These air blasts were controlled by an employee positioned on the Fun House's mezzanine. From this lofty position, the employee could target unsuspecting guests, especially the poor female guests who had unwisely worn skirts to Lagoon

Geoff Thatcher
Some remember a section with doors you would look into to see strange scenes like a person made out of broomsticks.
Crazy Mirrors – A series of distorted mirrors were in the northeast corner of the building. The Haunted Shack, introduced near Mother Gooseland in 1966, also had some of these.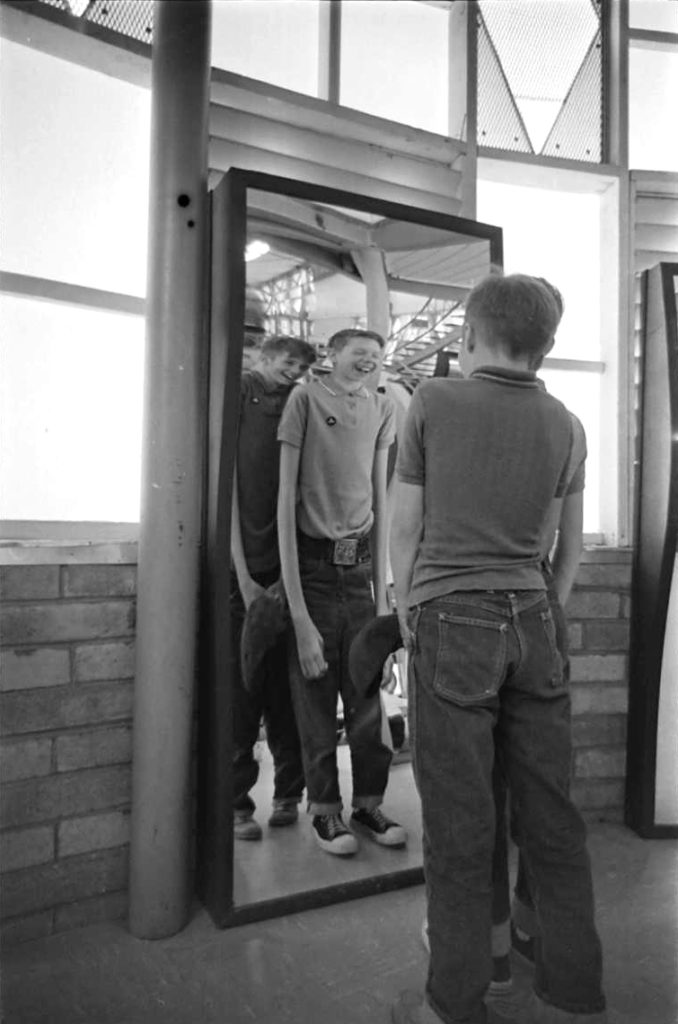 Slides – There were six carpet bag slides in a row. Two of them were taller than the others – reportedly 50 feet high. A sign once painted on the outside of the tower claimed they were the highest in the world. A spiral slide reaching about 20 feet high was added in 1964. Later, in 1971, Lagoon added a stand-alone outdoor slide tower called the Sky Slide next to the Davis Pavilion.
Whirlpool – There were two spinning disc features that are often confused for each other. This one had a sloped, but flat surface with a padded, stationary wall around the outside. It's said to have been 30 feet in diameter and would spin for five minutes. Up to 20 guests were allowed on the Whirlpool at one time.
Roulette Wheel – This wheel had a surface that sloped down slightly from the center and was banked around the edge, as shown in the photo below. A similar feature had been popular in the original Fun House that burned down.
Revolving Barrels – Leading up to the exit was a tunnel made up of two large barrels that spun in opposite directions.
IT'S ALL FUN & GAMES UNTIL…
Things were known to get a little crazy in the Fun House. There were probably a long list of injuries and mishaps, even in the original Fun House from the early part of the 20th century. It's the most likely reason for the removal of the Whirlpool and Roulette Wheel. In 1981, a ball pit was added on the south side and a large trampoline on the north. The Wac-A-Mole game was also added that year on the outside of the northeast corner of the building. The slides, spinning barrels and some of the obstacles were retained.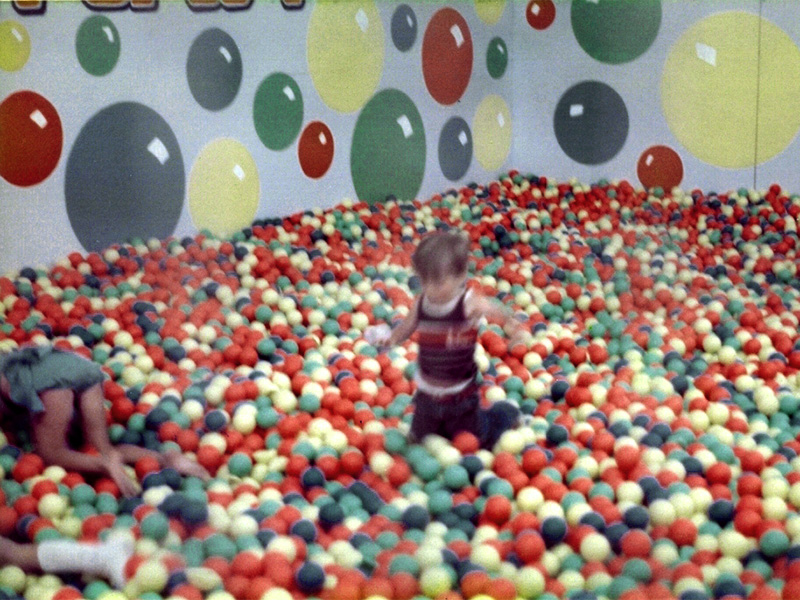 While a specific reason has never officially been given, it seems fairly obvious that the original features of the Fun House would've been hard to preserve in an increasingly litigious society. The Fun House closed for good in 1990, but the building still stands.
At the bottom of the slide tower, the Safety and Security office now resides. Around the edges of the building there have been a few different food stands and booths including Midway Munchies, BeaverTails (formerly Tiny Tim's Tiki Treats), Big John's Shake Shack and ICEE Mix It Up. Behind the food stands there's now a kitchen where snacks and refreshments are prepared and sent out to outlets around the park. There also used to be a booth for extra large lockers and the pickup window for Pair-A-Scopes (photo viewer keychains that had a tiny photo of you and your family or friends that could be seen when held up to the light).
For many years there was a webcam mounted on the roof at the northeast corner of the building. It provided a view of the Interactive Fountain starting in 2004, but it's been offline since September 2020.
THE MEMORY REMAINS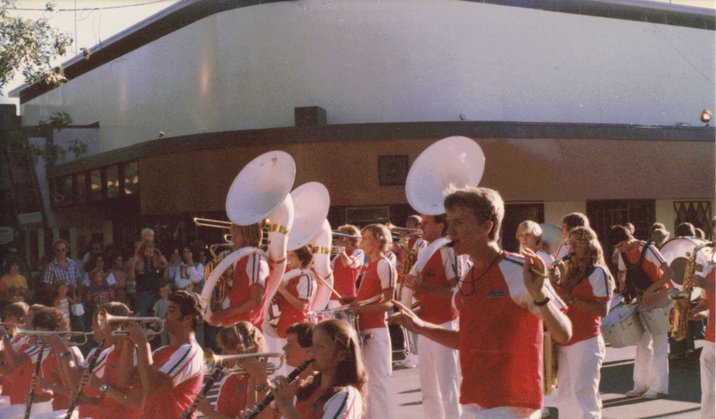 The Fun House is one of the most-missed attractions from Lagoon's past. When admission to Lagoon was free and visitors had to use tickets for individual attractions, "going to the Fun House for an hour or two was a bargain and allowed you more time in the park," according to a memory shared on the old JetStar 2 Archive website. A visitor to the Lagoon History Project shared the following:
"I have a lot of memories of attending the Lagoon Fun House. I remember entering the building and having to walk through a series of obstacles such as rolling logs, teetering discs on which to step, and avoiding air holes that were controlled by staff members sitting above everyone else, in hopes of blowing women's skirts up in the air. I still remember that loud and piercing sound of the blasts of air every few seconds. Then there was a neat tilted room that seemed to defy gravity and a window you would look into that featured ping pong balls being blown around so that it gave the impression they were also defying gravity. I remember the turning barrels the first half-way through they turned clockwise and then the second half they reversed and turned counter clockwise. Following the tunnels was a wooden pole maze that either dumped you into the fun house or on into the tilted room. I remember the smell of perspiration was always quite strong and a few times I remembered seeing blood inside the turning barrels where some poor guest took a dive. In addition to the turn table there was also a large tube that perhaps thirty people could sit in and it would spin like a centrifuge allowing the more brave guests to stand on the sides and lean inward, nearly horizontal to the floor.

While the Fun House was quite…well…fun, it also always seemed a little bit scary to me and I was always nervous while in there with my friends."

Steve A.
Share your memories of the Fun House by leaving a comment at the bottom of this page! Any photos you may have are also appreciated.


GALLERY


MORE FROM LHP


SOURCES
Lagoon to Open for Week-End Business May 1. Deseret News, 11 Mar 1954.
Salt Lake City's New Lagoon Building $100,000 Funhouse. The Billboard, 29 Apr 1957.
Fisher, Betty. Many Features Mark New Lagoon Fun House. Deseret News, 4 May 1957.
Cargile, Betty and Paul Swenson. Bands, Clowns Introduce Santa – And Lights Go On. Deseret News, 24 Nov 1962.
Lagoon Opens Saturday With New Attractions. Deseret News, 9 Apr 1964.
Irvine, Arnold. Soon…Lagoon can turn a frown upside down. Deseret News, 5 Apr 1975.
Thatcher, Geoff. A Tribute to My First Real Job as Lagoon Amusement Park Celebrates 130 Years. LinkedIn.com, 11 Aug 2016.
Wharton, Tom. Whatever happened to…Lagoon's fun house? The Salt Lake Tribune, 10 Jun 2017.
Email to the author from Steve A., 19 Dec 2004.