Opened: 1956
Closed: 1970s
Location: Mother Gooseland
Manufactured By: Hodges Amusement & Manufacturing Company – Indianapolis, Indiana
Model: Hand Cars
Cost: $2,600
Number Of Cars: 6
Ride Capacity: 6 (1 per car)
Many attractions have come and gone in Lagoon's Mother Gooseland since it opened in 1956. One of the more obscure of these are the Hand Cars. The tracks were located in an area west of the Swimming Pool and north of Lagoon Lake, as shown in the photo above. Two tracks ran parallel to each other so kids could race each other. The cars were purely kid-powered. The faster you cranked the wheel, the faster your hand car would go. They were designed to restrict backward movement. Although the cars could accommodate adults, I don't know if Lagoon allowed adults on their Hand Car ride.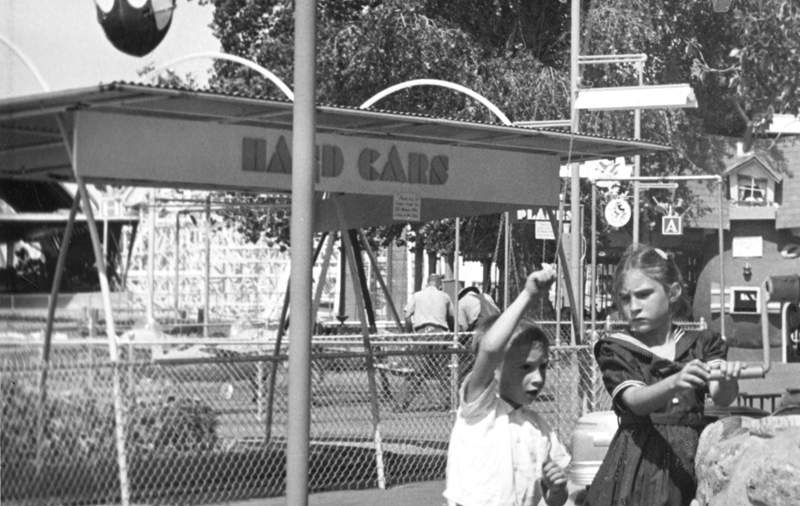 The ride was still listed in a 1971 brochure, but it would've been removed sometime before 1976 when a path leading to the new Pioneer Village was paved through the former ride area. It seems the ride would be very easy to move to another area, but no other mentions of the ride has been found after 1971 so it could have also been removed sold or scrapped.
Lagoon's Hand Cars were made by Hodges in Indianapolis. Hodges is still in business today manufacturing and improving upon their hand cars. One hand car ride that's been operating since the '50s can be found at Knoebel's Amusement Park in Elysburg, Pennsylvania.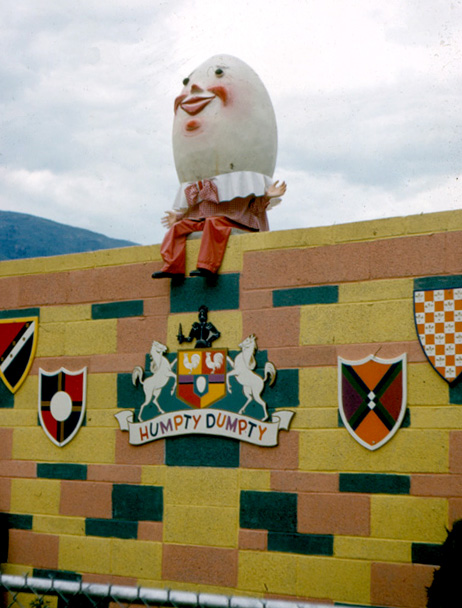 Special thanks to Marilyn Briggs for sharing her mom's photo that has been a great help in confirming the location and manufacturer of this largely forgotten ride. It's often underestimated how helpful these old family photos can be in historical research. Please consider looking through any old photos you may have and contact me. You may not realize how much information can be collected from a simple photo.

MORE FROM LHP

SOURCES
Hodges advertisement. The Billboard, 12 Apr 1952.
1956 Ride Manufacturers' Survey. The Billboard, 7 Apr 1956.
Memories of Lagoon. Document sent to author from Alan C., 7 Feb 2011.
Home. HodgesHandCars.net, accessed 20 Oct 2014.