Opened: 8 May 1954
Closed: ca. 1979
Location: Central Midway
Manufactured By: Eyerly Aircraft – Salem, Oregon
Ride Model: Octopus
Number Of Tubs: 16
Ride Capacity: 32 (2 per tub)
After a fire swept across the west side of Lagoon's midway in November 1953, the park's management worked quickly to rebuild the park in time for the next season. The "New Lagoon" opened the following May with several new rides and attractions. Among the new rides were the Tilt-A-Whirl, Spook House and three Eyerly rides: Rock-O-Plane, Roll-O-Plane and Octopus.
The Octopus was first installed near the main entrance, but wouldn't have been there for much more than a year. A new Fun House began construction in that spot in 1955 and was completed two years later. Octopus was moved to a spot south of the Carousel and east of Roller Coaster as seen in this short film clip from 1970.¹
Lagoon's Octopus was somewhat unique because it was one of the less common 16-tub models with two tubs at the end of each arm. Here's what one former employee remembers of the ride:
"…the Octopus was the best 'puker' on the park. The summer I worked there, ride operators kept a running tally with little hash marks indicating how many people had come to grief."
By 1972, the Octopus moved a little bit to the south, taking the place of The Whip and creating more space on the Midway between the Octopus and the Carousel.
The Octopus was removed by the end of the 1970s and soon the Carousel Stage took its place. The stage expanded over the years until it became the Carousel Theater that exists today.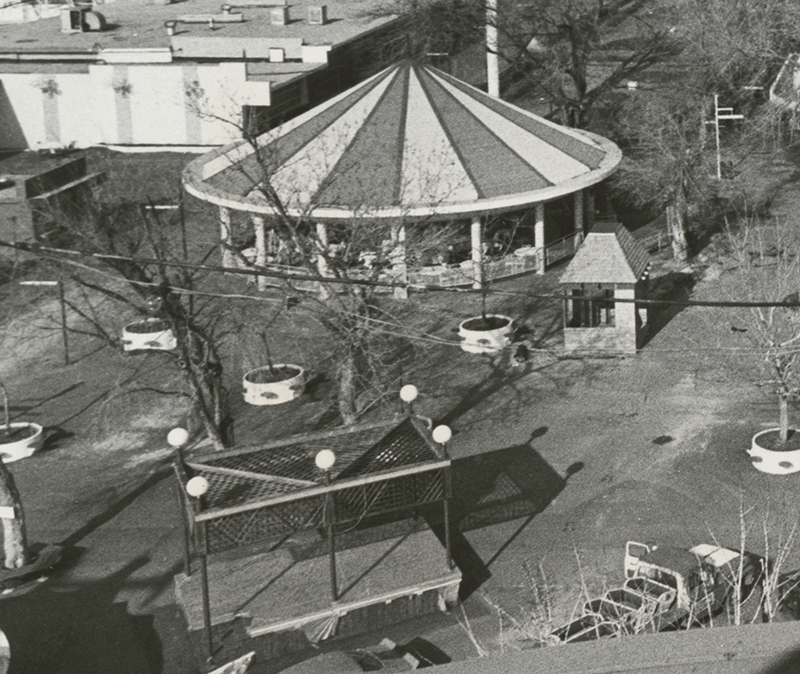 GALLERY

NOTES
1. From the DVD Parks From The Past, Volume I available from Sharpshooters Productions. Used with permission.

MORE FROM LHP
OTHER EYERLY AIRCRAFT RIDES AT LAGOON

SOURCES
Lagoon Resort Slates Opening Saturday With New Rides, Games. Deseret News, 5 May 1954.
Deseret News 107 Soon – You're Invited To Party. Deseret News, 15 May 1957.
Deseret News Birthday Set Wednesday. Deseret News, 31 May 1957.
RE: jetstar2.8m.com. Email message to author, 25 May 2004.
PS: Octopus. Email message to author, 17 Oct 2010.