Opened: 1 Apr 1972
Closed: 1975
Location: South Midway (1972), North Midway (1973-1975)
Manufactured By: Hampton Amusement Company – Portage des Sioux, Missouri
Ride Model: Tubs-O-Fun
Very little information is available about this short-lived ride at Lagoon. The Tumbler was a small, teacup-style ride. I've only received a few emails over the years from those who recall the ride. Here's what they remember:
"The Tumbler was a compact flat ride that had about six or eight small tubs that went around in a circle. Each of the tubs had a wheel in the center so you could manually spin your tub, kind of like a teacup ride. It was not a very fancy ride; it was like one of those rides you see at traveling carnivals with the colored umbrella type thing that covers the whole ride. Kind of a kiddie ride."

-Gary
"It was probably one of the lamest rides that Lagoon has ever had. There never was a line and was usually just a walk-on. I think the only similarity to the teacups is that you could spin the tumbler that you were sitting in."

-Dave
"You would sit in a round vehicle that went around like a merry-go-round. You could make the car spin. It would also go up and down on small 'hills' that were on the tracks. I remember that the plastic/vinyl material that you sat on was different sparkly colors."

-Alan
The first two recalled The Tumbler being located on the South Midway. A Deseret News article which announced the addition of The Tumbler didn't mention a location of the ride, but it did say that the Midway was "extended on both north and south ends to accommodate the new rides and for additional food and game stands."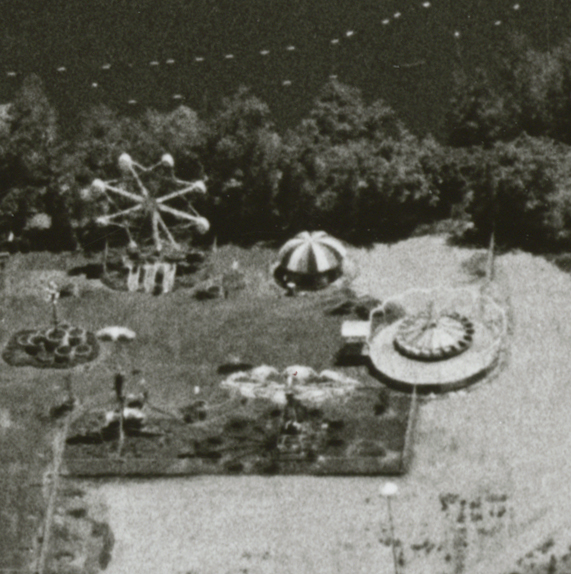 Above is a 1972 aerial photograph of the extension to the South Midway that year. The Tumbler was only in this location (between Rock-O-Plane and Flying Saucer) for a single season and then moved north of Opera House Square, about where Air Race sits now.
The only other photo I have of the ride shows it in that North Midway location in 1973. Another newspaper article reported that The Tumbler had been moved along with the Space Scrambler to make room for the installation of Jet Star 2 in 1976. Since publishing this page, I received a comment (found below) from a former operator of the Tumbler who says it was sold to another park after the 1975 season.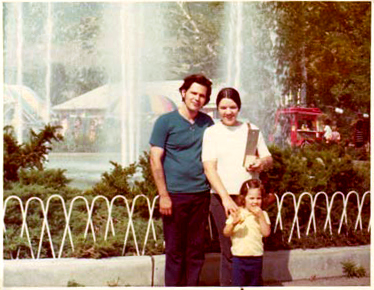 MORE FROM LHP
OTHER LINKS
Photos of a Hampton Tubs-O-Fun ride at a carnival in New York.

SOURCES
Hampton Amusement Company (advertisement). The Billboard, 13 Jun 1960.
Lagoon To Open With 5 New Rides. Deseret News, 24 Mar 1972.
New Jet Ride set at Lagoon. Deseret News, 17 Mar 1976.
Email message to author from Gary, date unknown.
Email message to author from Dave, 9 May 2008.
Email message to author from Alan C., 7 Feb 2011.
Private message to author from user "linearinduction" via LagoonIsFun.com, 21 Mar 2013.