Herbert Sellner of Minnesota, started out building wood furniture and lamps. Due to a shortage of materials during World War I, he began making toys instead, which only required smaller pieces of wood.
Eventually, this led Sellner to start making things like water toboggan slides and water wheels for beaches and bathing resorts in 1923.
In 1926, Sellner filed a patent for his Tilt-A-Whirl ride. After it became an instant success at the Minnesota State Fair, he soon built a factory to begin manufacturing the ride. The first models were made of oak and pine with linoleum floors and canvas covers on the cars. Later they would be constructed of steel and aluminum.
Sellner Manufacturing began making several other ride models in the 1980s such as the Berry-Go-Round. After financial trouble, the company was purchased by Larson International of Texas in 2011. Larson continues to produce the Tilt-A-Whirl.
TILT-A-WHIRL #1
Opened: 1920s
Closed: 1953?
Manufactured By: Sellner Manufacturing – Faribault, Minnesota
Ride Model: Tilt-A-Whirl
Very little information about Lagoon's first Tilt-A-Whirl is available at the moment. Lagoon's press kit confirms that a Tilt-A-Whirl was operating at the park in 1929. It was likely one of the early wood models and may have been damaged in the 1953 fire, if it wasn't already removed by then. But many of the new rides introduced in 1954 were ones that had been taken in the fire.
TILT-A-WHIRL #2
Opened: 8 May 1954
Location: Central Midway, North Midway
Manufactured By: Sellner Manufacturing – Faribault, Minnesota
Ride Model: Tilt-A-Whirl
Number of Cars: 7
Ride Capacity: 28 (4 per car)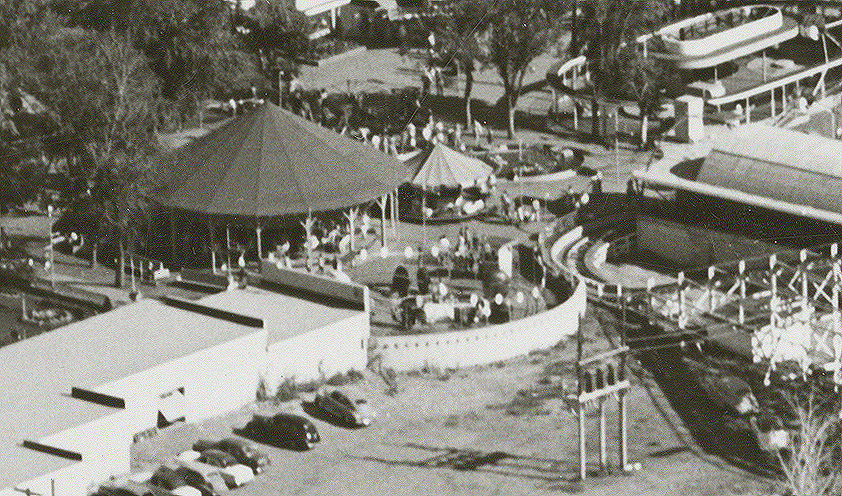 The Tilt-A-Whirl that operates at Lagoon today opened in 1954. It was first installed north of the Roller Coaster station where a Skee-Ball building was later built. The Skee-Ball building was recently demolished to make room for the new Roller Coaster queue, added in 2018.
By 1970, Tilt-A-Whirl was located to the north side of the Patio Gardens building on what used to be part an east-west section of Lagoon Lane – a public road that used to mark the northern border of Lagoon.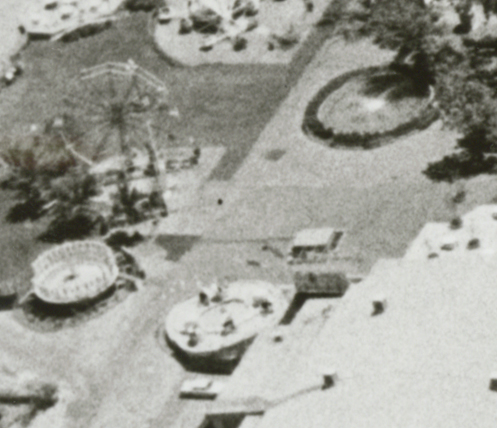 In 1988, the Sun 'N' Fun Theatre opened on the north side of the Game Time arcade. Tilt-A-Whirl was then moved to its current location between Boomerang and the Sky Ride station where the Ferris Wheel had been. The Ferris Wheel was then relocated to the north side of Sky Ride before being removed in 1990.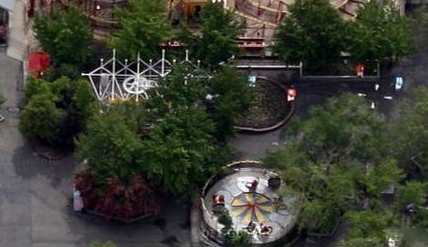 New padded seats were added in 1977. Photos of the ride show a few different paint schemes over the years. In the early 2000s, the red, white and blue colors were painted over with red, yellow and purple. Other than various small changes, the Tilt-A-Whirl essentially remains the same classic ride that guests have enjoyed for generations.

GALLERY

MORE FROM LHP

SOURCES
Kirk, Roselyn. Lagoon Gears Up For Another Season. Davis County Clipper, 25 Mar 1977.
Lagoon press kit, 2014.
Laine, Mary. Sellner Manufacturing Company. MNopedia.org, 24 Jun 2014.
Tilt-A-Whirl. Whirlin.com, accessed via Internet Archive.
Hahn, Alan. Tilt-A-Whirl Tribute. RandomTerrain.com, accessed 28 Jul 2020.